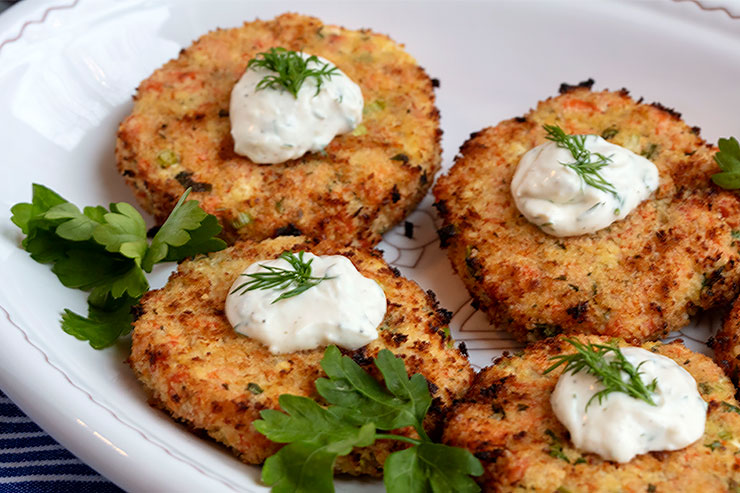 When my children were young, my husband took a yearly fishing trip to Vancouver with his company and would return with a cooler full of the most amazing fresh salmon fillets. I had to come up with many recipes to use up this bounty, and these tasty salmon cakes were one of my family's favorite meals. It is interesting that wild salmon has fewer calories and half the fat of farmed salmon, though salmon, in general, is rich in healthy omega-3 fatty acids. You could use either type of salmon in these cakes, and you could even use canned salmon if you had to although fresh salmon creates a much tastier cake.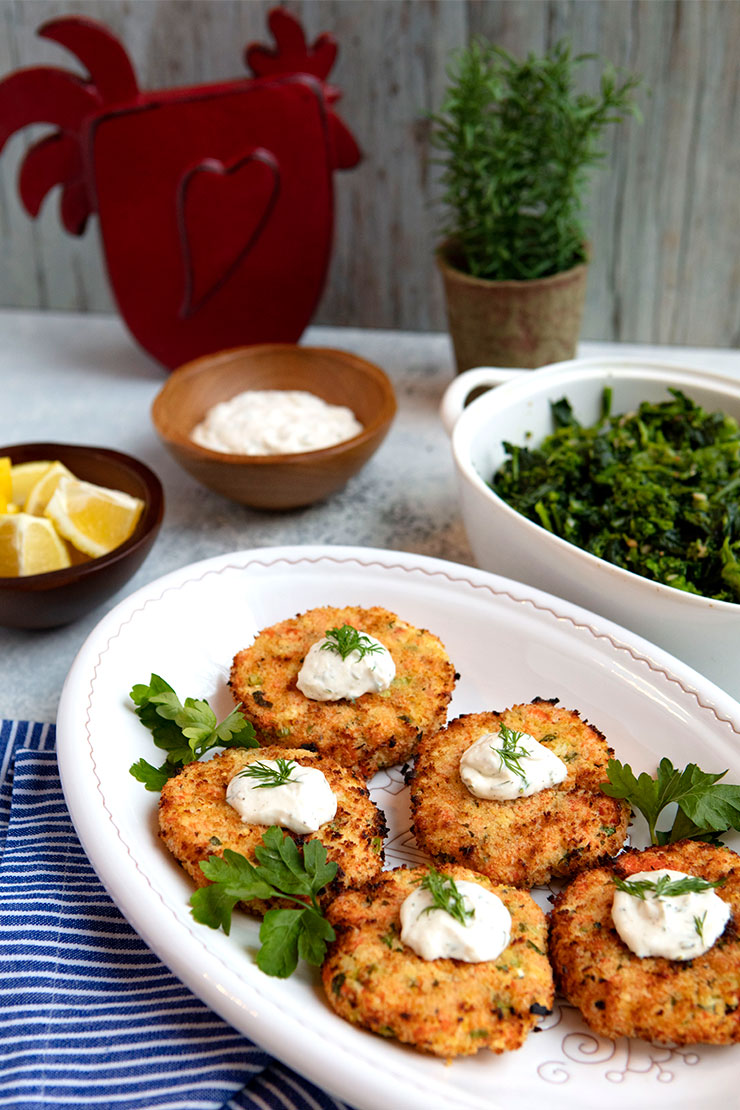 Just like crab cakes, the less filler that you can use in any fish cakes will create a more tender, moist cake. These easy salmon cakes can be made up ahead of time along with the sauce, and then it just takes minutes to fry them up on the stovetop. Alternatively, I have also cooked my crab and salmon cakes under the broiler. Just spray the bottom of a baking tray with olive oil spray before putting the fish cakes on top. Spray the patties liberally with the olive oil spray, and then place under a preheated broiler at least 5 to 6 inches from the heat source. Once one side is golden brown, then use a spatula to carefully turn over the cakes and broil the other side. You could use a variety of sauces such as tartar sauce, or even a simple squeeze of lemon if you prefer, but I like to serve my salmon cakes with this easy dill sauce. There is just something about the combination of dill and salmon that works so well!
See Also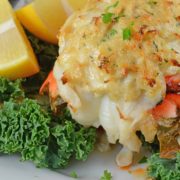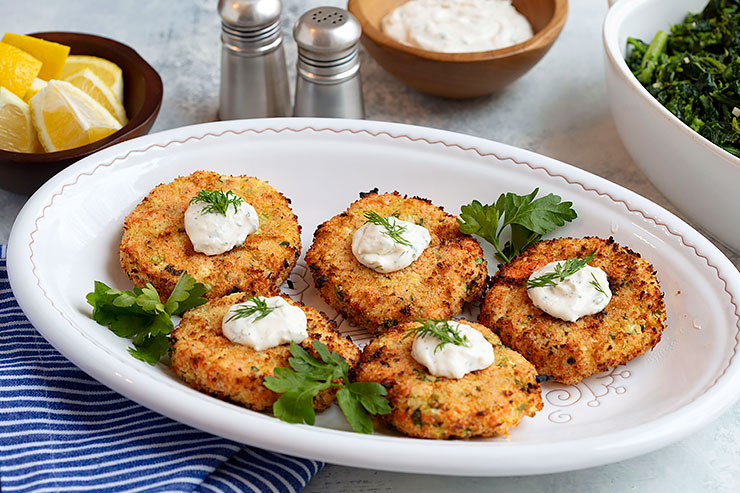 Click HERE for my creamy dill sauce recipe to go with these cakes.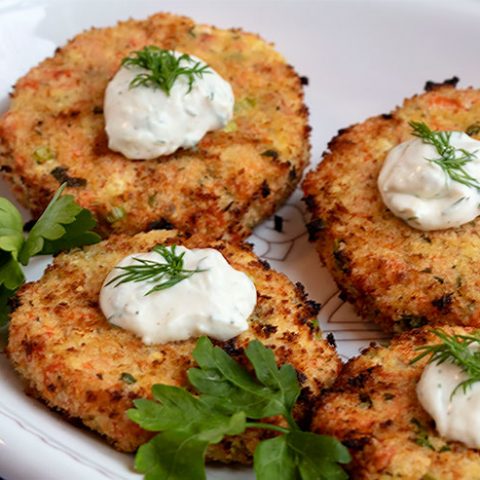 Wild Salmon Cakes
Deborah Mele
Ingredients
1/4

Cup

Minced Green Onion

2

Tablespoons

Minced Celery

Salt and Pepper to Taste

1 1/2

Pounds

Fresh Wild Salmon

Coarsely Chopped

3

Tablespoons

Finely Chopped Parsley

1/4

Cup

Mayonnaise

1/4

Cup

Fresh Bread Crumbs Plus 3 Tablespoons Extra For Topping

1

Teaspoon

Dijon Mustard

1

Pinch

Cayenne Pepper

2

Tablespoons

Fresh Lemon Juice

1

Pinch

Seafood Seasoning

such as Old Bay®

2

Tablespoons

Olive Oil

or As Much As Is Needed
DILL SAUCE:
Click the link above for the recipe.
Instructions
Stir together the salmon, onion, celery, parsley, mayonnaise, 1/4 cup bread crumbs, mustard, cayenne, lemon juice, seafood seasoning, salt, and ground black pepper together in a bowl until well-mixed.

Cover the bowl with plastic wrap and refrigerate until firmed and chilled, 1 to 2 hours.

Mix together the sauce ingredients in a small bowl, then wrap in plastic wrap and refrigerate until needed.

Form salmon mixture into four 1-inch thick patties

Sprinkle cakes with the remaining bread crumbs on each side and use fingers to press the crumbs into the cakes.

Heat olive oil in a skillet over medium-heat.

Cook patties in hot oil until golden and cooked through, 3 to 4 minutes per side.

Serve immediately with a generous dollop of the dill sauce.
Deborah Mele
Deborah Mele is a self-taught cook whose passion for Italian cuisine began after living in Milan, Italy for 8 years. Although not Italian by birth, she became a true Italian by heart and palate. Deborah created her Italian recipe blog ItalianFoodForever.com 12 years ago to share her passion for Italian food. During her various travels throughout Italy, Deborah fell in love with the central Italian region of Umbria so when they retired, Deborah and her husband bought two farmhouses there where they now reside for six months a year and run a farmhouse rental for guests and give cooking classes.