Although Chelsea is home to many Italian trattorias, it welcomes Puttanesca to the neighborhood. An intimate Sicilian American trattoria destined to be a local favorite.
"Welcome back Mr. Weinstein," says Executive Chef David Di Salvo. Seated and waiting for my guests to arrive, I overhear the Executive Chef greeting his local diners. With my curiosity, I glance to see who's the infamous Mr. Silverstein. While it's not great to make judgments based on appearances, his classic demeanor tells me the food here will be exceptional.
Still, as I wait on my guests' arrival, the ever so generous waiter brings me a glass of sparkling water and white wine. Both elements help to set the unwinding mood, which Italy is well-known for. Likewise, they complement Puttanesca's interior design that subtly mirrors the Mediterranean flavors of Southern Italy.
Chef David Di Salvo finally stops at my table to introduce himself. A very chatty and funny guy, Chef Di Salvo rambles about Puttanesca's journey, his story, and his passion for meat. While listening to his stories, I easily realize how much the California native loves food and cooking. Much of which he attributes to his family that includes roots from Sicily and Spain.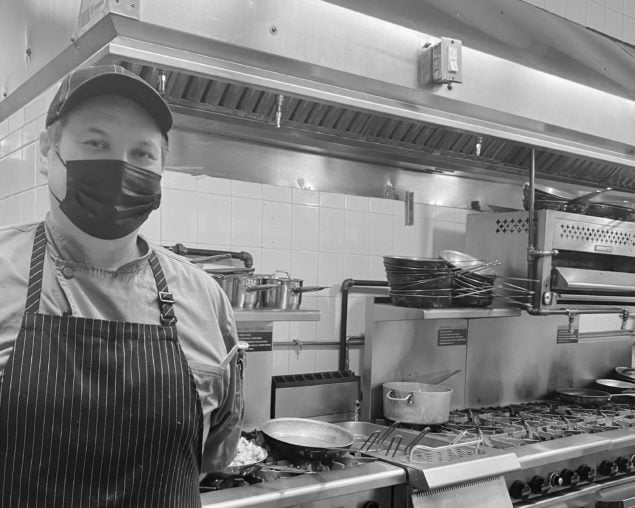 Along with his rooted Italian heritage, he has a wealth of culinary experience. He's most known for his time operating the kitchens of restaurants like STK Downtown and Michelin-starred restaurants too. Compared to the atmosphere he helped cultivate at these casual and fancier restaurants, Chef Di Salvo's aim for Puttanesca differs. Here he hopes to bring an intimate dining experience to the neighborhood, one that closely reflects his roots.
An Intimate Dinner
On the menu he features a few old family recipes, in addition to his own signature touches. An intimate dinner may begin with a trio of cheeses and focaccia drizzled with Sicilian olive oil. Followed by charred octopus, calamari, a mushroom trifecta, and Wagyu Beef carpaccio. After these traditional starters, pasta dishes can follow suit such as the pillowy gnocchi – our generous waiter's preferred nightly meal. It's filled with potato and sits beautifully in a delectable cream sauce and sprinkled with Italian black truffles. If there's leftover focaccia please use it to scoop the creamy gnocchi sauce.
Another great pasta dish is the namesake Penne all Puttanesca. For those who are unfamiliar, Puttanesca has a sordid story with different meanings across the globe. Paying homage to its origin in Italy, it is first and foremost an aromatic sauce combining tomato, anchovies, olives, and capers. Allegedly Italian women "working the night shift", created the aromatic dish. Chef Di Salvo's rendition doesn't disappoint, it's aromatic, briny, and all-around tasty.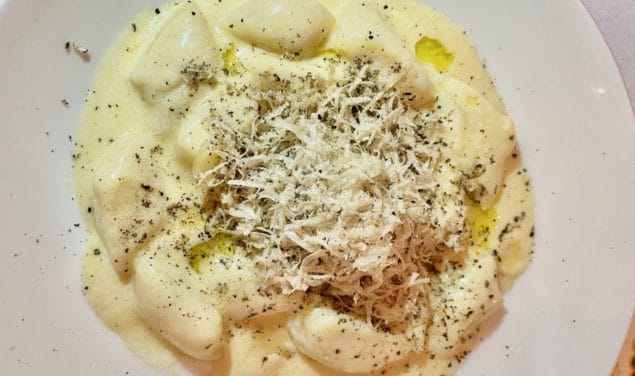 Highlighting the dinner is nonother than the Bistecca di Manzo, a 45 day dry-aged certified Angus beef bone-in ribeye.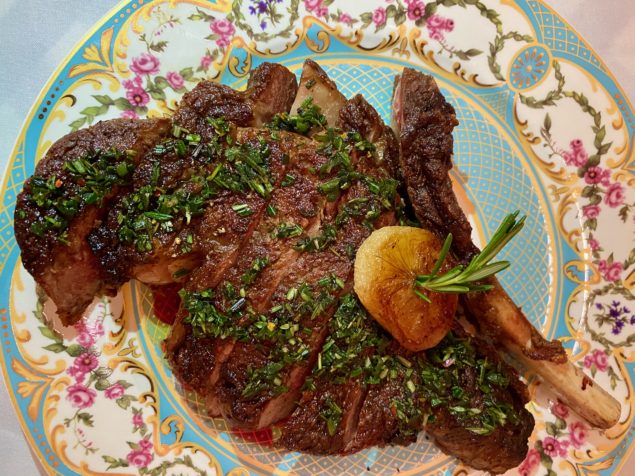 Despite other trattorias, Chef Di Salvo asked how I liked my steak prepared, respecting my taste preferences. "I believe in restaurant food being accessible and for everyone," says Chef Di Salvo. By doing so he attempts to bring a happy medium for diners, who like myself may not enjoy a bloody piece of steak. I smiled and responded I'd like my steak well-done and a well-done piece of steak it was.
Although the steak highlighted the night, to round off dinner my guests and I enjoyed bite-sized cannolis, biscotti, shots of limoncello, and cups of espresso. Leaving the restaurant I fully understand why Mr.Weinstein keeps returning to Puttanesca.
Puttanesca
202 8th Avenue @ 20th ST
New York, NY 10011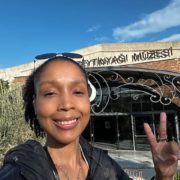 Alyssa Holder
Alyssa Holder is a writer specializing in food and travel topics since 2015.