A pizza crust using whole wheat flour and a puree of three different greens. The result is a wholesome, pretty looking pizza crust.
By Pallavi Gupta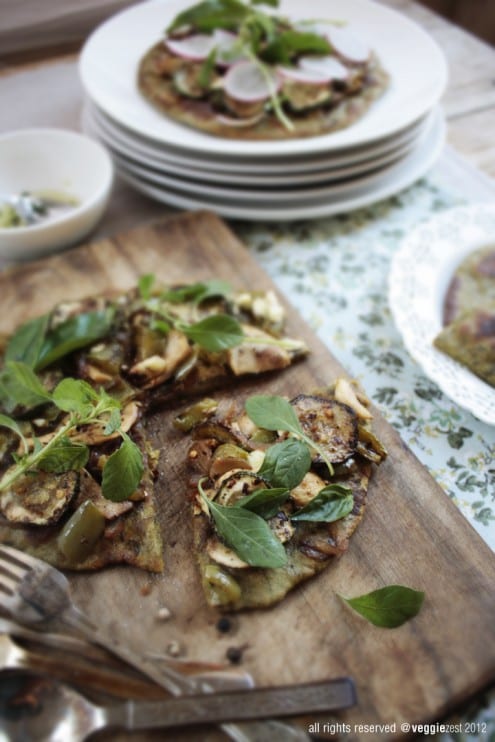 As the name suggests this pizza is green…its a beautiful green colored pizza.
I used whole wheat flour for the dough and mixed in a puree of 3 different greens.
Spinach + Mustard + Basil
As a result you get this wholesome,  pretty looking pizza crust.
Once you have the base, you can really get creative with the toppings- I did a combination of mushrooms, zucchini, green bell pepper, caramelized onions and goat cheese.
Before serving add some fresh green leaves- I used mustard greens and basil. It adds so much flavor to the pizza as opposed to putting the greens on it (as a topping) before you bake it, because then the heat wilts the leaves and A) they turn a really ugly shade of green & start looking really dead and mushy and B) the heat kills the flavor of the leaves.
I made flat-bread out of the leftover pizza crust.
Just brush some olive oil (mixed with chopped garlic) and throw it back in the oven till the top of the bread is cooked.
Tastes pretty great as it is or with some olive oil and balsamic.
You can make it vegan by skipping the goat cheese of-course. In any case the recipe doesn't call for mountains of cheese (like a regular pizza) , so it shouldn't alter the flavor too much even if you skip it.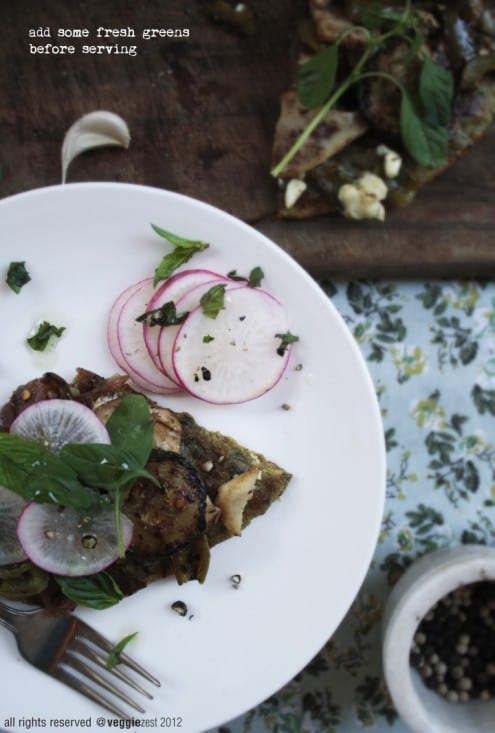 serving size 3 medium size pizzas
cooking time roughly about 1 hour plus fermentation time
Things you will need:
For pizza dough
1 1/2 cup whole wheat flour
1/2 cup pureed green (see below)
20 gram dried yeast
2 tsp salt
2 tsp sugar
1/4 cup water plus a little more for kneading the dough
Take equal parts of mixed greens, I used spinach, mustard greens and basil but you can come up with your own combination…try to use one herb though, it gives the pizza a lot of flavor. Boil the greens in hot water for a few minutes, drain the water and puree the leaves in a blender…let cool (room temperature), keep aside, you need half a cup of this puree mixture.
Dissolve yeast in 1/4 cup water and let it sit for about 10 minutes (or as per the instructions on the package). In a large bowl mix  flour, salt and sugar. Add the dissolved yeast into the flour and mix it well using a fork. Add the green puree to the flour and start mixing it with your hands. Add little water if the flour is still dry. Don't knead the dough too much at this point of time, just mix it lightly till it starts coming together to form a ball (it will be a little sticky). Transfer into an oiled container and cover. Let it rest for 3 to 4 hours, the dough will almost double in size. After 4 hours, knead the dough with some more flour, this time knead it for 4 to 5 min. The dough is ready to use.
Divide the dough into 3 parts and roll them out into rounds of desired thickness. Cook them for 5 to 10 min at 350F in a preheated oven. The pizza base is ready.
For the topping
1 medium size zucchini, cut into rounds
2 onions, sliced
2 green bell pepper, cut into long strips
mushrooms, sliced
1/2 cup crumbled goat cheese
dried oregano, to sprinkle on the veggies while grilling
1/4 cup olive oil
balsamic vinegar
2 cloves garlic, minced
handful of fresh mustard greens and fresh basil
salt and pepper
Caramelize the onions in a pan with some oil. Sprinkle some salt and oregano while its cooking. In separate batches cook zucchini, bell pepper and mushroom in a pan on medium high. Sprinkle some salt and oregano while they are cooking. Keep aside. Mix minced garlic in olive oil.
Brush the pizza crust (the browned side) with some olive oil and garlic mixture. Arrange the toppings in any order– I first put a layer of caramelized onions, some crumbled goat cheese, mushrooms, bell pepper and zucchini. Add a little more goat cheese on the top if you wish and then a  dash of balsamic vinegar, salt and pepper. Into a preheated oven for 10 min at 350F. Add the fresh greens before serving, you can also drizzle some olive oil on it.
Pallavi Gupta
Pallavi is a vegetarian globetrotter, who currently lives in the southern part of India. Past ten years of her life includes living in six cities in three different countries. It has added to her vast exposure of cuisines from different parts of the world which is now reflected in her cooking. She shares her knowledge of vegetarian and vegan recipe from around the world via her blog Veggie Zest. When not cooking or photographing, she does graphic design.