PARTNER POST – Inspire your spring cooking with refreshing meals featuring Eggland's Best Eggs.
A thin egg and herb batter is cooked just like a crepe and then stuffed with a creamy whipped lemon ricotta for a delightfully bright brunch.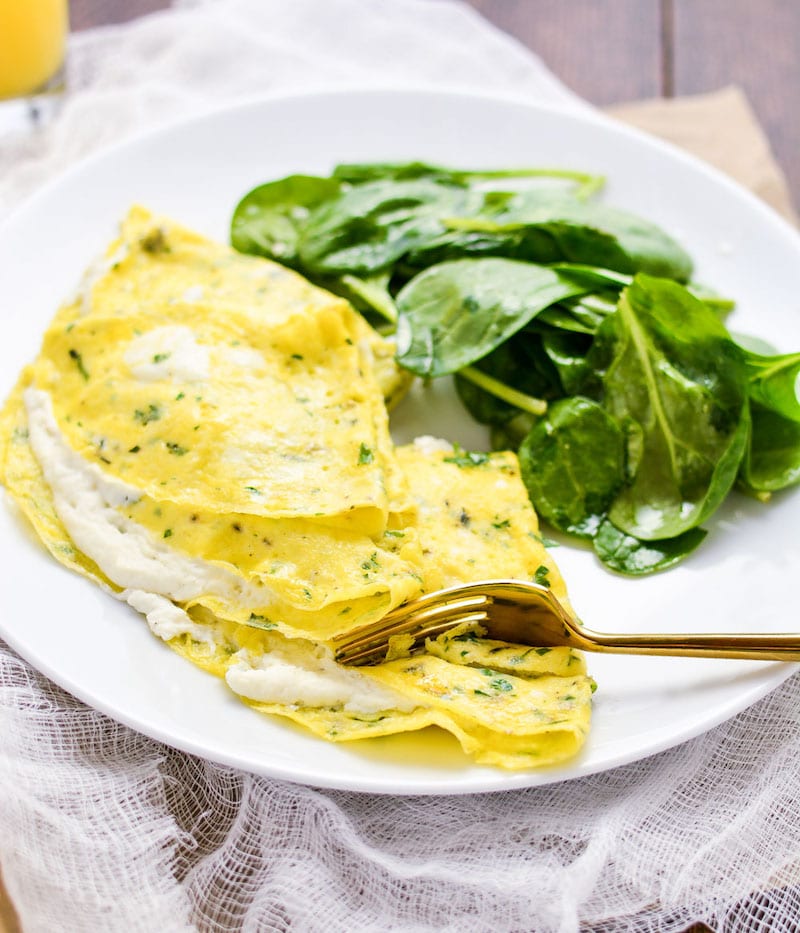 Egg crepes with whipped ricotta are the perfect recipe for breakfast, brunch or a light dinner! A mixture of eggs, milk and fresh herbs make up these egg crepes. After they are cooked crepe-style, they are stuffed with a super creamy whipped ricotta filling that's loaded with lemony flavor. These egg crepes with whipped ricotta are a must-make for a comforting, yet lighter meal!
We are about 3 weeks away from the first day of spring, and I can't tell you how excited I am for this. I can hardly contain my excitement! These eggs crepes just scream "spring" don't they? Not only do they make the perfect quick breakfast option, but they are also a great brunch or Mother's Day recipe. Trust me, your guests with thank you a million times over.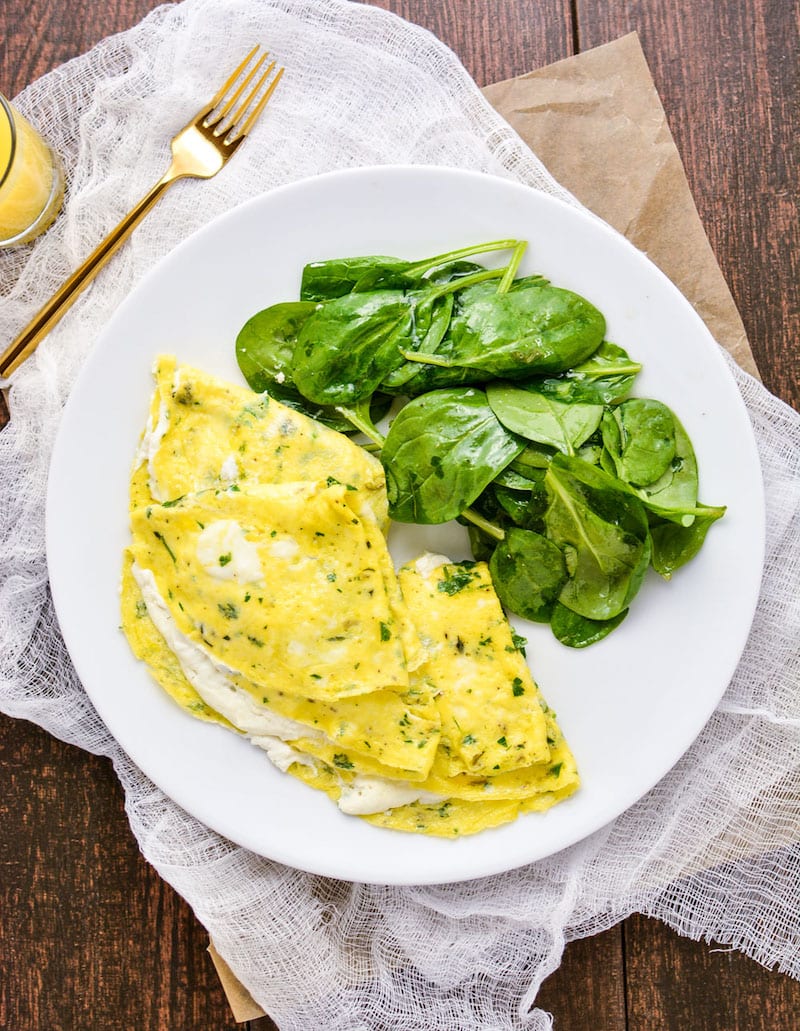 As I get physically (and mentally) ready for spring and summer, I have staying fit and eating lighter foods on the brain. These egg crepes with whipped ricotta are a perfect example. Zach and I make crepes all the time, and it wasn't until just recently that we started making egg crepes. I personally think that they are easier to make than your traditional doughy crepe. It's one of those techniques that may be difficult to grasp on your first try. The first crepe may even come out a little ugly, and this is OK! Practice makes perfect in the case of making crepes and once you have it, it's like riding a bike, you never forget it.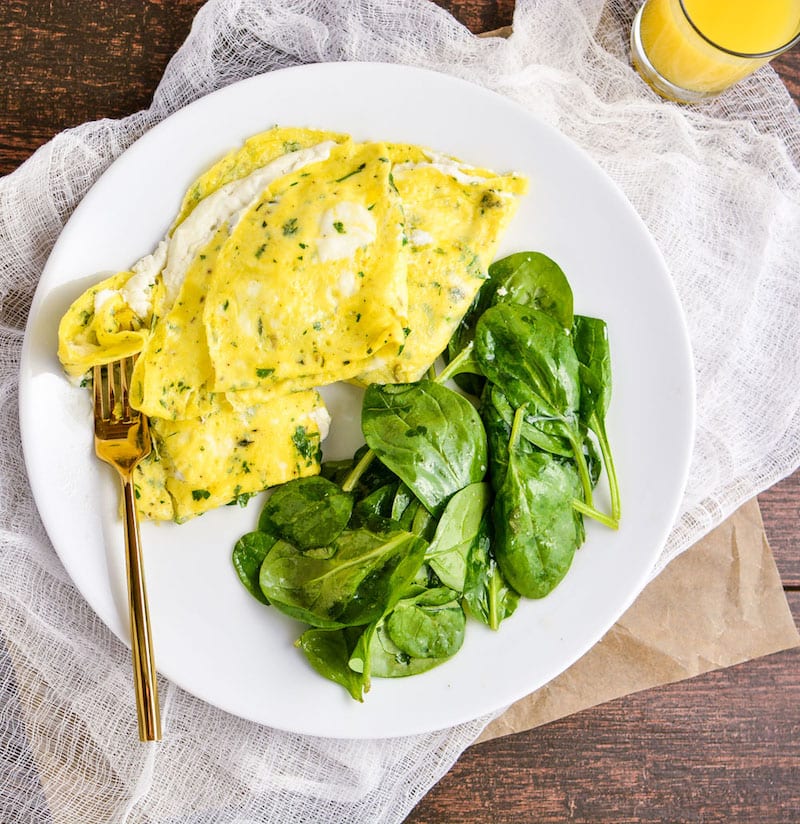 Eggs are a perfect way to add good-for-you nutrients into your daily routine. We are crazy about eggs around here, and there are so many great ways to prepare them! For these egg crepes with whipped ricotta, look no further than your local supermarket. Eggland's Best eggs are the perfect eggs for this recipe. They have ten times more Vitamin E, more than double the Omega-3, and four times more Vitamin D than ordinary eggs. How can you beat that?!

Whipped Ricotta and Egg Crepes
A thin egg and herb batter is cooked just like a crepe and then stuffed with a creamy whipped lemon ricotta for a delightfully bright brunch.
Ingredients
WHIPPED RICOTTA FILLING
2 ounces lightened cream cheese, softened to room temperature
1 cup whole-milk ricotta cheese
1 tablespoons whole milk
1 tablespoon honey
1 tablespoon olive oil
zest from 1 lemon
½ teaspoon coarse sea salt
¼ teaspoon cracked black pepper
EGG CREPES
8 Eggland's Best eggs
⅓ cup milk
2 tablespoons chopped fresh thyme
2 tablespoons chopped fresh oregano
2 tablespoons chopped fresh parsley
1 tablespoon chopped fresh chives
kosher salt and black pepper
1 tablespoon olive oil (more as needed)
Instructions
First, prepare your whipped ricotta filling. To the bowl of your stand mixer (with whisk attachment fixed), combine the cream cheese, ricotta cheese, and whole milk. Beat on medium speed for about 3-4 minutes or until smooth and creamy. Remove the bowl from the stand mixer and gently fold in the honey, olive oil, lemon zest, sea salt and black pepper. Set aside.
Next, prepare your egg crepes. In a medium bowl, whisk together the Eggland's Best eggs, milk, thyme, oregano, parsley, chives and a pinch of salt and black pepper until combined.
Heat the olive oil in a 10-12 inch nonstick omelet pan or skillet over medium heat. Scoop about ¼ cup of the egg mixture from the bowl and pour it into the pan. Swirl the pan around so that the eggs form an even layer. The edges will cook before the middle does. As the edges set, tip the pan and swirl again. Once the eggs have set, about 1-2 minutes, remove immediately from the pan by sliding it gently onto a plate. This process will happen quickly, so pay close attention that you don't overcook the eggs. Repeat with the remaining eggs to make 4 total egg crepes. Add more oil as needed.
Take ¼ cup of the whipped ricotta filling and spread it onto ½ of a crepe. Fold the crepe once over the filling, and then fold it again to form a fan shape. Repeat this step on the remaining 3 crepes.
Serve the crepes immediately. Sprinkle with fresh parsley or serve with fresh greens if desired. Enjoy!
Notes
A handheld electric mixer can be used instead of a stand mixer.