PARTNER POST: Reinvent classic potato dishes to create a new holiday tradition. This year, forget the tried and true recipes and show off your cooking skills with a twist on an old favorite.
Buttery puff pastry bites are filled with capicola, a cured meat, and topped with soft mashed potatoes before being baked to perfection. A blissful holiday appetizer.
By Stacey M Doyle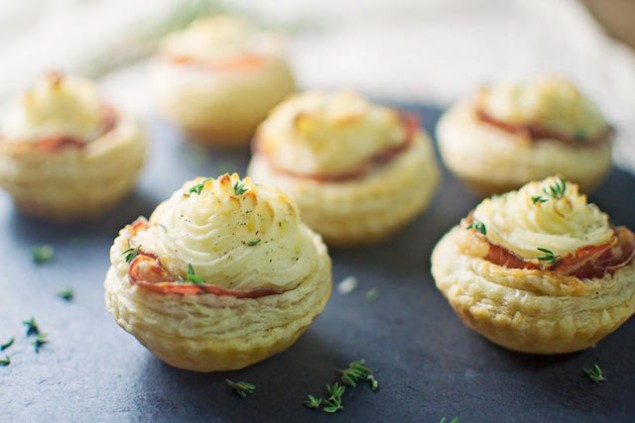 Potatoes have to be the most well-known and versatile root vegetable. Every child has been introduced to the classic mashed potatoes, which eventually evolves into garlic mashed potatoes. Fast forward ten or more years and those potatoes begin to make bold statements on those grown-up palates.
Not only are potato gorgeous in recipes, they are most definitely nutritious!
They are a complex-carbohydrate, providing a main source of energy for you body.
Only 20% of the potatoes nutrition is found in the skin, most of the potassium and vitamin C are in the potatoes flesh, so enjoy it all!
One medium potato contains about 45% of the daily value of vitamin C plus there is more potassium than you will find in bananas, spinach or broccoli.
They contain antioxidants.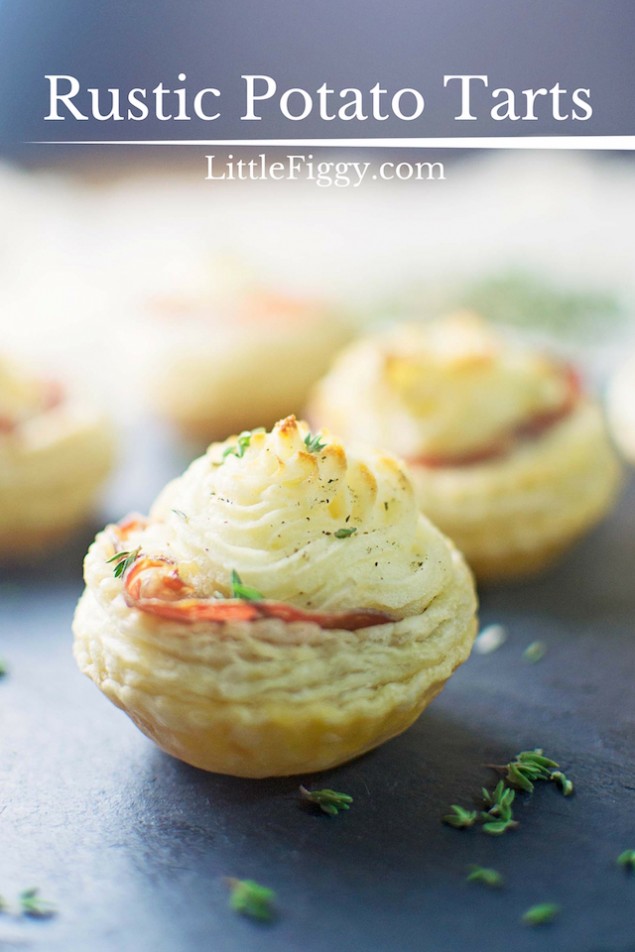 Try this wonderful holiday appetizer, Whipped Potato and Capicola Bites. The appetizer starts with a puff pastry shell, is topped off with capicola (dried cured meat) for added flavor, and then is finished with insanely gorgeous mashed potatoes. Bake and you have a stunningly delicious bite!
See Also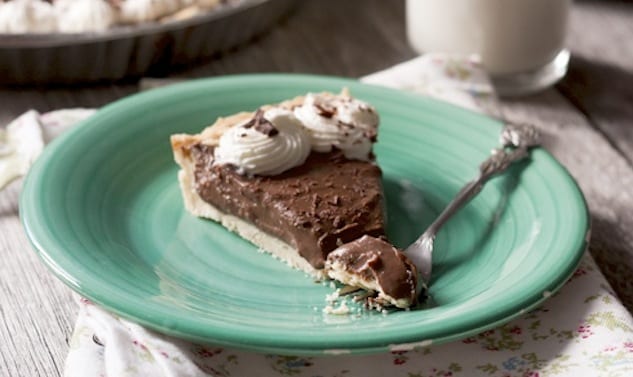 For more nutritional information and beautiful recipes for potatoes, click the banner above. And check out the recipe for Danish holiday potatoes below.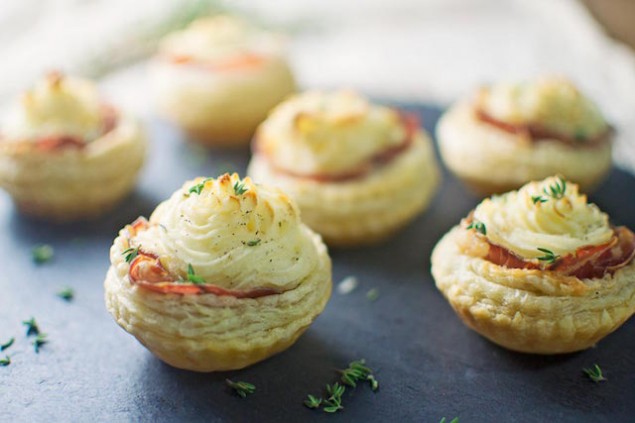 Whipped Potato and Capicola Bites
Stacey Doyle
Buttery puff pastry bites are filled with capicola, a cured meat, and topped with soft mashed potatoes before being baked to perfection. A blissful holiday appetizer.
Ingredients
2

Medium Russet Potatoes

peeled, diced into 1 inch cubes

1

Tbls

Butter

1

Tbls

Olive Oil

¼

cup

Shallots

diced fine (about 1 large Shallot)

1

tsp

fresh Thyme leaves

1

tsp

Salt

½

tsp

Pepper

2

oz

Cream Cheese

softened

1

Tbls

Milk

12

slices

Capicola

dried cured meat, found in the deli selection of cheeses and meats packaged as thin round slices. Can also use Prosciutto or Soppressata

1

– 2 Puff Pastry Sheets
Instructions
Preheat oven to 400°F. Lightly butter 2 – 3 inch muffin tin. Pull out Puff Pastry to thaw.

In a medium saucepan filled ? full of water, add about 1 Tbls salt and diced Potatoes. Bring to a boil, then reduce heat to medium and gently boil until tender.

While Potatoes are cooking, in a small skillet over medium high heat, melt the Butter and Olive Oil together until hot, add in the finely diced Shallots, 1 tsp Salt, ½ tsp Pepper and fresh Thyme leaves. Cook until Shallots are translucent and starting to get a little color, be careful not to scorch them.

After the Potatoes are cooked, drain and allow to steam dry for about 1 minute. Using a potato masher or the backside of a fork, mash the potatoes. Add in the Cream Cheese and Milk and continue to mix and mash until well blended. Once you have the consistency you like, fold in the sautéed Shallots and mix until well incorporated. Taste and adjust seasoning with Salt and Pepper if needed. Set aside.

On a lightly floured surface, carefully unfold the thawed Puff Pastry Sheet, using a rolling pin, roll it out to give it about 2 extra inches on all sides. Using a round 3 inch cookie cutter (straight or fluted), cut out circles (do not twist cutter, only press firmly).

Place circles into each muffin cup and top with 1 slice of Capicola per muffin cup. Using either a piping bag with a fluted tip or simply use a spoon, pipe about 1 tablespoon of the mashed potatoes per muffin cup, add pinch of pepper over the top of each appetizer.

Bake in 400°F preheated oven for about 20 – 25 minutes or until pastry is evenly puffed and flaky and the tops of the potatoes are starting to color. Remove from oven and cool for about 1 minute.

Garnish with a fresh Thyme leaves scattered over top and enjoy.
Stacey M Doyle
A Southern girl with a taste for travel, Stacey takes inspiration from her global pantry and cooks with a sense of adventure. Now she's raising her three young children to appreciate a wide world of food, even if she doesn't always tell them exactly what they're eating. Stacey is the food photographer, writer and creator of Little Figgy Food. She's also addicted to coffee. Addicted to olives. Fairly obsessed with dark chocolate.