You need approximately 2 cups of cooked wild rice to make this soup. Ideally it's real wild rice from a local grower, but in a pinch, Trader Joe's wild rice pilaf or something similar will do just fine.
By Bowen Close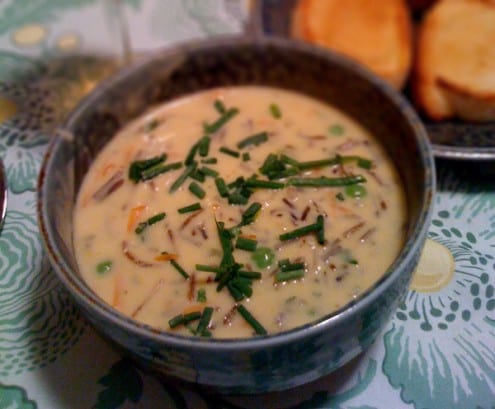 West Coast Wild Rice Soup
You need approximately 2 cups of cooked wild rice to make this soup. Ideally it's real wild rice from a local grower, but in a pinch, Trader Joe's wild rice pilaf or something similar will do just fine.
Ingredients
6 Tbsp. butter
1 large or 2 medium minced shallots
2 stalks celery, chopped
½ cup flour
3 cups chicken or vegetable broth
2 cups cooked wild rice
1 large carrot, shredded (approx. ½ cup, optional)
⅓ cup(ish) cubed ham (optional)
1 cup(ish) frozen peas (optional)
2 tsp.(ish) pimenton/hot paprika, or to taste
Salt and pepper
1 cup half and half
2 Tbsp. dry sherry
Chopped parsley or chives for garnish
Instructions
- Saute shallot and celery in butter in large (2+ quart) saucepan until tender
- Blend in flour and gradually add broth. Increase heat to medium high and stir until boiling, plus one minute
- Stir in rice, carrots, ham, peas, and pimenton. Season to taste with salt and pepper. Simmer for 5 minutes, stirring occasionally.
- Add half and half and sherry.
- Serve with garnish of chopped parsley or chives.
Bowen Close
Bowen Close believes that food should make people happy and healthy, and loves bringing together people with creative, delicious food made from the heart. She loves making farm-inspired, flavorful dishes with sustainable ingredients - whether that's a big plate of roasted veggies, a towering chocolate layer cake, or a cocktail utilizing backyard ingredients - and collects recipes and other food-related stories on her website, Bowen Appétit. She is a chef, cooking instructor, and food writer living in Southern California with her husband and fully stocked pantry.