A refreshing salad from London restaurant, The Refinery, complete with feta and simple ingredients for a perfect seasonal combination of flavors.
By Valentina Mariani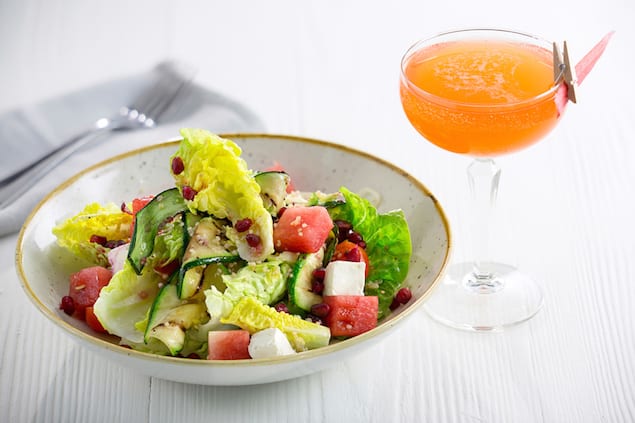 www.therefinerybar.co.uk
This salad was first tried in the amazing restaurant The Refinery in London, a one-of-a-kind place in the city where you can find the perfect treat, from creative cocktails to boutique beers and fine wines.
Here lunchtimes can be as quick or as languid as you like, and this is the perfect dish for the ones who want to stay in shape while tasting amazing flavors and fresh ingredients. The preparation is quite easy to do at home.  

Watermelon Salad with Grilled Zucchini
This recipe is easily adjustable to accommodate more eaters. Do not take the measurements as strict, adjust to the number of servings and your taste preferences.
Ingredients
1 large zucchini
Organic quinoa x 50g (1.7 ounces)
Feta cheese x 50g (1.7 ounces)
Quarter of a lemon
Head of little gem lettuce
One pomegranate
Cherry tomatoes x 40g (1.4 ounces)
Watermelon chunks x 50g (1.7 ounces)
Handful of torn basil
Extra virgin olive oil x 50ml (1.6 fluid ounces)
Instructions
Boil the quinoa in vegetable stock until cooked and then drain and allow to cool
Slice the courgette lengthways and grill.
Chop the watermelon, tomatoes, little gem and feta
Squeeze the lemon and mix with the olive oil, season with salt & pepper
Cut the pomegranate in half and spoon out the flesh.
Mix all the ingredients and present in a bowl