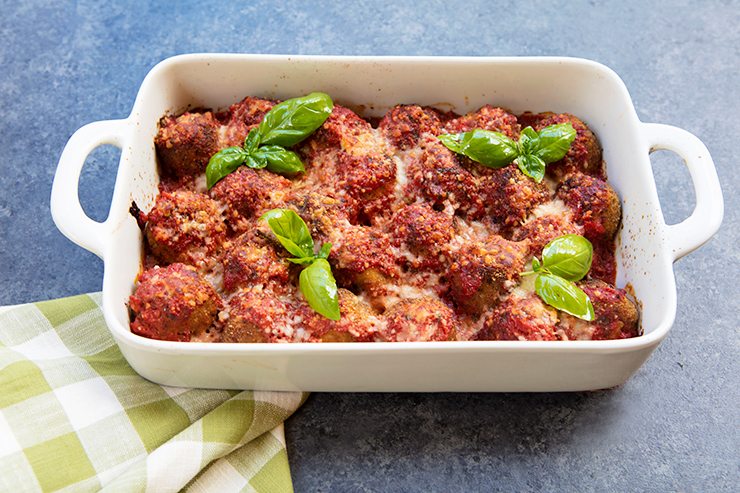 I am always on the lookout for tasty vegetarian Italian recipes, and although I have recipes on the blog for Bread Meatballs, along with Lentil Meatballs, I was intrigued when I read about making meatballs using eggplant and white beans. I found some recipes online for eggplant meatballs, and tried one but found that the end product was too soft and even slightly mushy. These "meatballs" made solely with eggplant certainly wouldn't have impressed my meatball loving grandkids! My next experiment involved mixing eggplant with cannellini beans, and I liked this texture a lot more as they resembled my Italian Mother-in-Law's beef meatballs once they were cooked. The final result in fact, may fool many meat lovers if you didn't tell them what these "meatballs" were made of.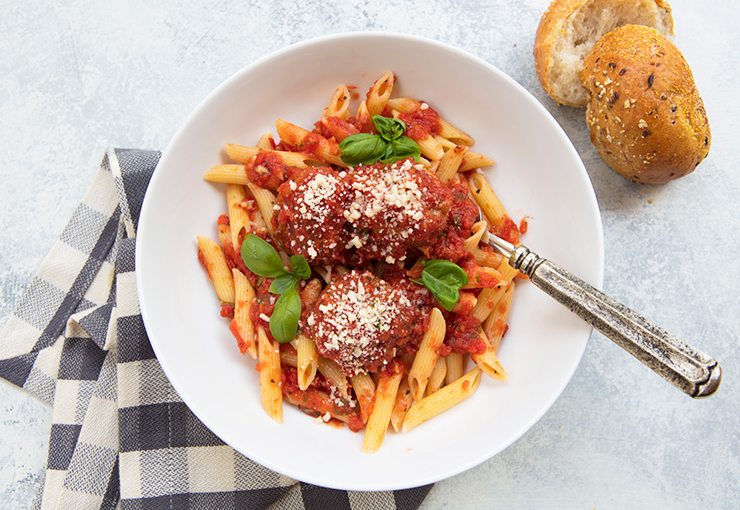 It took a bit of experimenting to get these "meatballs" exactly right, and there are a few steps that you need to follow to get the texture perfect. After the mixture has been combined, it needs to be refrigerated to firm up at least four hours. Overnight chilling is even better! The exact amount of soft breadcrumbs needed in the recipe also depends on how much moisture you can remove from the eggplant before adding it to the rest of the ingredients. You want the mixture to be firm enough to form into balls but still have it remain moist. Also, do not puree the mixture until completely smooth, as a bit of texture creates a better "meatball". You can either serve these vegetarian meatballs on their own topped with sauce and cheese, or serve along with pasta topped with some of the sauce. To make the soft breadcrumbs, I put diced Italian bread into my food processor and pulse until finely ground.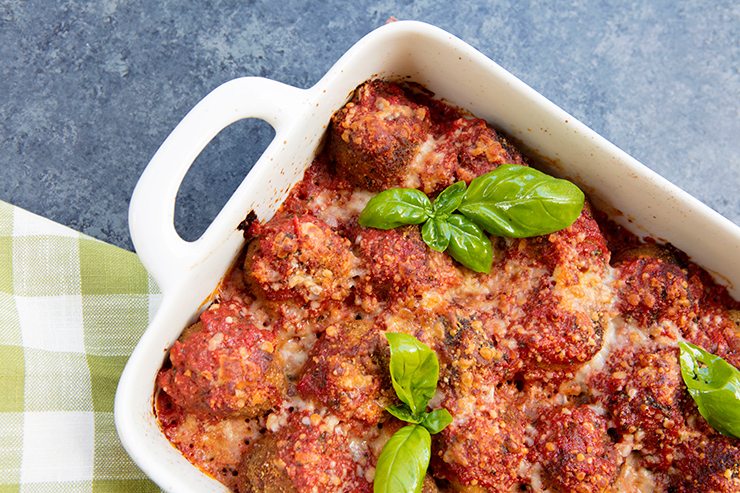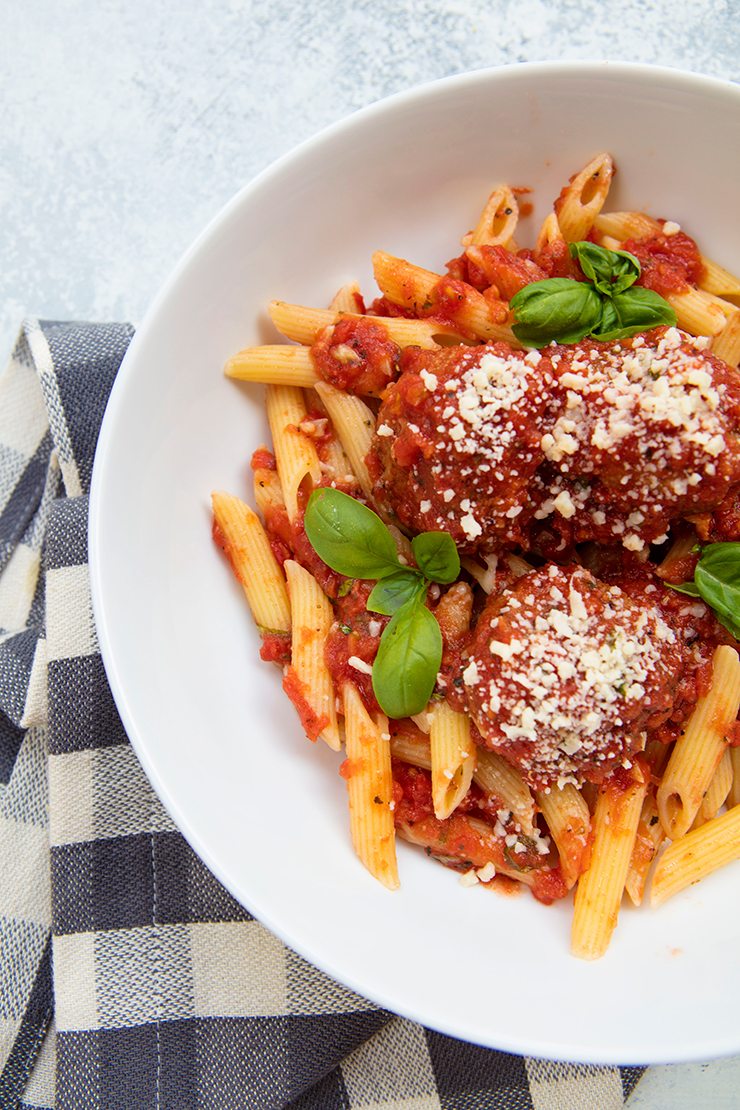 Click here for my tomato sauce that I serve with these meatballs.
Print

Vegetarian Eggplant and Bean Meatballs
---
FOR THE "MEATBALLS":
1

1 Pound Eggplant

1

Can (14 Ounce Cannellini Beans, Well Drained)

3 Tablespoons

Chopped Fresh Parsley Leaves

2

Garlic Cloves (Chopped)

1/2 Cup

Grated Parmesan Cheese

2 1/2 Cups

Soft Breadcrumbs (Approximate – See Notes Above)

1

Egg White

1/4 Cup

Olive Oil
FOR THE SAUCE:
TOPPING:
1/2 Cup

Grated Parmesan or Pecorino Cheese
---
Instructions
Preheat oven to 400 degrees F.
Place the eggplant on a foil lined baking sheet and pierce in several spots.
Bake the eggplant until very soft, about 25 minutes, then allow to cool.
Pull the skin off the eggplant and place in a colander.
Place a plate on top, then weight it with a large, heavy can.
Let the eggplant drain for 20 minutes to remove as much liquid as possible.
Place the eggplant, beans, salt, pepper, parsley, garlic, cheese, and 2 cups of the breadcrumbs in a food processor, and pulse until mixed. (Do not overtax as you want some texture!)
Place the mixture in a bowl, cover with plastic wrap and refrigerate for a minimum of four hours up to overnight.
While the eggplant mixture is chilling, prepare the sauce.
Heat the olive oil in a saucepan over medium heat.
Add the garlic and cook a minute or two.
Bring the mixture to a boil, then reduce the heat to a simmer and cook 20 mins.
Remove the eggplant mixture from the refrigerate, and roll into 2-inch balls. (If the mixture is still too moist, add the rest of the breadcrumbs)
Heat the oil in a large frying pan over medium heat, then cook the "meatballs" in batches until they are browned on all sides, about 8 minutes per batch.
Preheat oven to 425 degrees F.
Prepare an oven-proof casserole dish by spooning enough sauce the cover the bottom, then place the "meatballs" on top of the sauce, and sprinkle with the grated cheese.
Bake until bubbly, about 15 to 20 minutes.
Serve and enjoy!
Deborah Mele
Deborah Mele is a self-taught cook whose passion for Italian cuisine began after living in Milan, Italy for 8 years. Although not Italian by birth, she became a true Italian by heart and palate. Deborah created her Italian recipe blog ItalianFoodForever.com 12 years ago to share her passion for Italian food. During her various travels throughout Italy, Deborah fell in love with the central Italian region of Umbria so when they retired, Deborah and her husband bought two farmhouses there where they now reside for six months a year and run a farmhouse rental for guests and give cooking classes.