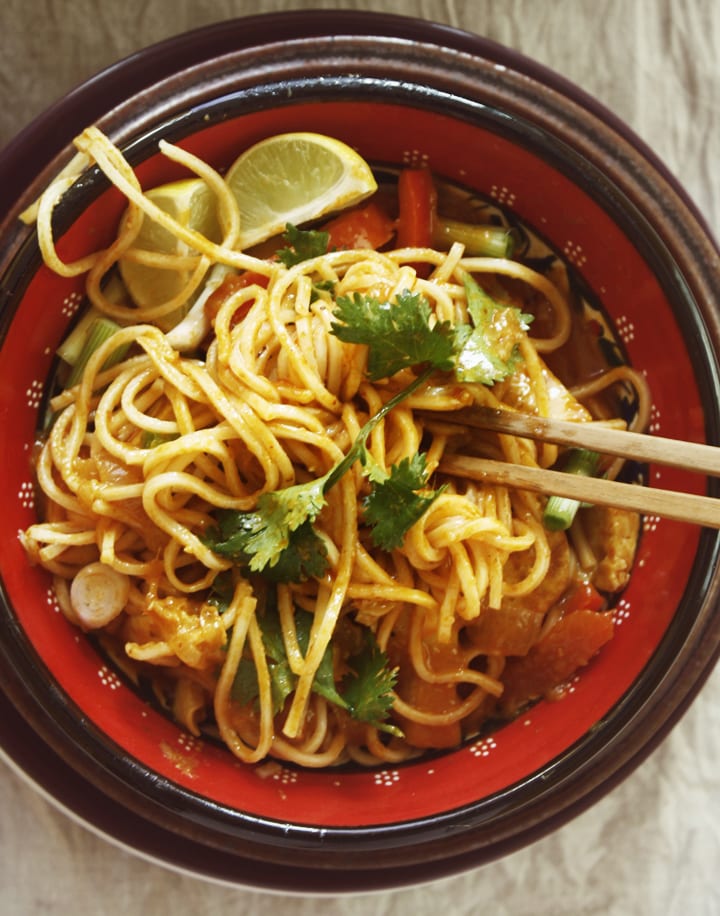 This take on the traditional Burmese recipe makes a healthy one-dish dinner.
By Pallavi Gupta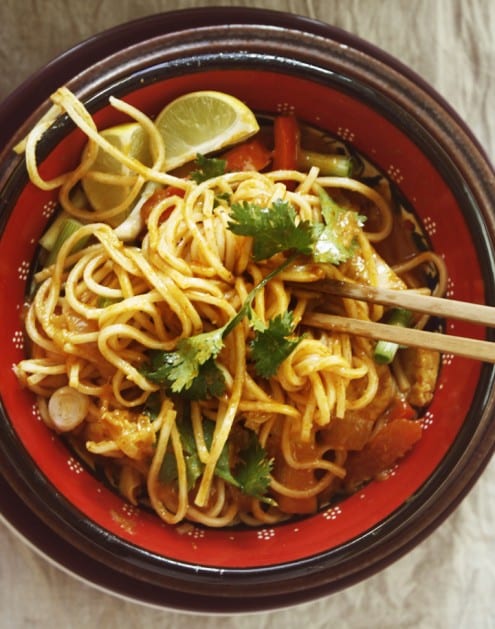 Khao Suey originates from the Burmese and Thai border and probably has a million variations. I got this recipe from a friend whose grandmother was from Burma and this is a recipe that has been passed on in his family. It was very kind of him to share his family recipe with me. I have made a few modifications to his recipe mainly to eliminate ingredients that are a bit challenging to find – outside of India.
You can basically throw in any kind of vegetables in this recipe – I happen to love the combination of red bell pepper and mushrooms but baby corn, snow peas, eggplant, carrots etc. would also taste wonderful. Since this recipe comes from the Thailand border – it does have some similarity to red curry, and you also use some of that paste in the preparation but the other spices used along with the curry paste somehow turns it into an amazing fusion. Coconut milk completes the sauce by balancing the punch from all the spices with its mild and sweet flavor. Use thick or flat rice noodles or the regular Ramen noodles…either way, its going to taste delicious!
Vegetable Khao Suey
This take on the traditional Burmese recipe makes a healthy one-dish dinner.
Ingredients
1 red onion, thinly sliced
1 cup mushrooms, sliced
½ red bell pepper, sliced
½ cup tofu, diced into bite size pieces
handful of sliced scallions
2 tsp ginger garlic paste
1 tbsp Thai red curry paste
1 cup coconut milk (250 ml)
½ cup water
½ tsp turmeric
2 tsp sugar
salt
1 tbsp vegetable oil
noodle – of your choice (preferably thick)
handful of roughly chopped cilantro
lemon wedges for serving
Instructions
In a bowl add tofu, turmeric and little salt. Stir to mix well so that all the tofu pieces are coated well with turmeric and salt. Keep aside for 5 to 10 minutes.
Cook noodle and keep aside. (to avoid them from sticking, run the cooked noodles under cold tap water)
In a large wok or a pan, heat oil on medium high.
Add sliced onions and cook stirring continuously till they turn a nice golden and become fragrant.
Add ginger garlic paste and continue to cook for another 30 seconds.
Add tofu and cook till it turns slightly golden.
Add bell pepper and mushroom, continue to cook for a couple of minutes.
Add the Thai curry paste and stir to mix well. You want all the veggies and tofu to be coated with the paste evenly and the paste is slightly cooked.
Add coconut milk, water and sugar. Mix to combine well and to form a lump free sauce.
Cover and cook on low for about 10 minutes.
Taste to adjust the seasoning.
To Serve: In a bowl add noodles. Pour the khao suey generously on the noodles. Mix well with chopsticks or fork and spoon. Sprinkle some scallions and a few drops of lemon juice. Add a few sprigs of cilantro and serve hot with extra lemon wedges.
Pallavi Gupta
Pallavi is a vegetarian globetrotter, who currently lives in the southern part of India. Past ten years of her life includes living in six cities in three different countries. It has added to her vast exposure of cuisines from different parts of the world which is now reflected in her cooking. She shares her knowledge of vegetarian and vegan recipe from around the world via her blog Veggie Zest. When not cooking or photographing, she does graphic design.