Vegan Nutella and Banana Ice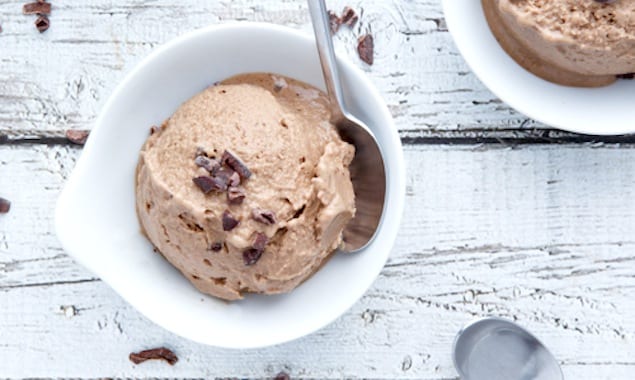 A super easy vegan and paleo-friendly nutella banana ice cream recipe using just two ingredients. No cooking or ice cream machine required.
By Chris Cockren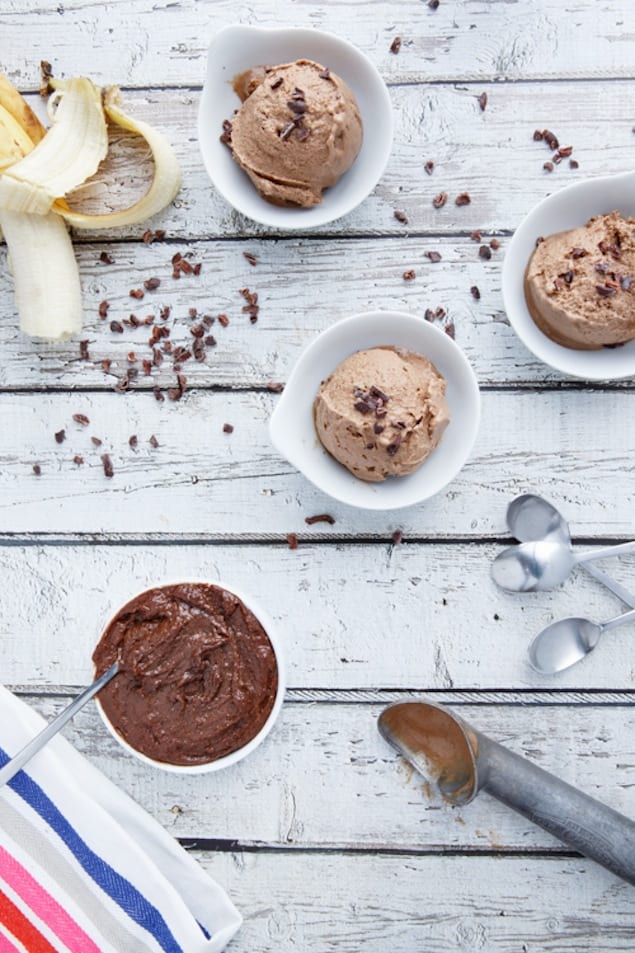 Basically, a healthy, paleo-friendly, vegan nutella banana ice cream using just two ingredients. I was shocked how creamy and ice cream-like this frozen banana wizardry turns out. And a guilt-free dessert is quite welcome nowadays.

Vegan Nutella and Banana Ice
A super easy vegan and paleo-friendly nutella banana ice cream recipe using just two ingredients. No cooking or ice cream machine required.
Ingredients
2 very ripe bananas
⅓ cup Paleo-tella (Dairy-Free Nutella)
Cocoa nibs, for garnish (optional)
Dairy-Free Nutella (adapted from The Iron You)
1 cup / 4.8 oz / 137 gr raw hazelnuts
¼ cup / 1.1 oz / 32 gr cocoa powder
2 tablespoons extra virgin coconut oil (or butter or ghee)
½ cup / 120 ml almond milk (or other milk or your choice)
6 tablespoons raw coconut palm sugar
½ teaspoon vanilla extract
Instructions
Make sure your bananas are very ripe. Peel and cut into small slices. Freeze for 1 to 2 hours, until completely frozen through. Transfer to a food processor along with the Paleo-tella.
Blend on high, scraping down the sides occasionally, until it reaches the consistency of smooth soft serve ice cream. Be patient, it will get there! Serve immediately or freeze for future consumption. Garnish with cocoa nibs, if using.
Dairy-Free Nutella
Preheat oven to 350°F (175°C).
Spread hazelnuts on a baking sheet and roast in the oven for 10 minutes, stirring once.
Remove from the oven and let cool for a couple of minutes.
Pour them in a clean kitchen towel, close into a bundle and give an energetic massage, this will (partially) skin the hazelnuts.
Transfer hazelnuts to a food processor and process for about 3 minutes, until a buttery paste forms.
Add all other ingredients and process until nice and smooth, about 8 to 10 minutes.
Every 2 minutes, stop the food processor and scrape the side with a spatula. It is also a good idea to give your a food processor a break every now and then.
Taste for sweetness and adjust to your liking.
Transfer to a Mason glass jar (or other airtight container) and keep in the fridge.
Chris Cockren
Chris is a New York based food blogger that loves bringing friends and family together through food. On his blog, Shared Appetite, Chris chronicles his culinary adventures of eating his way in and around NYC, as well as cooking and entertaining at home.