Rice noodles, tossed with a rainbow array of stir fried vegetables, thai basil, cilantro and a spicy sauce.
By Jill Mant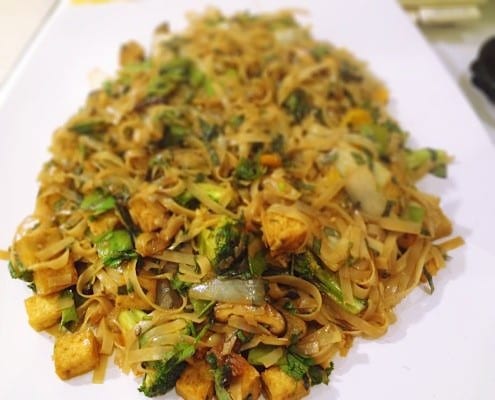 I am not a vegan. That said some of my children and friends are and I do respect both their principles and their choice. Neither do I wish to omit any of them from my dining table. Last night was one of those nights when we were entertaining vegan leaning friends. I could not think of a more delicious dish to serve them than these spicy rice noodles laden with veggies and topped off with a good amount of heat.
This recipe was adapted from one my son Jordan shared with me. His recipe included only broccoli and onions and to me that left out many a good vegetable. My version of this Thai dish includes a colorful array of healthy vegetables in purples, reds, yellows and greens, as well as a ton of garlic to ward off any evil spirits. The Thai Basil and Cilantro add plenty of flavor and the whole dish is smothered in a kick ass sauce. As expected from any self respecting Thai dish, it is finished off with plenty of hot chili paste for cold winter nights.
As far as the yield on this dish goes, based on the quantity of food it turns out, I would have stated 6-8. That said, there were 5 of us dining last night and the scant amount left on the serving platter at the end of the meal was enough for a lunch for a small child. It is because of this that I will let you be the judge of the actual yield on this sumptuous and healthy vegan main course.
Oh, and just for the record, when you first glance at the ingredients you might be tempted to question how a recipe that utilizes over 1 1/2 cups of Peanut Oil can be classified as healthy? The 1 1/2 cups of the oil is used to deep fry the tofu and one of the wonders of Asian cooking is that because you are using such high heat, what ever you put in your wok is automatically seared and the oil does not seep through the food. You will find that when you pour the oil out of the wok after deep frying the tofu that you take out almost exactly what you put in.
The Most Delicious Vegan Pad Kee Mao Recipe
Rice Noodles, tossed with a rainbow array of stir fried vegetables, Thai Basil, Cilantro and a spicy sauce.
Author:
Jill Mant~a Saucy Cook
Ingredients
Noodles & Veggies:
11/2 cups (350 ml) plus 3 Tbsp (45 ml) Peanut Oil, divided
16oz (450 g) package wide, flat Rice Noodles
3 Tbsp (45 ml) (or to taste) Garlic, chopped
2 Tbsp (30 ml) Shallots, chopped
1 medium Yellow Onion, cut in half horizontally and then each half cut in eighths
1 stalk Broccoli, chopped-bulk of stem discarded
½ Chinese Eggplant, chopped
16 oz. (450 g) Extra Firm Organic Tofu, cut into small cubes
6 Shitake Mushrooms, sliced
½ cup (120 ml) Snow Pea Pods, cut into thirds
½ Red Pepper, diced
½ Yellow or Orange Pepper, diced
1 cup (240 ml) Thai Basil Leavers, shredded
2 medium Tomatoes, chopped
¼ cup (60 ml) Cilantro, chopped
For the Sauce:
¼ cup (60 ml) plus 2 Tbsp (30 ml)Golden Mountain Sauce (available in Asian markets-you can also use Mushroom Flavored Soy, but Golden Mountain is better)
¼ cup (60 ml) plus 2 Tbsp (30 ml) Vegetarian Oyster Sauce
3 Tbsp (45 ml) Palm Sugar (available in Asian Markets-DO NOT USE WHITE SUGAR!!)
3 Tbsp (45 ml) Rice Vinegar
2 Tbsp (30 ml) Roasted Chili Paste
Black Pepper
Instructions
Soak the Noodles in hot water for 30-40 minutes. You want them to be tender, but not soft.
While they are soaking make the sauce and chop the veggies. An immersion blender helps with the sauce but is not necessary; just make sure that the sugar is completely dissolved.
Drain and toss the Noodles with 1 Tbsp of the Peanut Oil. Set aside.
Heat ½ cup of Peanut Oil in your wok over medium high heat. Once the oil is quite hot deep fry your Tofu pieces in batches until crispy and golden. Drain on paper towels. (You can save the oil once you are finished and reuse it for your next deep fry; I hate throwing it away as it is expensive.)
Heat the remaining Peanut Oil in your wok over medium high heat. Add the Garlic and Shallots once the oil has gotten quite hot and stir, constantly, for about 30 seconds.
Add the Veggies and stir fry (aka-stir quite frequently, about 3x/ minute!) for about 5 minutes.
Remove Veggies to a large bowl. Do not turn off stove.
Toss the Noodles in your wok for about 30 seconds, making sure that they don't stick together or clump.
Add the Sauce to the Noodles and stir fry for about 1 minute.
Now add your Cooked Veggies and Deep Fried Tofu.Toss to combine.
Add Tomatoes and Basil. Stir to combine until Basil begins to wilt.
Add Cilantro. Mix and serve.
Jill Mant
To Jill Mant, cooking is a meditative experience, an incantation, a love song to those she is cooking for and an expression of her creativity. She is one of the two cooks behind the blog SaucyCooks, where they discover cooking as multi-sensory experience. Jill loves the aroma that emanates from stove and oven, the sounds of food sizzling in pans and the soft, melodic drum of a knife or mallet hitting the cutting board.