One cupcake recipe made six ways—discover the variations in this delicious Kitchen Deconstructed installment.
By Tessa Arias
This article has been posted with permission and originally appeared as The Ultimate Cupcake Recipe Guide on Relish.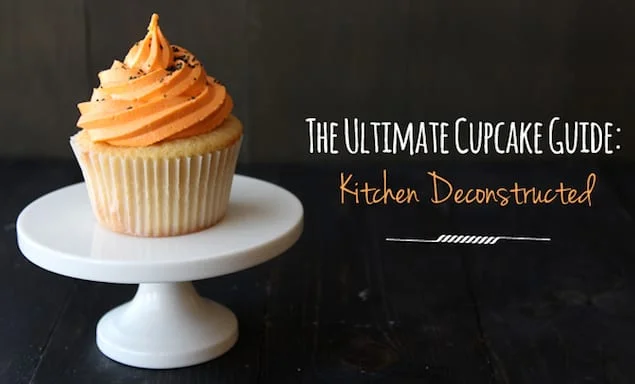 The following Kitchen Deconstructed experiment was put together by Tessa Arias, the multi-talented blogger behind Handle the Heat and cookbook author of Cookies and Cream: Hundreds of Ways to Make the Perfect Ice Cream Sandwich.
Cupcakes have proven themselves to be much more than a fleeting baking trend. With the amount of cupcake bakeries, reality television shows, and recipes out there, it's clear they're here to stay. Cupcakes are much easier than layered cakes to bake and transport, not to mention their cute size makes them the perfect indulgence for just about any occasion or holiday, like Halloween! It's no wonder they're so popular.
Despite their popularity, many cupcakes you find at the grocery store bakery are either bland or cloyingly sweet. Not to mention so many have an awful crumbly or greasy texture and artificial aftertaste. Homemade cupcakes are almost always better, and most recipes for basic yellow cupcakes are fairly similar. Small changes in the flour, fat, baking times, and baking temperatures, however, can result in very different cupcakes.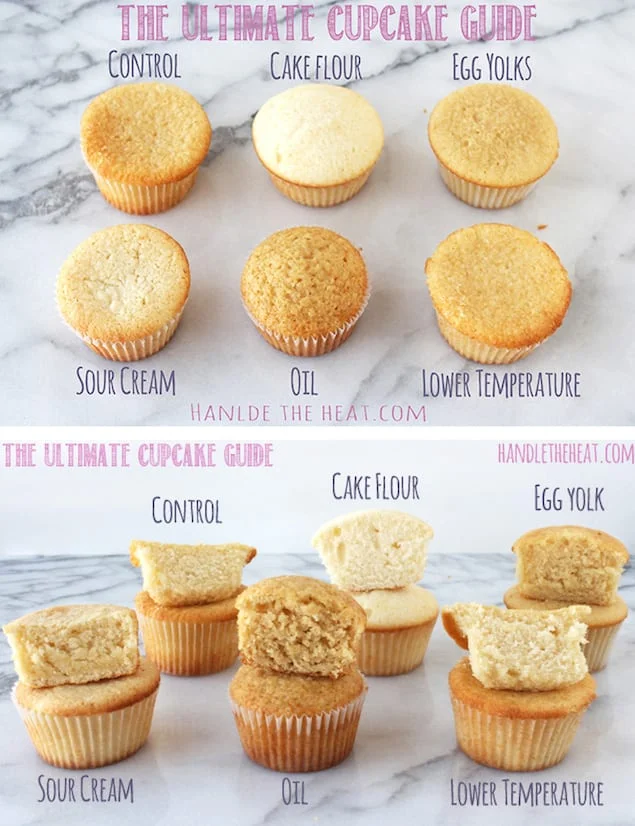 For this round of kitchen experimenting, I tested six batches of cupcakes to discover what makes a cupcake domed or flat, rich or crumbly, soft or slightly chewy, to help you create your version of the perfect cupcake. I used a very basic recipe that is from no one source in particular as my control recipe. From there I tested how cake flour, extra egg yolks, sour cream, oil, or a lower baking temperature affects the cupcakes.
To keep the results as consistent as possible, I used the same ingredients, utensils, techniques, and bakeware when applicable. I also maintained a 350°F oven temperature and a twenty-minute baking time when applicable. Take a look at the results to see the ins and outs of cupcake baking; I hope they help you discover the tricks to making your version of the perfect cupcake!
The Control Recipe
Print
The Control Recipe
Author:

Tessa Arias

Yield:

1

2

1

x
Category:

Baking
1 1/2 cups

all-purpose flour (

6.35 ounces

)

1 1/4 teaspoons

baking powder

1/4 teaspoon

fine salt

1 cup

granulated sugar

1

stick (1/2 cup or

4 ounces

) unsalted butter, at room temperature

1

large egg

3/4 teaspoon

vanilla extract

1/2 cup

plus 2 tablespoons whole milk
Preheat oven to 350F. Line a standard 12-cup muffin tin with paper liners.
Instructions
In a small bowl combine the flour, baking powder, and salt.
In the bowl of an electric mixer, beat sugar and butter until light and fluffy, about 3 minutes. Add egg and vanilla and beat until combined. Add flour and milk alternatively, starting and ending with the flour, beating well after each addition. Continue beating for one minute. Divide the batter between the cupcake cups, filling each about 2/3 full.
Bake for 20 minutes, or until a toothpick inserted comes out clean. Let cool for 10 minutes before removing to a wire rack to cool completely.
Cake Flour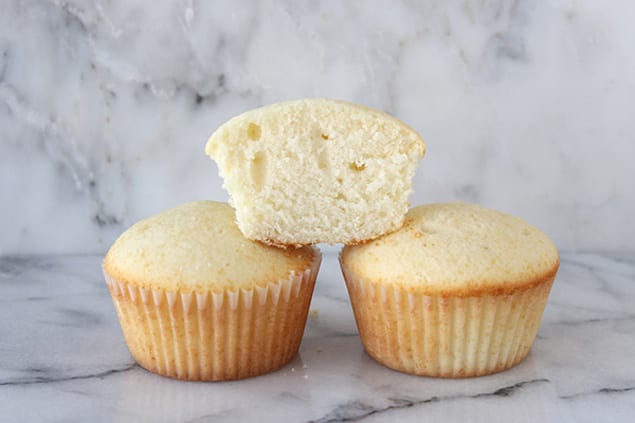 For this test I substituted the 1 1/2 cups (6.37 ounces) all-purpose flour in the recipe with 1 1/2 cups of sifted Swans Down brand cake flour, which weighs 5.25 ounces after sifting. Everything else in the recipe was left as-is.
The cupcakes were visibly lighter in color with very domed tops. The texture was super fine and soft but also on the dry side with a slight crumbly feel. In taste testing these cake flour cupcakes I felt that using all cake flour was too much. If you want to make your cupcakes softer you might consider using half cake flour, half all-purpose flour.
Egg Yolks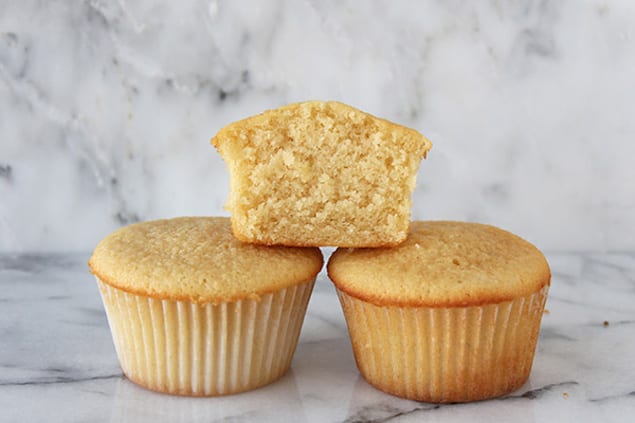 In addition to the one whole egg called for in the control recipe, I added an additional two egg yolks to test how they affect the cupcake's texture and flavor. The additional egg yolks not only gave a deeper yellow tint to the cupcakes, they also domed slightly more than some of the other tests.
The batter itself looked a little grainy, which concerned me, but the baked results were slightly chewy yet still soft, ultra moist, and full of rich flavor, all desirable traits in a cupcake. These egg yolk cupcakes would stand up nicely to a rich and thick frosting. I enjoyed the taste and texture of these cupcakes and will probably use at least one additional egg yolk in my yellow cupcake recipes from now on.
Sour Cream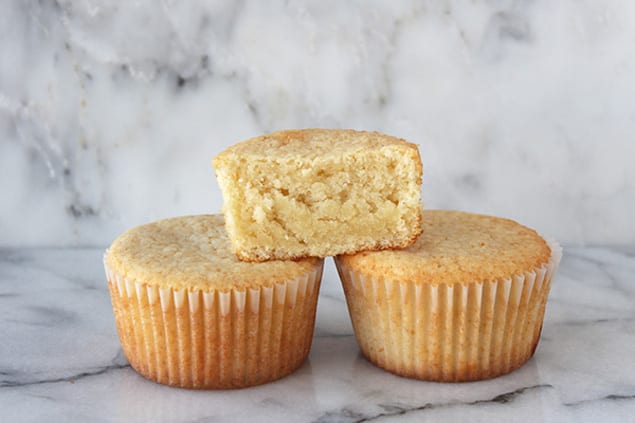 See Also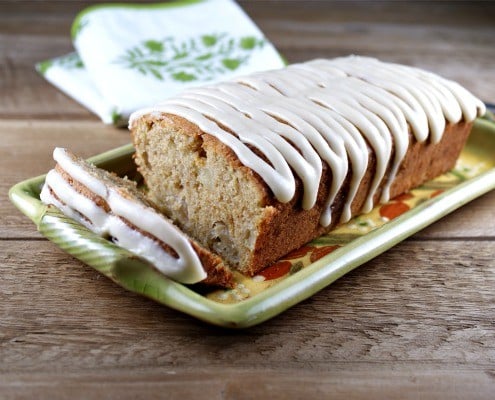 The control recipe calls for milk, but there are many cupcake recipes that call for sour cream instead so I decided to test the difference. I substituted the exact amount of milk with plain sour cream.
The batter itself was visibly thicker and tighter, not quite as loose as the control batter. The finished cupcakes were denser and slightly chewier than the control, with the perfect amount of moisture. They also had a slight tang, which added a nice depth of flavor. These sour cream cupcakes and the egg yolk cupcakes proved to be my favorites.
Oil Substituted for Butter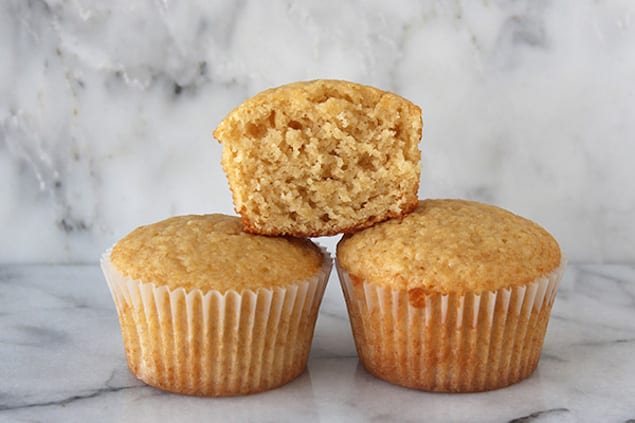 Most yellow cupcake recipes use butter as the main fat, however quite a few recipes for chocolate cupcakes or red velvet cupcakes use oil instead. I wanted to see what kind of difference oil makes so I substituted 1/2 cup canola oil for all the butter called for in the control recipe. Instead of beating the oil and sugar together, I simply mixed very well by hand.
The resulting cupcakes were unsurprisingly very similar to muffins in their appearance and texture. They were spongier than any of the other cupcakes but also had the worst flavor. These cupcakes almost tasted fried to me, that's how pronounced the oil taste was. There's definitely a reason why oil is only reserved for chocolate or red velvet cupcakes, which include flavorful ingredients that mask the oil flavor. I would definitely stick to using butter in yellow cupcakes because it provides that characteristic buttery flavor and light, finer-textured crumb.
Baking Temperature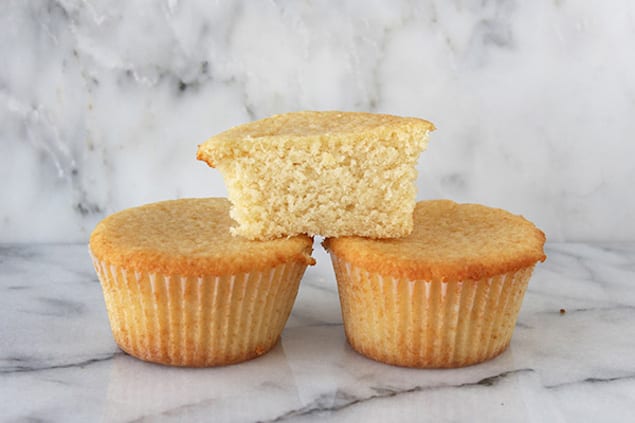 For this test I took the exact control recipe but baked it in a 325°F oven for 22 minutes. I peeked through the oven window to watch these cupcakes as they baked and they domed up surprisingly high during baking but proceeded to collapse slightly during the last minutes of baking and during cooling.
As expected, they didn't brown as much as the control cupcakes and were actually extremely difficult to remove as the edges had overflowed and stuck to the tin. Since they were so soft and tender, I ended up damaging a few of the cupcakes while trying to remove them from the tin. This dilemma surprised me and I would certainly avoid baking cupcakes at a lowered temperature again, though the lower temperature would probably work well for producing ultra soft and tender layer cakes.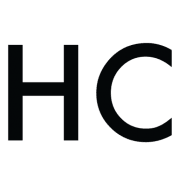 Relish
Offering more than 14,000 recipes plus features and DIYs on cooking, dining and entertaining, Relish celebrates America's love of food. Relish is about honoring cooking traditions while exploring new trends and ideas, which is why millions of people turn to both Relish.com and Relish Magazine for special occasion recipes, quick and easy weeknight suppers and culinary adventures.