Transport yourself to the sun-soaked landscapes of Tuscany with this authentic meatball recipe.
Featuring a blend of ground beef and veal, these meatballs are enhanced with fresh spinach, creamy ricotta, and aromatic basil, creating a mouthful of complex flavors. Bathing in a rich tomato sauce, they are a comforting and familiar taste of traditional Italian home-cooking, right in your own kitchen.
It really is a wonderful testament to the rich simplicity of Tuscan cuisine, so enjoy the process, enjoy the flavors, enjoy the journey.
1. First Steps
Begin by breaking down Tuscan bread, letting it soften in milk, an act as comforting as the dish itself. Meanwhile, immerse the fresh spinach in boiling water, letting the green leaves wilt, releasing their essence.
2. Stir-fry the spinach.
Transform your shallots into a soft, translucent base, sautéing them in luxurious extra-virgin olive oil. Then, let the spinach join in, stirring it to achieve a juicy, yet not watery consistency.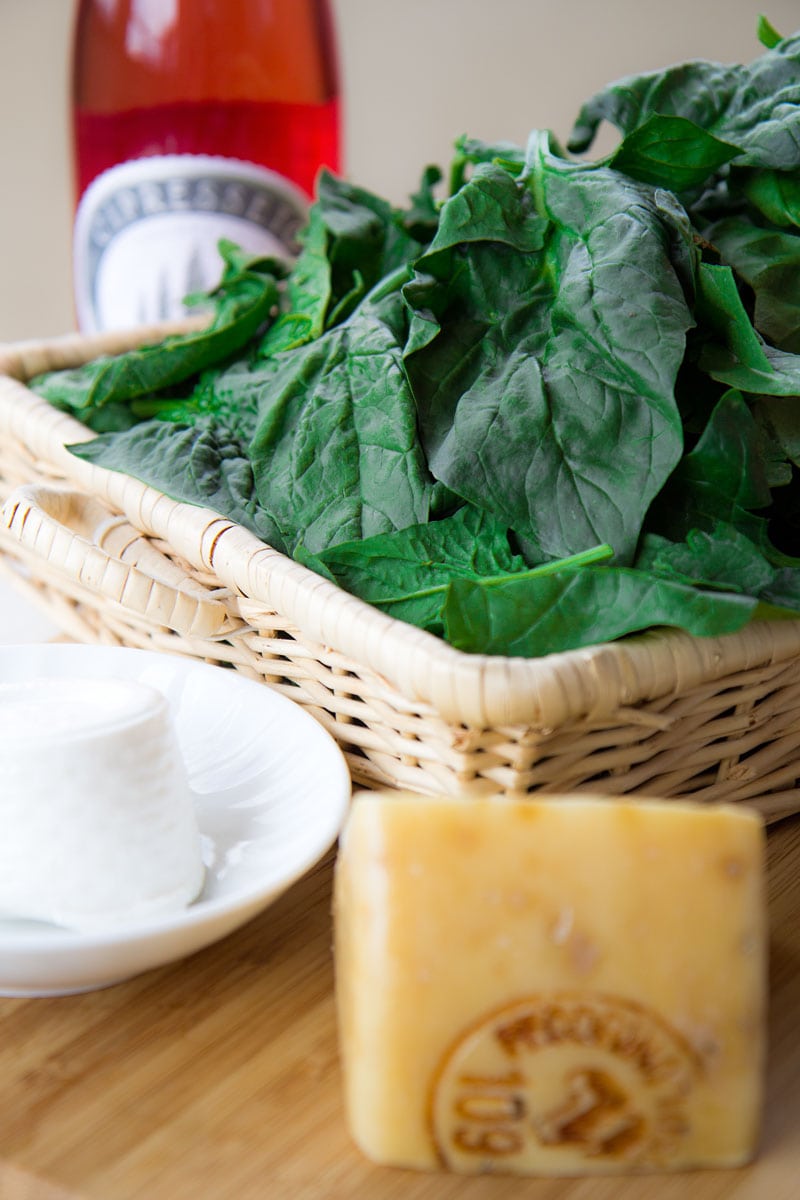 3. Create the meatball mixture.
Squeeze out the milk-soaked bread and introduce it to the spinach mixture, along with robust Tuscan Pecorino, creamy ricotta, seasoned ground meat, and a pinch of warming nutmeg. After adding a sprinkle of black pepper and a dash of salt, knead together. Let it rest, allowing the ingredients and flavors to deepen.
4. On to the tomato sauce.
With the meatball mixture developing in the fridge, turn your attention to the tomato sauce. Sauté crushed garlic until it turns a pale golden, releasing its warm aroma. Introduce the tomato pulp / sauce, letting it simmer gently with the garlic, creating a rich, velvety sauce.
5. Meatball time.
Retrieve the meatball mixture and begin shaping the meatballs. Take your time. Once formed, gently flour and deep-fry until golden, a testament to their hearty, home-cooked nature.
6. Unite the meatballs and sauce.
Place the meatballs gently into the simmering tomato sauce, adding a few sprigs of fresh basil for an extra touch of the Italian countryside. Let them cook slowly, flipping every so often, as they soak up the sauce.
Enjoy this experience, and remember – the essence of Tuscan cooking is simplicity, quality, and passion. Buon appetito!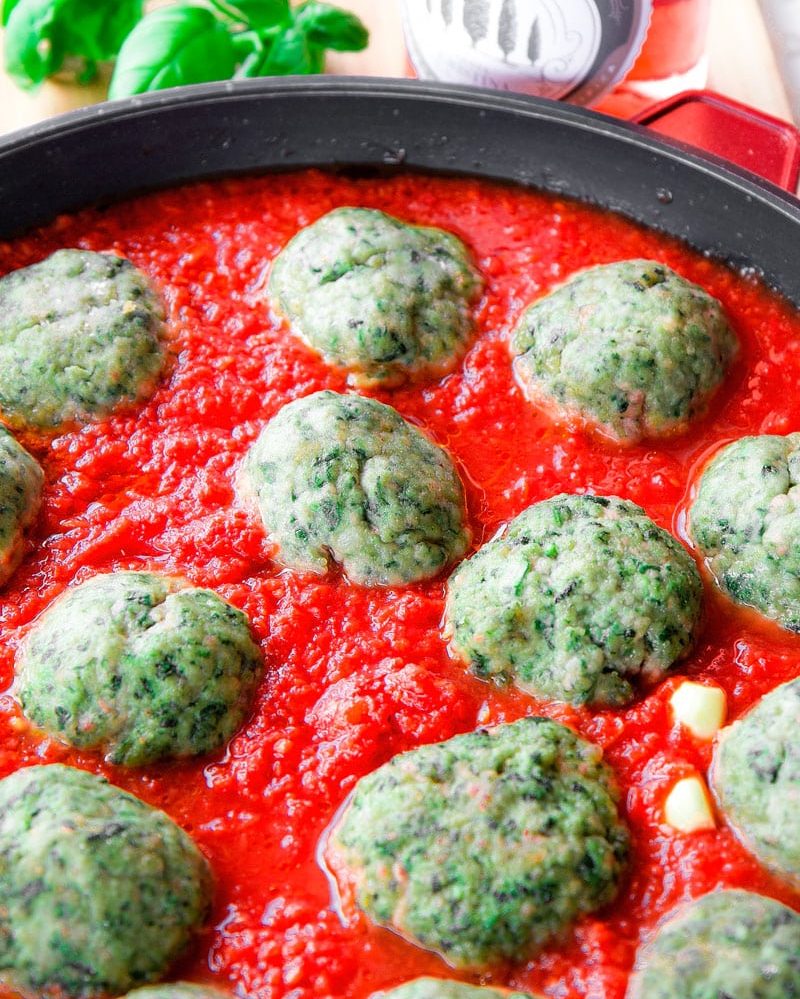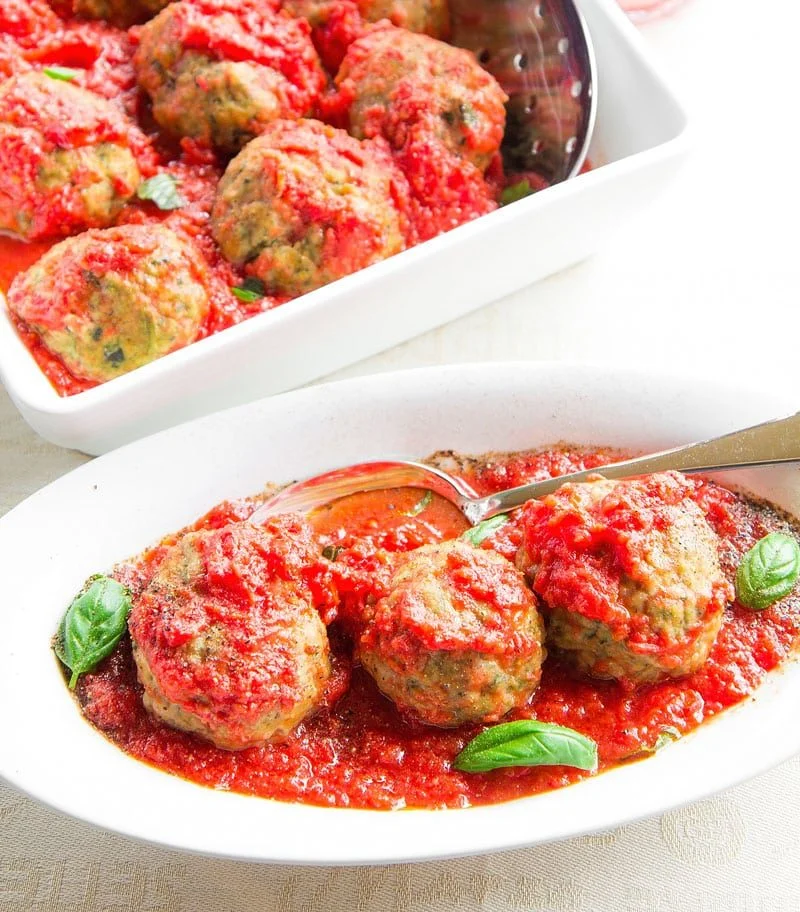 Print

Tuscan Meatballs in Tomato Sauce
---
Author:

Filippo Trapella

Total Time:

2 Hours

Yield:

4

people

1

x
Description
Transport yourself to the sun-soaked landscapes of Tuscany with this authentic meatball recipe.
---
1

lb

450 g beef and veal ground (alternatively, only beef ground)

1/2

lb

230 g fresh spinach (alternatively, frozen spinach)

1

lb

450 g tomato pulp (or tomato sauce)

2

cloves garlic

2

shallots

10

basil leaves

2

eggs

2.5

oz

70 g Tuscan bread

2

oz

55 g ricotta cheese

2

oz

55 g Tuscan pecorino, grated

1.5

cups

350 ml milk

2

cups

250 g all-purpose flour

1 Qt

1 liter vegetable oil (best if sesame oil)

4 tbsp

extra-virgin olive oil

1

pinch nutmeg
to taste black pepper
to taste table salt
---
Instructions
FIRST STEPS: First of all, chop the Tuscan bread, pour it into a bowl, and soak with milk until totally softened.
Now, rinse the fresh spinach thoroughly, and boil or steam them 5 minutes.
After that, rinse the spinach with cold water, squeeze, and mince.
Store the spinach in a bowl until used.
STIR-FRY SPINACH: Peel and chop the shallots. Then, saute them along with 2 tbsp of extra-virgin olive oil until soft and translucent.
At this point, add the minced spinach and stir-fry a few of minutes: you want them juicy but not watery.
TUSCAN MEATBALL MIXTURE: Squeeze the bread accurately and pour it into a big bowl along with the stir-fried spinach.
After that, add the grated Tuscan Pecorino, the ricotta cheese, 2 eggs, the ground meat, 1 pinch of nutmeg, and a generous sprinkle of black pepper.
Salt to taste and knead the mixture until all the ingredients are well mixed.
Finally, wrap and store in the fridge at least 1 hour, and up to 1 day.
TOMATOES SAUCE: Now, prepare the tomato sauce.
First, peel and crush the garlic. Then, pour the garlic in a saucepan along with 2 tbsp of extra-virgin olive oil. Saute the garlic over medium heat until pale golden, then add the tomato pulp.
Cook gently 30 minutes, and eventually salt to taste.
SHAPING AND FRYING "POLPETTE"!: At this point, take the mixture from the fridge and shape it into "polpette" (that means meatballs in Italian) from 1oz to 3 oz, depending on your taste: I like them a little bigger than a ping-pong ball! Eventually, flour the "polpette" and shake them very gently to discard the flour in excess.
After that, pour the vegetable oil into a deep saucepan and heat until it reaches 340° F (170° C). Deep-fry the meatballs, two or three at a time, a couple of minutes, until pale golden. This step is critical: handle the meatballs with care!
Finally, place the fried "polpette" over kitchen towels to drain the oil.
SPINACH MEATBALLS INTO THE SAUCE: Pour the tomato sauce into a big pan along with 10 hand-broken basil leaves. After that, place the meatballs gently into the sauce and cook over gently flame 1 hour, flipping them every 15 minutes. Finally, rest 20 minutes before serving, or serve warm, or at room temperature.
Notes
CHOOSING THE MEAT – In this recipe, I love to mix veal and beef ground, but the meatballs will come greatly also with just beef meat.
FROZEN SPINACH – If they are available, you want to choose fresh spinach. But, if frozen spinach is your only option, put them into a saucepan along with a splash of olive oil and a pinch of salt, then heat over low/medium flame until properly thaw. After that raise and saute the vegetables along with the shallots, as described in the next steps.
PREPARING THE MEATBALLS IN ADVANCE – Even if the meatballs are delicious just cooked, they give their best the day after, gently re-heated!
SERVING TEMPERATURE – the Tuscan meatballs can be served either hot, or warm, or at room temperature, depending on your taste.
Prep Time:

30 minutes

Rest:

1 hour

Cook Time:

30 minutes

Category:

Main

Cuisine:

italian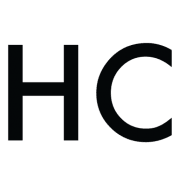 Filippo Trapella
Born and raised in Bologna, Italy (hometown of lasagna and tortellini!), I grew up under the table of my grandmother helping her making fresh pasta for our Sunday feasts with the family. My passion for food stems from my curiosity, which has led me to travel around almost all continents (I still miss Oceania, but I hope to fill that gap soon!). During my trips I discovered the power of food. In my blog philosokitchen.com I write my recipes and my experiences around the world.