PARTNER POST — TrySwedish Thursdays is a culinary collaboration between TrySwedish, West Sweden, Gothenburg and Västerbottensost cheese. Discover the edible delights of the land.
Chef Emelie Nielsen of Norrqvarn Hotell is a native to West Sweden and knows the in's and out's of working with local flavors and produce. She lets us in on the local food landscape and her favorite pike perch recipe.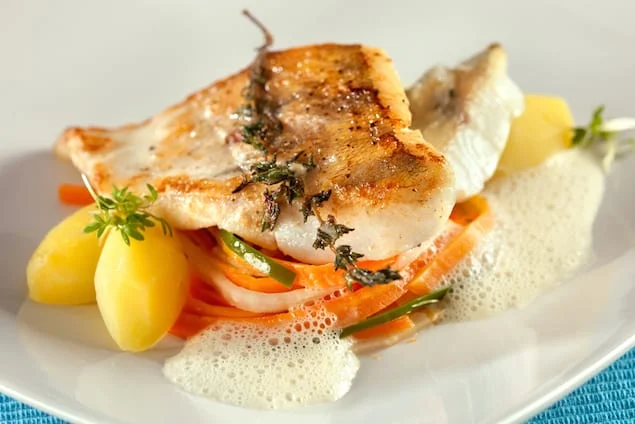 Shutterstock: Belushi
"Our food philosophy is one in which we aim to bring attention to the local produce that can be found around us in Skaraborg, and we have a large pantry to pick from. It is wonderful that the demand for such products is steadily on the increase. As we all know, locally produced food is good both for our health and for the environment – and, last but not least, it tastes so much better!"
The Norrqvarn Hotell, located right on the Göta Kanal, prides itself on being one with the surrounding West Sweden nature. We talked with their Chef Emelie Nielsen to find out more about their Taste of Skaraborg menu that highlights the best ingredients in the area.
The menu reflects the area and highlights ingredients in an "old way", she says, or in the same way her grandmother may have prepared the items. While this idea of going back to the classics may seem old fashioned, it is the latest trend throughout Sweden to put twists and slight updates on chefs' food heritages.

"In Skaraborg we have lakes, forests, farmers and a lot of both small and large local producers," says Chef Emelie, "In the menu we reflect these area with different ingredients and cooking techniques. We have wild duck, hunted and smoked in a castle near by. It is served with a variety of wild grown plants picked by our team, and some locally grown cauliflower and black currants."
The Taste of Skaraborg menu is a perfect example of the many forms of lush landscapes you will find in West Sweden. As a part of the culture, Emelie says chefs have a legal right of passage onto private lands. It is not uncommon to go out foraging for wild berries and mushrooms and not have to worry about encroaching on a neighbor.
Norrqvarn Hotell is located between two of Sweden's largest lakes. Because of this, there are many fishermen in the community and the pike perch is one of the most commonly caught fishes. Chef Emelie is proud to feature the local fish, caught by her community, and generally served in a more nutritious and sustainable way than red meats. The perch is usually served with Sweden's classic new potatoes, boiled, but then mashed and pan-fried with other seasonal vegetables.
Moving on to the desserts often seen on the menu, Chef Emelie admits that she likes the sweet course to be a playful celebration of childhood. In West Sweden, it is not uncommon for children to pick and eaten wood sorrel while they are playing in the surrounding forests. In her plated dessert version of this childhood memory, she serves it with strawberries and a butter roasted spongecake, a cake that is very common to the area.
For a taste of West Sweden even when you are thousands of miles away, try a taste of Chef Emelie's Brown Butter Pike Perch. Find out about more favorite edible West Sweden destinations here.

TrySwedish Thursdays: Brown Butter Pike Perch from West Sweden
Chef Emelie Nielsen of Norrqvarn Hotell, native to West Sweden, knows the local flavors and produce. Take a bite of her favorite pike perch recipe.
Ingredients
520 gram (1.1 pounds) Pike perch fillet in big pieces
Salt and white pepper
4 pieces baking paper, about 30x30cm
1 big carrot
½ small Zucchini
Fennel with stem and dill
Dill
6 Tablespoons salted butter
2 Shallots, cut in small pieces
100 ml (3.4 fluid ounces) white wine
4 parchment paper peices cut into 30x30cm
Fried New Potatoes with Spinach
800g (1.7 pounds) boiled New Potatoes
3 tablespoons butter
Salt
100 g (3.5 ounces) arugula
100g (3.5 ounces) baby-spinach
Shellfish and Lemon Chili Foam
300 ml (10 fluid ounces) tasty shellfish stock
1 lemongrass stick
1 tablespoon tomato purée
Lemon chili fresh or dried.( Or use another chili and some lemon juice.)
100 ml (3.4 fluid ounces) Cream
Salt
lemon juice
Instructions
Cut the fish into filets pieces and make sure that there are no bones.
Browne 5 tablespoons of butter in a pan. Sauté the shallots in 1 tablespoon of butter and when they are soft and shiny, add the wine and let it cook for a couple of minutes, then mix with the browned butter.
Season the fish with salt and a little white pepper.
Using a peeler, peel the carrot, zucchini and fennel into thin strips.
Put the parchment paper pieces on a work surface. At the center of each paper put some of the vegetables. Then put the fish pieces on top. Add some more vegetables on top of the fish and then some of the browned butter-shallot mixture. Then fold the paper closed into a nice package.
When it's time to serve, cook the packages in oven at 347 F for 7-10 minutes. Check with a thermometer that the fish is ready. The fish should be 125-131 F in center.
Potatoes
Put the potatoes on a cutting-board. Smash them with a pan so that they get a bit flat. Then fry them golden in butter in a frypan. Season with salt. Just before serving, add the arugula and spinach and mix gently.
Foam
Put stock, lemongrass, tomato purée, a little lemon chili and cream in a pot and boil for a couple of minutes. Taste and season with salt, maybe more chili and lemon juice to a tasty sauce. Strain of the lemon chili.
Just before serving, mix the sauce with a stick blender so that it gets nice and foamy.