Banana Caramel Tart with Pretzels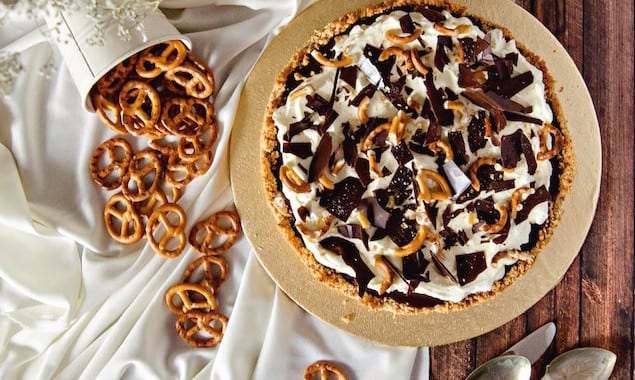 A banana caramel filling sits inside a buttery tart and is topped with a layer of whipped cream, rich chocolate ganache, and salty pretzels. A sweet and salty dream come true.
By Oana Olguta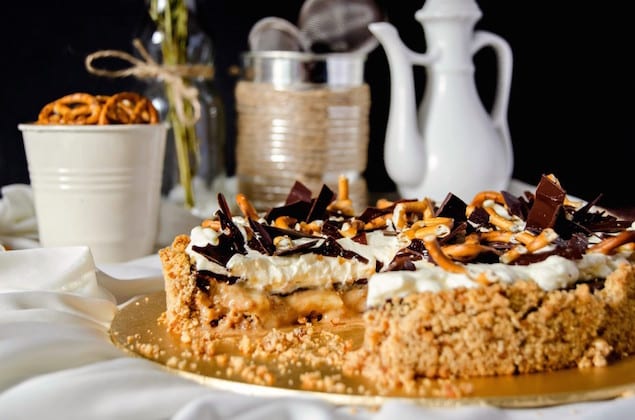 This dessert is rich, buttery, and packed with flavor that combines the most amazing caramel with some over-ripe bananas, plenty of chocolate and a delicate cloud of whipped cream.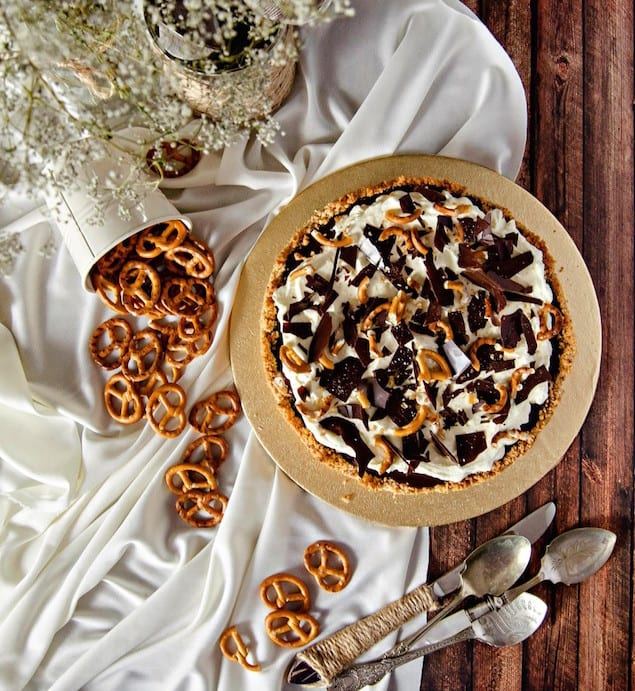 The banana caramel tart with pretzels is sweet, fragrant, rich, creamy, silky and yet texturized, it's basically all you ever wanted from a tart and much more. It's a banoffee pie brought to a whole new level with the addition of a rich chocolate ganache and a salty, crunchy pretzel tart and it's absolutely perfect if you like bananas, pretzels, chocolate and the mix of silky and crunchy in the same bite.
Find the ratio for the easy banana caramel filling here.

Banana Caramel Tart with Pretzels
A banana caramel inside a buttery tart and is topped with whipped cream, rich chocolate ganache, and salty pretzels. A sweet and salty dream come true.
Recipe Type:
Dessert, Baking
Ingredients
Crust:
150g (5.3 ounces) pretzels
100g (3.5 ounces) graham crackers
100g (3.5 ounces) butter, melted
Banana Filling:
Find the recipe for the banana filling above.
Topping:
100ml (3.4 fluid ounces) heavy cream
100g (3.5 ounces) dark chocolate, chopped
1 teaspoon vanilla extract
1 teaspoon dark rum
200ml (6.8 fluid ounces) heavy cream, whipped
Instructions
Crust:
Combine the pretzels and crackers in a food processor and pulse until fine and ground.
Add the melted butter and mix well then transfer into a round tart pan (20cm diameter). Press the crust well on the bottom and sides of the pan and bake in the pre-heated oven at 350F for 10 minutes until golden brown.
Remove from heat and allow to cool.
Filling:
If you have dulce de leche, things are very straight forward - arrange the banana slices in the crust and pour the dulce de leche over the bananas.
If you don't have dulce de leche, make a whole in the top of your condensed milk can and place the can in a pot. Fill the pot with water until it reaches the top, then place over low heat and cook for 3-4 hours until caramel begins to show through the hole you made in the can. Remove from heat and allow to cool then cut open the can and use.
Topping:
Bring 100ml cream to the boiling point in a saucepan. Remove from heat and stir in the chocolate.
Mix until melted and smooth then stir in the vanilla and rum. ALlow to cool then pour the chocolate over the dulce de leche and place in the fridge.
Allow to set then top with whipped cream.
Decorate with chocolate and pretzels and serve chilled.
Oana Olguta
I am a self-taught baker and pastry-school graduate and I have an affinity for food. But I especially love baking, taking pictures, exploring dessert cookbooks, entremets and writing. I focus on creative desserts and baking techniques that are aimed to both novices and experts in the kitchen and I truly believe that being a pastry chef is not about looking for innovative ways of making desserts, but about learning the basic techniques and then combining them into new, original desserts, relying on textures and flavors.