Get all the flavors of a taco in a simmering pot of soup topped of with cravable, crispy fried tortilla strips.
By Brittany Everett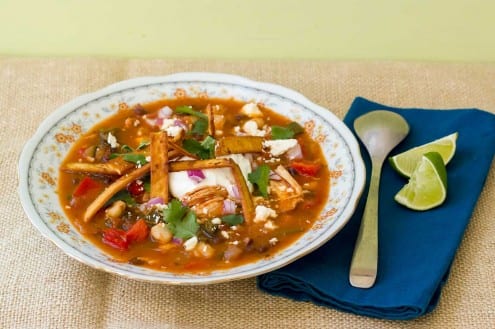 Tortilla Soup
Get all the flavors of a taco in a simmering pot of soup topped of with cravable, crispy fried tortilla strips.
Ingredients
Vegetable oil
Kosher salt & freshly ground black pepper
2 large bone-in skin-on chicken breasts
1 white onion, chopped
2 poblano peppers, stemmed, seeded & chopped
2 red bell peppers, stemmed, seeded & chopped
1 jalapeño, stemmed, seeded & minced
3 large cloves garlic, minced
1 tablespoon ground cumin
2 teaspoons ground coriander
1 teaspoon chili powder
½ teaspoon dried oregano
3 tablespoons tomato paste
6 cups chicken stock
1 28-ounce can crushed tomatoes
1 15-ounce can fire-roasted diced tomatoes
2 15-ounce cans black beans, drained
1 29-ounce can hominy, drained
2 chipotle peppers in adobo, minced
Suggested garnishes: tortilla strips (see below), cotija cheese, chopped cilantro, minced red onion, lime wedges, sour cream, hot sauce
Tortilla Strips
Vegetable oil
Corn tortillas
Fine grain salt
Instructions
Preheat the oven to 350 degrees F. Warm a large pot for a few minutes over medium heat and add a tablespoon of oil. Season the chicken with salt and pepper on both sides and add it to the pot, skin side down. Brown the chicken well on both sides (a few minutes per side), then transfer to a baking sheet and into the oven. Bake the chicken until it registers 165 degrees internally, 25-30 min.
In the same pot, combine the onion, poblanos, bell peppers, jalapeño, and garlic with a big pinch of salt. Cook the vegetables, stirring occasionally, until the onions are translucent. Next, stir in the cumin, coriander, chili powder and oregano; continue stirring for 1 minute. Add the tomato paste and stir for 2 minutes.
Add the remaining ingredients to the pot along with a huge pinch of salt. Stir well, bring to a boil, and simmer for 20 minutes or so. When the chicken is done and cool enough to handle, remove the skin, shred the meat and stir it into the soup. Taste and adjust the seasoning if necessary. Serve with the suggested garnishes at the table.
Tortilla Strips
Heat a shallow layer of oil (about ½ inch) in a large pan over medium-high heat. Cut the tortillas into strips. To test if the oil is ready, put a little piece of tortilla in the pan. The oil should bubble up rapidly around it, cooking it to a golden brown in a minute or so.
Crisp the tortillas in batches (don't overcrowd the pan), removing them with a slotted spoon or spider strainer when crispy and golden brown. Transfer them to a paper towel-lined plate and sprinkle with salt before moving on to the next batch.
Brittany Everett
A graphic designer by day, Brittany enjoys cooking, eating, photographing and discussing food with every other waking moment. She created Kitchenette, a food blog dedicated to making delicious comfort foods from scratch and with love.