Truffled Potato and Mushroom Tart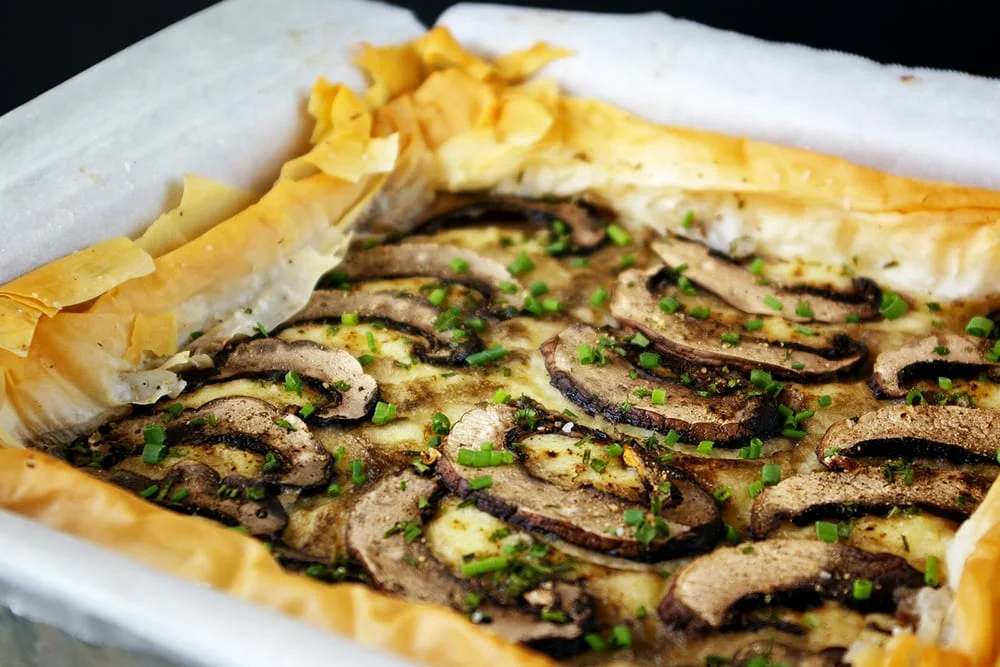 Creamy, cheesy mashed potatoes, crispy, buttery filo dough, earthy, hearty mushrooms, fresh chives, and a drizzle of truffle oil. Are you hungry yet?
By Bria Helgerson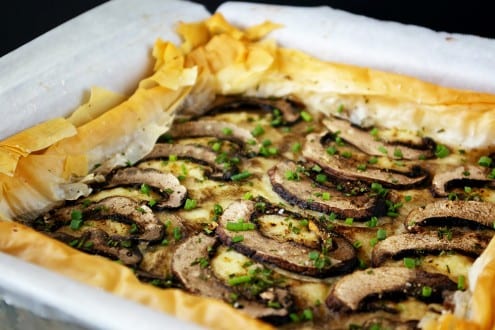 Truffled Potato and Mushroom Tart
Creamy, cheesy mashed potatoes, crispy, buttery filo dough, earthy, hearty mushrooms, fresh chives, and a drizzle of truffle oil. Are you hungry yet?
Author:
Bria Helgerson, adapted from Jamie Oliver
Ingredients
1¼ lb. (a little more or a little less if just fine) of russet potatoes, peeled and cubed
3-4 medium portobello mushroom caps, thinly sliced
5-6 sheets of filo dough
½ stick of butter, melted
¾ cup white cheddar cheese, grated
¾ cup Gruyere cheese, grated
3 large eggs
1 cup heavy cream
salt & pepper to taste
2 tablespoons minced chives
truffle oil for garnish
Instructions
Place cut potatoes in a pot filled with cold water and boil until fork tender, about 15 minutes. Drain.
Preheat your oven to 375 degrees F. Take whatever dish you are planning on using, I actually used a 8 X 8 in cake pan that I lined with parchment paper (but you can using a baking dish, or a tart pan as well) and brush with melted butter to coat.
Take one sheet of your filo dough (keep the rest covered with a slightly damp paper towel so it doesn't dry out) and gently line your pan. Brush melted butter all over the filo, and repeat with 5-6 sheets of dough. You can leave the edges of the filo draped over the sides of the dish for now. Cover with a damp towel or paper towel and set aside.
In a small bowl beat the eggs together with the cream with a fork. In a large bowl, break up the potatoes with a masher, then add the cheeses and mash until combined. Add the cream and egg mixture and mash and mix until smooth. Season generously with salt and pepper.
Pour potato mixture into filo-lined baking dish leaving at least ½ inch room from the top of the dish. Spread into an even layer and top with your sliced mushrooms. Sprinkle with a little extra ground black pepper and the chives. Gather the extra filo dough that was draped over the edge and crimp it together around the edge of the potato mixture. Brush more butter all over the filo crust, and bake for 20-30 minutes until middle has set and the filo is golden brown. The time will vary depending on the size and depth of your baking dish. Mine took a bit longer since it was so deep.
Let the tart set up for at least 15 minutes before cutting. Drizzle with a bit of truffle oil and sprinkle with fresh chives before serving.
Bria Helgerson
Bria Helgerson is a Chicago based food blogger and pastry school student. Lover of all things sweet and savory, she cooks, bakes, and blogs as she navigates her culinary life at her website These Peas Are Hollow.