A quick and yummy apple cake from the Trentino-Alto Adige, Friuli-Venezia Giulia and Veneto regions of Northeastern Italy.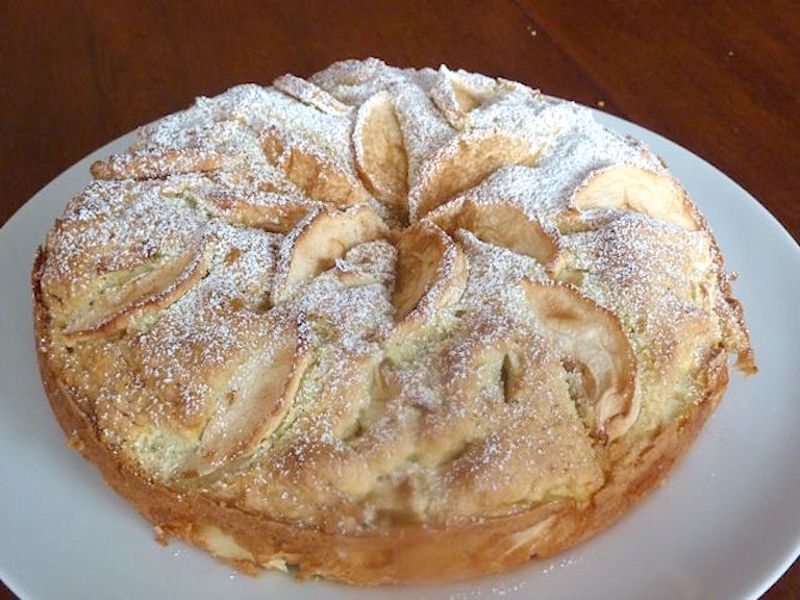 Italy is the world's sixth largest producer of apples, and Europe's second, with 2.2 million tons produced each year. Golden Delicious is the second most cultivated apple variety globally and the first in Trentino, where around ten thousand hectares are dedicated to apple production. Trentino is particularly well-suited to the growing of high-quality fruit, and production totals for 2009 were around 450 thousand tons, accounting for 21 per cent of the national market. One in five apples eaten in Italy comes from Trentino, and together with Alto Adige, it provides over 60% of apple production in Italy.
In Trentino, apple orchards wind their way across the region, from Val Sugana, continuing along the Adige Valley and then straight to the epicenter of apple cultivation, the Val di Non and Val di Sole. These valleys are just to our west as we travel down the Strada del Vino on our bike tours in the area, so there are many apple-based sweets to sample as we refuel along the way. More than four million apples of all varieties and sizes are produced each year in these valleys and today, more than ever, they are used satisfy a growing overseas market.
You will also find apples grown throughout the Veneto, from the flatter plains along the Adige, Po, and Mincio river valleys to the south, up into the Pre-Alps near Val Sugana and Monte Grappa.
In Friuli-Venezia Giulia, apples are cultivated in the Carnian Alps area, where both local varieties as well as imports are found. Apple cider is traditional fare at weddings and baptisms, sometimes referred to as the "wine of the poor". The annual Festa della Mela is held in Tolmezzo each September, celebrating the annual apple harvest.
You will find apples used in a variety of dishes in Friuli, from sweets such as strudel and apple cakes, to more savory preparations such as the stuffed pasta, cjalsons, a ravioli type pasta filled with apples, crushed biscotti, dried fruit an nuts, as well as the Christmas lasagna, Lasagna dal Fornel, a layered pasta dish in which the customary tomato sauce and cheese is replaced with grated apples, dried fruits, nuts and poppy seeds. Apples also are used in the regions famous risottos.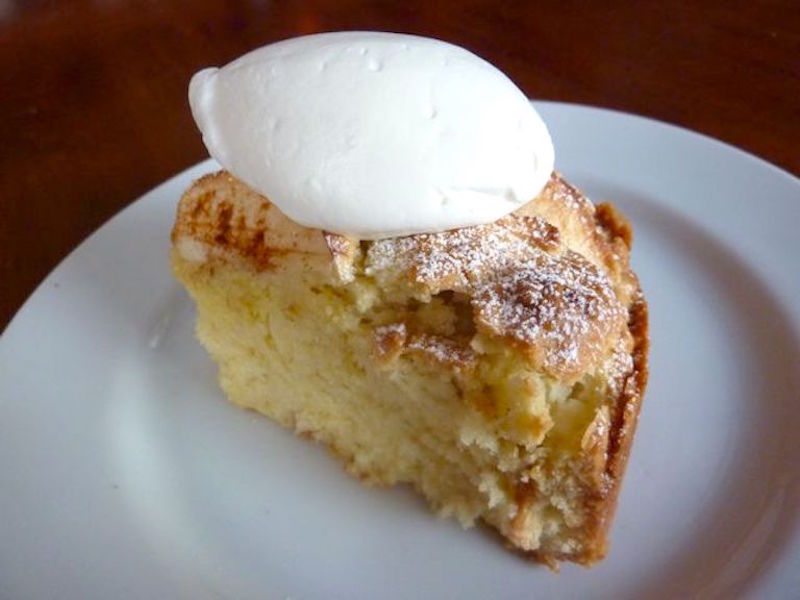 See Also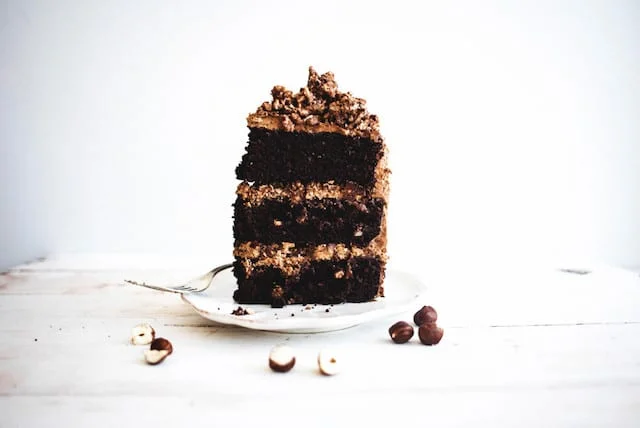 Here is an easy apple cake, based on several recipes I found, some attributed to Friuli, others to Trentino. I included it in my last cooking class, for a family that prefers fruit desserts, and it was quite a hit. Take care not to overmix the batter once you combine the wet (eggs/grappa/butter) with the dry ingredients. This should be done just until combined, to avoid developing the gluten, resulting in a "tough" cake. I mixed a bit of grappa into the whipped cream, which was a nice addition!
Serve with a sweet dessert wine, such as a Torcolato from Veneto, Picolit from Friuli, or a Vino Santo from Trentino.
Print
A quick and yummy apple cake from the Trentino-Alto Adige, Friuli-Venezia Giulia and Veneto regions of Northeastern Italy
Author:

Kathy Bechtel

Yield:

8

1

x
1 cup

.25 kg butter, softened, plus extra for greasing

2 1/4

.25 kg cups all-purpose flour, plus extra for dusting

1 tablespoon

11 g baking powder

1 teaspoon

5 g salt

3/4 cup

.145 kg sugar

3

eggs

1/4 cup

60 ml grappa

3

apples (peeled and cored, 2 chopped, one thinly sliced)
Instructions
Preheat the oven to 350°F (180°C).
Grease an 8" springform pan with butter and dust lightly with flour. Or use a non-stick pan.
In a medium bowl, mix the flour with the baking powder and salt.
Using an electric mixer, cream the butter and sugar. Add the eggs and grappa, an mix until thoroughly combined. Add the flour mixture, and again, mix just until combined. Stir in the 2 chopped apples.
Pour the mixture into the prepared pan, and arrange the thinly sliced apple on the top. Bake for 30-40 minutes, until a skewer inserted in the middle comes out clean. Allow to cool for 15 minutes. Remove from the pan, sprinkle with confectioner's sugar and cinnamon, and serve with whipped cream.
Kathy Bechtel
Kathy Bechtel's obsession with food and cooking began as a teenager. After years following a traditional career path as a telecommunications engineer, she left to attend culinary school and wine training, and is now combining her passions for food and wine, the outdoors, and travel as owner and Culinary Tour Director of Italiaoutdoors. In this role, Kathy leads small bicycle, skiing and walking tours that explore the authentic regional cuisines, local products and undiscovered wines of Northeastern Italy.