From the outside, Tito Santana Taqueria looks like just a small, local hangout, but when a restaurant is packed on a Sunday afternoon, and doesn't serve any alcohol, you know there must be something delicious afoot.
By Marissa Sertich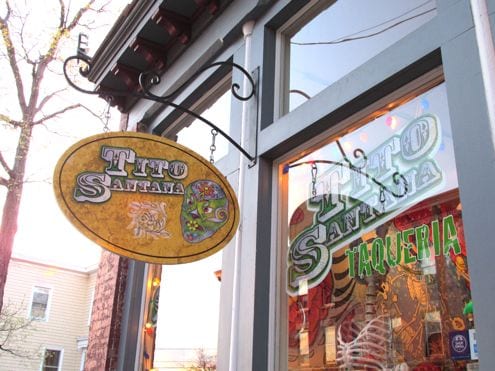 Only a ten-minute walk from the Metro North Station, the Taqueria is one of the first stops along Beacon's revitalized and humming Main Street.  Once a crime-ridden strip of the Hudson Valley where only the brave would travel, Beacon has transformed into a thriving arts town littered with galleries, hipsters and slow-drip coffee shops.  Over the past two years alone more than five new food shops have popped up, from olive oil tasting rooms to gastropubs.
The taco shop offers its own kind of charm to the town – unpretentious, yet hip.
Entering the long, skinny, dining room, you're immediately stuck by the giant, psychedelic mural of Mexican skull art that covers half the restaurant's wall. A Day of the Dead explosion of swirling sombreros, red poppies and flames, and David Bowie serenading in the background, set the stage for the bold flavors to come.  A bright orange skull with blue, flower eyes looks out into the dining room and says via cartoon speech bubble, "Vamos a comer," or "Let's eat."  Everyone seems to be taking his advice.  Tables are loaded with trays of tacos, chips and guacamole, burritos, sodas and even a quinoa salad or two.
The staff is down to business and gets orders out with little fuss. With welcoming smiles, but no explanations or cheesy introductions, staff members take orders at the back counter, while nearby customers open their own sodas on a communal bottle opener above a heaping treasure chest of sparking caps.  A self-service station with water, napkins and a variety of hot sauces is towards the back of the dining area.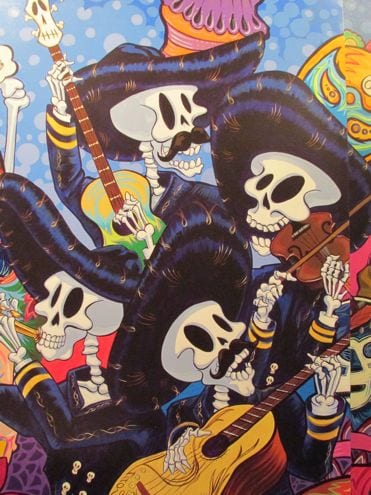 The food is delivered to the table on bright red trays and served in disposable paper sleeves and cups, but would hold up equally as well served on fine china – there's just no need for the frills here at Tito Santana. The food speaks for itself.  The freshness of bright green guacamole, pink pickled radishes, intensely yellow corn echoes the exuberant colors of the wall mural.  Nothing resembles sloppy Tex Mex – there is no orange, rubber cheese, piles of sour cream, or anything called a chalupa.  Even warm, blue corn tortilla chips taste fresh.
The pulled pork taco is packed with just enough meat so it's almost challenging to pick-up, but remains manageably intact and I can neatly shove it into my mouth without making a mess.  The accompanying radishes are lightly pickled and fresh cilantro and red onion flavor each bite.  The skirt steak taco is equally as packed with flavor.   Other filling options are catfish, chipotle chicken, tofu or portabella.  While the tacos are the star of Tito Santara, the simple grilled corn-on-the-cob steals the show.  It is lightly charred and squirts juicy, lime-scented goodness when I take a bite.  It's caked with queso fresco, a mild, un-aged, Mexican cheese, and dusted with chili powder that leaves my lips tingling.  It's like love on a cob.
The beans and rice are another highlight.  Like the rest of the Tito Santana dishes, they are simple, but done right to be both wholesome and delicious.  An unassuming disposable cup is filled to the brim with a wonderful blend of mild black beans and lightly seasoned rice.  It could be a light meal on its own, but instead, for $8.99 you can get the ideal combo meal of 2 tacos, the grilled corn and the rice and beans.  Other combo packs like burrito with guacamole and chips offer similar value.
The food at Tito Santana has vitality. The freshness of everything from the tortilla shells to the beans and the casual atmosphere gives the restaurant a very buena vibra.
Open Mon-Sun, 11am-9pm
Tito Santana Taqueria
142 Main St.
Beacon, NY 12508
(845) 765-2350
Marissa Sertich
Marissa Sertich Velie is a New York based pastry chef and graduate of the Culinary Institute of America. She passionately documents her adventures of baking and eating her way through the fascinating (and sometimes nutty) underbelly of the American pie. Velie has a Master's degree in Food Studies from NYU.