An integral part of Kerala cuisine, Thoran, is a stir-fry essentially made with grated coconut and minimal spices.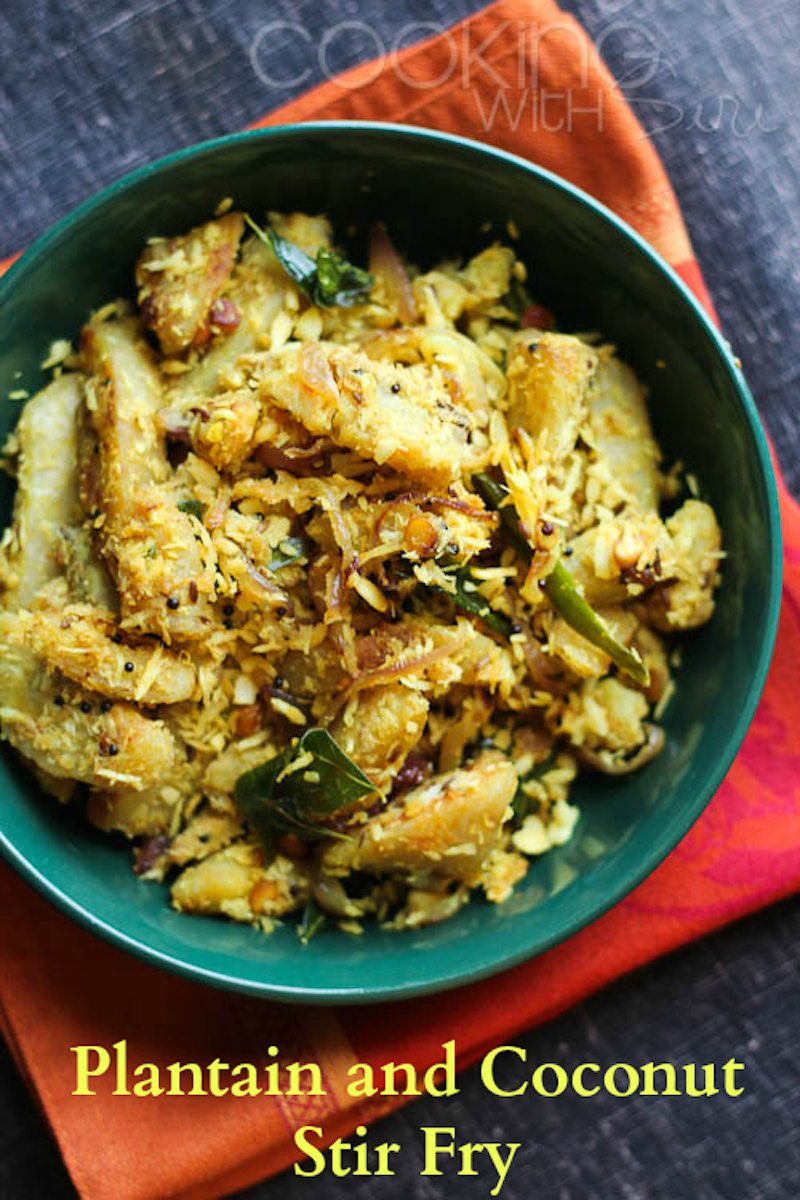 From potatoes to cabbage, carrots, green beans, broccoli or even pumpkin, you can make a Thoran with almost any vegetable that can hold some shape after cooking.
Today's version is made with my favorite vegetable – plantain or (green) raw banana. This is my go-to recipe whenever I am out of ideas; super tired or when I hardly have any fresh vegetables on hand.
Happy Cooking!

Thoran: A Stir-Fry Kerala Cuisine Dish
Ingredients
2 plantains (green/raw bananas)
1 onion, chopped
1-2 green chillies, finely chopped
1 tsp ginger garlic paste
½ cup grated coconut
¼ tsp turmeric powder
salt to taste
For Tempering:
¼ tsp mustard seeds
¼ tsp split (white) urad dal
½ tsp cumin seeds
1 dry red chilli, broken into two halves
a pinch of hing (asafoetida)
few curry leaves
2 tsp oil
Instructions
Cut plantain into two halves with skin on and boil until tender. If using pressure cooker, cook for one whistle. and let the pressure release naturally. Once they cool a bit and are easy to handle, take the skin off and cut into cubes.
In a wide pan, heat oil. Add urad dal, mustard seeds and cumin seeds. Once they start to sizzle, add red chilli and a pinch of hing. Add chopped onions and a pinch of salt to cook them faster, until they become translucent. Then add ginger garlic paste and give a good mix. Cook for 2 mins and then add green chillies and curry leaves. Season with turmeric and salt. Add cubed plantain. Give it a gentle toss. On low-medium flame, cook for about 4 minutes for the flavors to combine. Finally add grated coconut and cook for 5 more minutes. Turn off heat. Serve with rice or roti.