These brownies have to come with a disclaimer though; they are full-fat, full-sugar, and not "light" in any way.
By Faith Gorsky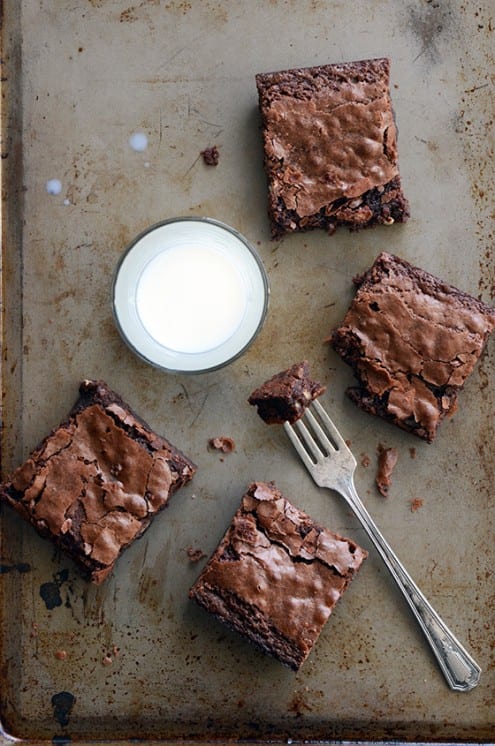 I think you'll find that a small brownie is the perfect size… just enough to satisfy, but not too much to send you crashing off a sugar high later.
The Best Chewy Brownies
These brownies have to come with a disclaimer though; they are full-fat, full-sugar, and not "light" in any way.
Author:
Faith Gorsky, adapted from The Best of America's Test Kitchen 2011
Ingredients
Butter, to grease the dish
½ cup (45 g) natural (not Dutch-processed) unsweetened cocoa powder (see note below)
1½ teaspoons instant espresso powder
½ cup plus 2 tablespoons (150 ml) boiling water
2 oz (58 g) unsweetened chocolate, finely chopped (see note below)
4 tablespoons (58 g) butter, melted
½ cup plus 2 tablespoons (150 ml) canola oil
2 large eggs
2 large egg yolks
2 teaspoons pure vanilla extract
2½ cups (500 g) sugar
1¾ cups (250 g) unbleached all-purpose flour
¾ teaspoon fine salt
1/16 teaspoon baking soda
1 cup (100 g) shelled walnuts or pecans, chopped (optional)
Instructions
Preheat oven to 350F; grease a 9 by 13-inch baking dish with butter.
Whisk the cocoa powder, espresso, and boiling water together in a large bowl. Add the chopped chocolate and whisk until melted. Whisk in the butter and oil, and then cool until lukewarm.
Whisk in the egg, egg yolk, and vanilla until smooth, then whisk in the sugar.
Add the flour, salt, baking soda, and nuts (if using), and stir with a wooden spoon until just combined.
Pour the batter into the prepared dish and bake until a toothpick inserted inside comes out moist with a couple crumbs, about 30 to 40 minutes (see note below).
Notes
Cocoa Powder: Although I prefer natural unsweetened cocoa powder for brownies, if you only have Dutch-processed cocoa powder on hand, you can use that instead. Just be sure to omit the baking soda. Unsweetened Chocolate: I only had semisweet chocolate on hand (60% cacao), so I used 4 oz/115 g of it instead of the unsweetened chocolate; because of this, I reduced the sugar to 2 cups (400 g) and added an additional 2 tablespoons of cocoa powder. Cooking Time: The recommended cooking time in the book is 30 to 35 minutes in the same size baking dish; however, using the toothpick test to help determine doneness, my brownies took about 35 to 40 minutes in the oven. However, in the book they also line their baking dish with foil, whereas I grease mine with butter; I think maybe the difference in the cooking times was due to the foil conducting heat and cooking the brownies faster for them.
Faith Gorsky
Faith Gorsky is the writer, recipe developer, photographer, and food stylist behind the blog An Edible Mosaic. Her recently-released first cookbook, An Edible Mosaic: Middle Eastern Fare with Extraordinary Flair (Tuttle Publishing), is a collection of authentic Middle Eastern recipes handed down to her from her husband's family during her extensive time spent in the Middle East. Faith loves to travel, especially to places steeped in rich culture and history.