This recipe makes a strong concentrate and is meant to be diluted.
By Jacqui Gabel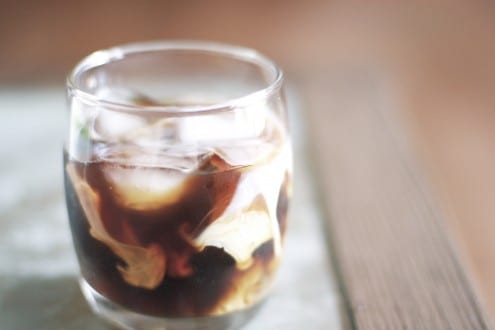 I've been drinking cold-brewed iced coffee all week. I made the first batch last Sunday and a second batch late Friday night. Holy! New. World. Cold-brewed coffee is seductively dark and smells like chocolate. Sometimes I add a splash of milk and some cocoa powder. But it's perfect black.
Cold-brewed Coffee
This recipe makes a strong concentrate and is meant to be diluted.
Author:
Jacqui Gabel, adapted from The New York Times
Ingredients
1 cup fresh coffee grounds
4½ cups room temperature water
Instructions
Stir together coffee and water in a jar. Cover and let sit overnight or for twelve hours. Strain with a very fine mesh sieve or cheesecloth. Store in the fridge for a week. To drink, mix with equal parts water over ice, or find a proportion that works best for you.
Jacqui Gabel
Jacqui Gabel hails from Minnesota and lives in Seoul. Her motivation to travel stems from a yearning to learn through food, and she is particularly interested in what people eat for breakfast. Jacqui has waitressed, taught kindergarten, designed pantyhose, and sold wine and costume jewelry. Once a week, she visits her friend Hye Rae's Seoul kitchen, and they show each other a thing or two of what they know. If the recipe is Korean, she learned it from Hye Rae. Jacqui loves to cook and feed, and she writes about travel, food, and identity on her blog.