It appears as if David Chang has done it again, this time with a duck as good as any in Chinatown, and perhaps just a little more special.
By Mitch Weinstein
Recently, I wrote about the Peking Duck at Peking Duck House here in NYC's Chinatown.  Now, while that duck may be the be-all and end-all as far as Peking Duck is concerned, it is not, by any means, the only duck in town. There are literally dozens of places where you can get a roasted duck in Chinatown, mostly under $20, and even if you head farther north, you're bound to run into a Chinese joint where roasted meats, duck included, are on the menu.
Usually, these places are serving your roast duck to you over a plate of plain white rice, topped with a little salty, fatty sauce that makes everything taste good.  Sometimes, they'll incorporate it into a soup, as in the roast duck wonton soup at Great NY Noodletown (another place I love). Trust me – it's all good.  There's very little you can do wrong to a duck, other than overcook the crap out of it, and most Chinese roasteries have it down to a science; oh, the breast will not be all nice and rosy red, because to do that would mean ending up with undercooked legs, thighs and wings, but in general the duck is good.
So, where am I headed with all this?  A while ago, Momofuku Ssäm Bar began serving an all-duck lunch; let's call it their rotisserie duck program, for want of a better term. Since I hadn't yet been, and with Significant Eater in town for her three-day weekend, we decided to make a go of it this past Friday; after all, Ssäm Bar and it's older sibling, Momofuku Noodle Bar, have long been lunch favorites of ours, so off we went.
The "new" Ssäm Bar has expanded into the space that was once Milk Bar, which is now across the street.  I was a little confused when we first walked into the Ssäm Bar  space from 2nd Avenue, but one of the lovely staff pointed the way for us.  You order at the counter and then they deliver the food to wherever you end up sitting – your choice.  The menu is above the counter…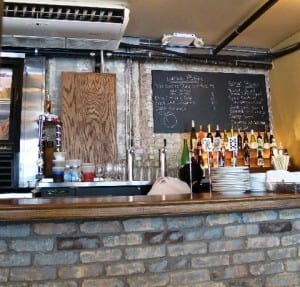 From our seats (well, mine, at least), I had a good view of the rotisserie contraption.  It was late in service, so only one or two duckies were left spinning, getting all golden and delicious in the process.  Of course, for old time's sake, we had to order the pork buns (perhaps the dish that elevated David Chang to cult-star status), and they were better than ever, with a nice slab of fatty meat nestled inside the silky bun…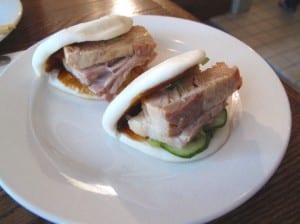 Another small plate we tried, simply called Broccoli Salad, had the broccoli tossed with a slightly funky smoked bluefish vinaigrette and topped with pieces of crispy duck skin, which took the plain Jane crucifer to a new level.
We then shared two of the large plates; the first one out was a Duck Sandwich. I couldn't quite figure out what part of the duck they were using; perhaps slices of the thigh or maybe a house made mild duck sausage?  It's served on excellent bread, which is lightly toasted and slathered with a mildly spicy mayo, with shredded lettuce and peppadews adding a nice crunch…
See Also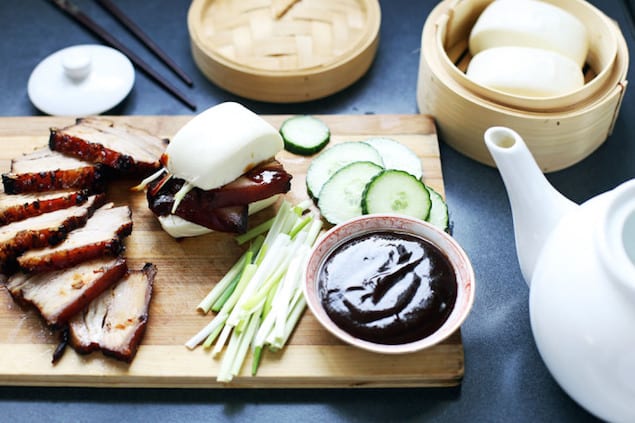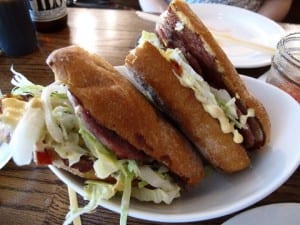 Our other plate was the star of the show: Rotisserie Duck over Rice, served with an all-you-can-add condiment tray including fried crispy shallots and a duck-fat scallion sauce. The hefty portion of breast is cooked to a luscious rosy red and hides some pulled dark meat underneath. There's a handful of greens (watercress here) in the bowl and for an additional buck you can get a stack of lettuce leaves…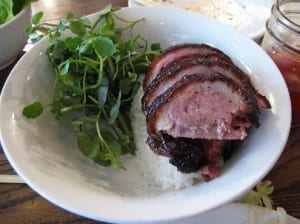 After a little manipulation (use your hands!) of ingredients, a juicy, delicious wrap (it's a ssam, silly) is born…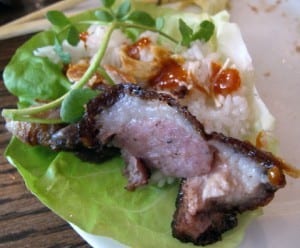 And it's delicious.  You can also order a chive pancake to go with duck, and many people like that even more than the lettuce; I was trying to be healthy!  There are other menu items available, but the star of the show here, at lunch, is the duck in all its guises.
It appears as if David Chang has done it again, this time with a duck as good as any in Chinatown, and perhaps just a little more special.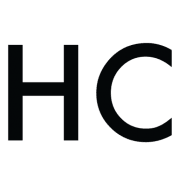 Mitch Weinstein
Mitch Weinstein is an avid seeker of good food, culinary school grad and writer of the blog Tasty Travails. When not cooking at home, he is on the hunt for that next delicious restaurant meal, great market or maybe even a cocktail. He regularly contributes to the food and drink forums on mouthfulsfood.com, eGullet.org, Chowhound.com and others.