Thai-Inspired Corn Fritters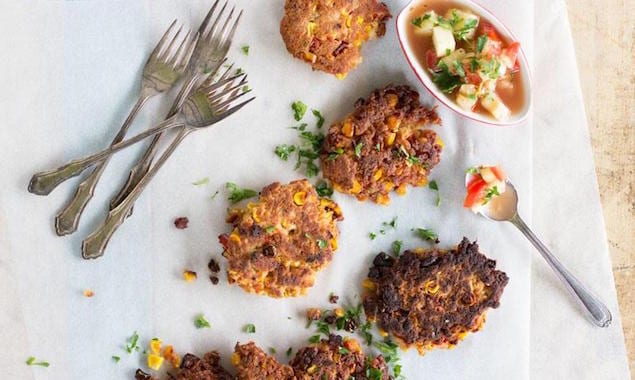 Served with a zing of pineapple sauce, these Thai-style corn fritters are crunchy on the outside with a touch of spice inside.
By Jessica Cox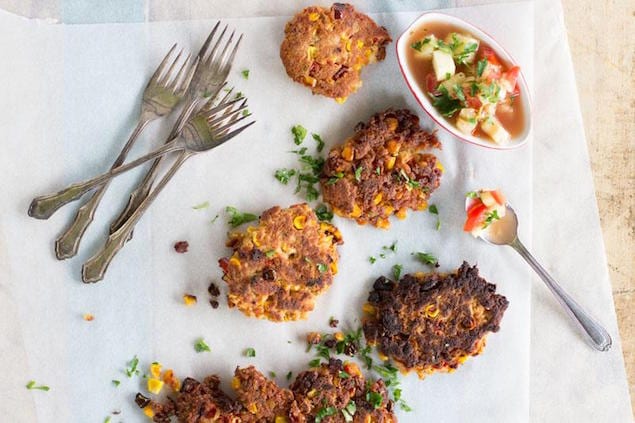 These vegetarian Thai-inspired corn fritters are scrumptiously light and ludicrously crunchy all at the same time. Somehow, all the gorgeous ingredients come together and taste as if they are kissed by bacon, yet there is not a ounce in sight.
These corn fritters can be used as a snack food for entertaining, as a side dish to a main meal, or as a main meal in themselves with a simple leafy green salad on the side. Whatever your flavour, be sure to serve them with this zinging pineapple salsa to compliment.

Thai-Inspired Corn Fritters
Served with a zing of pineapple sauce, these Thai-style corn fritters are crunchy on the outside with a touch of spice inside.
Recipe Type:
Side, Appetizer
Ingredients
⅓ cup rice flour or millet flour
1 teaspoon baking powder
2 tablespoons fish sauce (vegetarian if needed)
2 tablespoons tamari (or soy sauce)
1 cup firm tofu, grated
1 cup corn, fresh off the cob, or frozen if unavailable
2 spring onions, finely sliced
1 clove garlic minced
½ cup fresh coriander, chopped
1/ 2 red capsicum, diced
1 fresh red chili, thinly sliced
zest 1 lime
juice of 2 limes
⅓ cup mashed potato
soda water to bring to batter, around ⅓-1/2 cup
pineapple salsa:
½ cup cubed pineapple
1 tomato cubed
⅓ cup coriander
1 teaspoon fish sauce
1 teaspoon tamarind pulp
juice of ½ lime
Instructions
Place the tofu, corn, garlic, coriander, spring onion, mashed potato, capsicum, chilli, lime zest and juice, fish sauce and tamari in a large mixing bowl and stir together.
Mix the baking powder with the flour. Add this dry mixture to the wet mixture stirring to blend it in and form a thick mixture. Now add the soda water slowly to bring to a thick batter.
Taste for flavouring and add more tamari or fish sauce, or lime juice if needed.
Heat the oil in a frying pan over medium-high heat. When bubbles begin to rise from the bottom of the pan, drop around 2 tablespoons of the mixture in to make a fritter. Continue till you have a batch sizzling away. Push lightly down on the fritter once whilst cooking to make sure it all holds together well. Be mindful of the corn heating as it will pop and potentially hit you!
After 3-4 minutes flip fritters over. They should be golden brown underneath. Cook till golden brown on both sides then remove and keep warm whilst you finish the remaining fritters.
For pineapple salsa, combine all ingredients in a small bowl and set aside.
Jessica Cox
Jessica is an accredited and practicing Nutritionist with a Bachelor Health Science (Nutrition) with a passion for creating recipes catering for food intolerances. Jessica is available for consultations at her clinic based in Brisbane, along with Skype and Phone consultations for national and international clients. Contact Jessica with any queries or questions at www.jessicacox.com.au or email reception@jessicacox.com.au. Source great food ideas and more by following Jessica on Instagram @jescoxnutritionist, Facebook facebook/JessicaCoxNutritionist and @ twitter.com/jescoxnutrition.