A take on the traditional Tainan-style noodles have your fill of this delicious Taiwanese dish loaded with pork, shrimp, and prawns.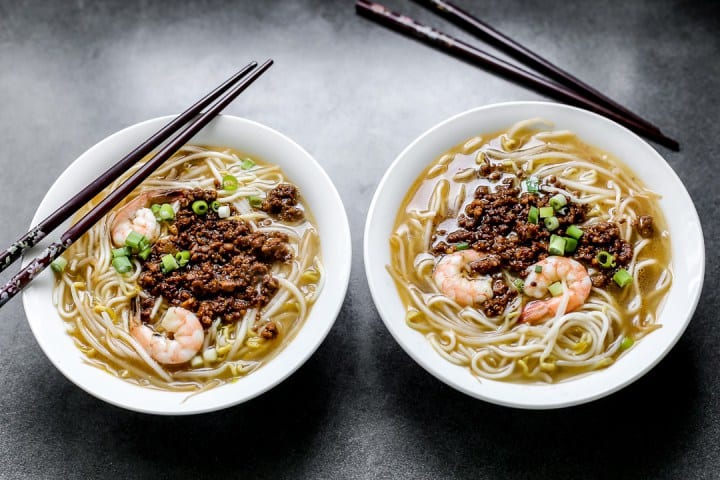 Ta-a noodles, danzi noodles or Tainan Style Noodles is a 130 year old noodle snack that dates back to the late Qing dynasty. Found in Tainan, Taiwan this noodles are usually made with minced pork, prawns, bean sprouts and noodles, also called the "Slack Season Ta-a Noodles" these noodles traditionally were served during the typhoon seasons where fishing is proved to be dangerous, these times were called the "slack seasons" and ingredients that were not fish are commonly used like this noodle.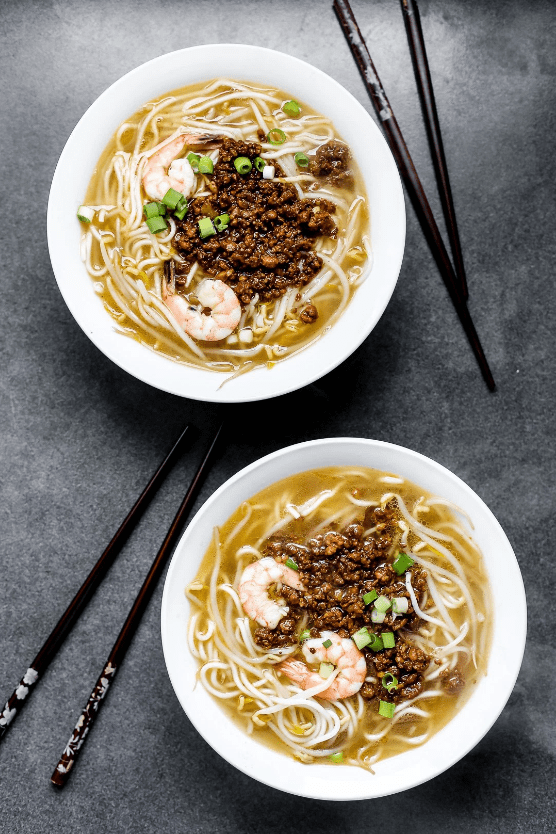 See Also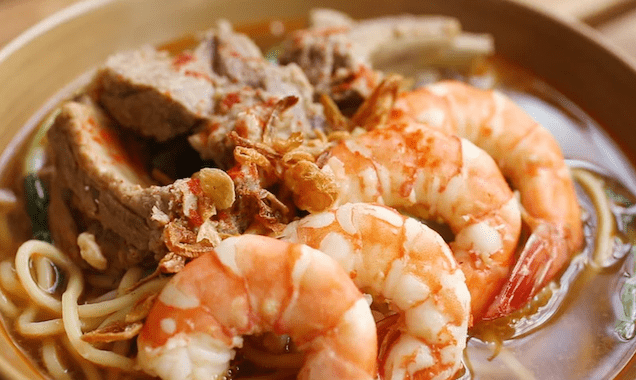 The ingredients of this dish is well known but each establishment and/or individual who regularly prepares them uses them with different amounts and these are a well-guarded secret and usually is not shared. While I am no expert in Taiwanese cuisine the recipe below is a combination of different recipes I saw and the flavour profiles that I tasted and here is my take on it.
Print
Author:

Ang Sarap

Prep Time:

15 minutes

Cook Time:

1 hour 30 minutes

Total Time:

1 hour 45 minutes

Yield:

6

servings

1

x
Category:

Main

Cuisine:

Taiwanese
300 g

Taiwanese style oily noodles or Yaka Mien

250 g

fatty minced pork

1

kg shrimps heads and shells

12

pcs prawns

4

pcs small shallots (minced)

3 tbsp

dark soy sauce

2 cups

bean sprouts

1

clove garlic (minced)

1

spring onions (minced)

6

sprigs cilantro

2 tsp

pork lard
fish sauce
Instructions
Roast or grill shrimp heads and tails until very fragrant. Place them in a soup pot together with any drippings, add 10 cups of water and boil then simmer in low heat partially covered for 45 minutes. Add the prawns during the last minute to cook then set the prawns aside.
Strain broth in a smaller pot and then season to taste with fish sauce.
In a wok add lard then add pork mince and cook until it's not pink, push pork on the side then add shallots and garlic, sauté for a minute then combine with the pork, cook for 5 minutes.
Pour soy sauce with 1 cup of water then bring to a boil. Simmer in medium heat until the sauce thickens, this will take around 10 minutes.
Blanch the bean sprouts then set aside.
Cook noodles according to packet instructions, then place it on serving bowls together with the bean sprouts, spring onions and cilantro. Pour hot soup on top and a generous serve of the minced pork sauce. Place prawns on top then serve.
Ang Sarap
Hi I am Raymund a Filipino living in New Zealand, I'm not a cook nor a chef but I love cooking and it is my passion. My real job is an IT Professional whose devotion is to develop applications (I have a Software Development blog for those who might be interested), my brain is abused at work on a daily basis so cooking at the end of the day acts as my therapy for stress release. I have been cooking since I was 7 years old and since then almost every day I prepare our dinner and weekend meals, I usually try to cook dishes that we had tried and ordered in different restaurants that's why you will see a lot of varieties at my blog Ang Sarap (angsarap.net). I learned cooking mostly by observing my Aunt who cooks for us when I was younger, I learned to bake by assisting my Mom during my younger years and for the native dishes I learned it from my Grandmother. My other passion is photography which explains the photos you see here and travelling which explains the variety of dishes and reviews of restaurants from all over the world.