Sweet Potato and Pecan Cinnamon Rolls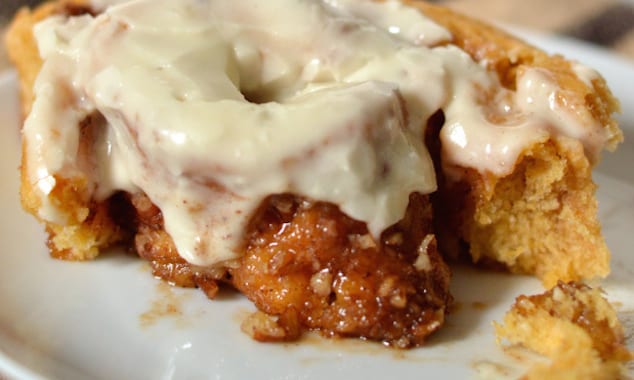 These rolls are sweet, tender, light as air, and richly autumnal; with plenty of spice and a hint of earthiness from the roasted sweet potato. Wrapped up inside is a sticky sweet filling that's dripping in cinnamon and bursting with toasted pecans. Then a sweet and tangy cream cheese icing goes on top.
By Tux Loerzel
I've always been a little bit intimidated by yeast doughs.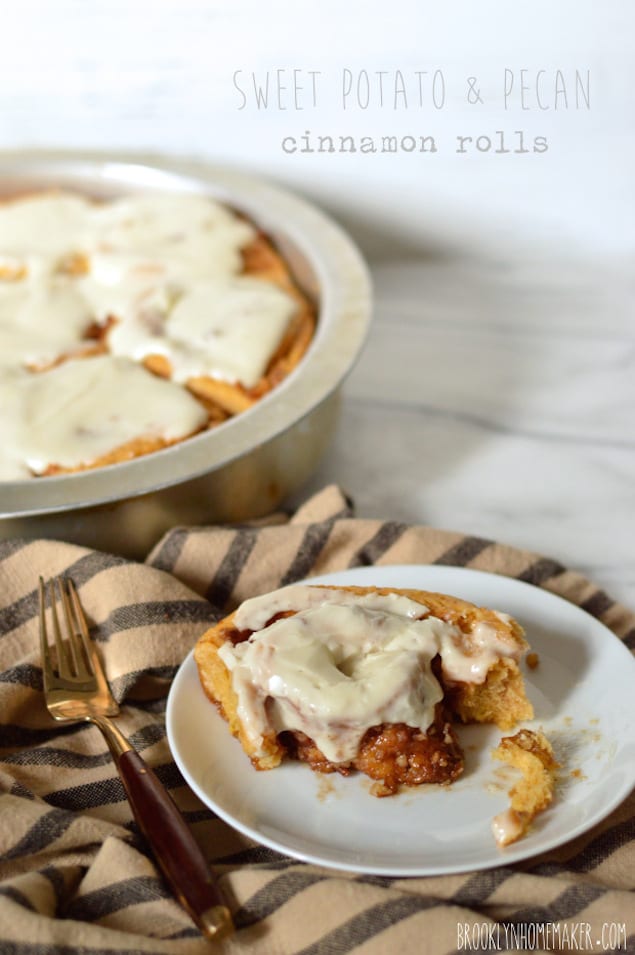 When I was a teenager I was a very adventurous cook and baker (especially for a teenager) and loved to experiment with new recipes. Most of the time things worked out in my favor, but every once in a while, they didn't. Once my cousin came over to stay the night and we decided it might be fun to try to make some white sandwich bread. The resulting loaf though, was a total mess. It was dense, heavy, tough, and dry, and while it had definitely risen to an extent, a tap of the loaf was met with a dull thud rather than that nice hollow sound you expect from quality bread.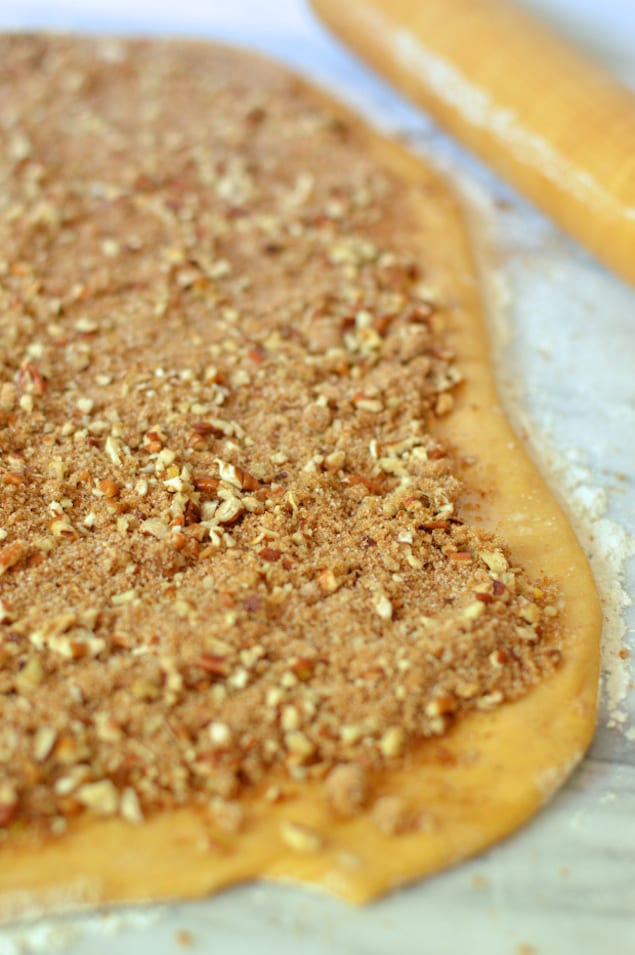 Everyone in my family thought of me as an excellent cook for my age, and my cousin was obsessed with my omelettes, begging me to make them for her whenever she stayed over. When we baked this loaf together I think she assumed my touch would turn our dough to gold, so when the bread didn't live up to her expectations the disappointment was palpable.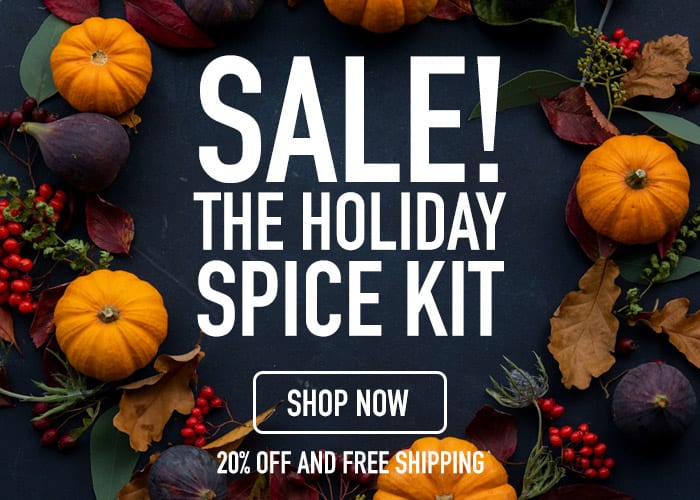 One bite, and I could see it in her eyes.
It was at least another decade before I tried to bake a loaf of bread again.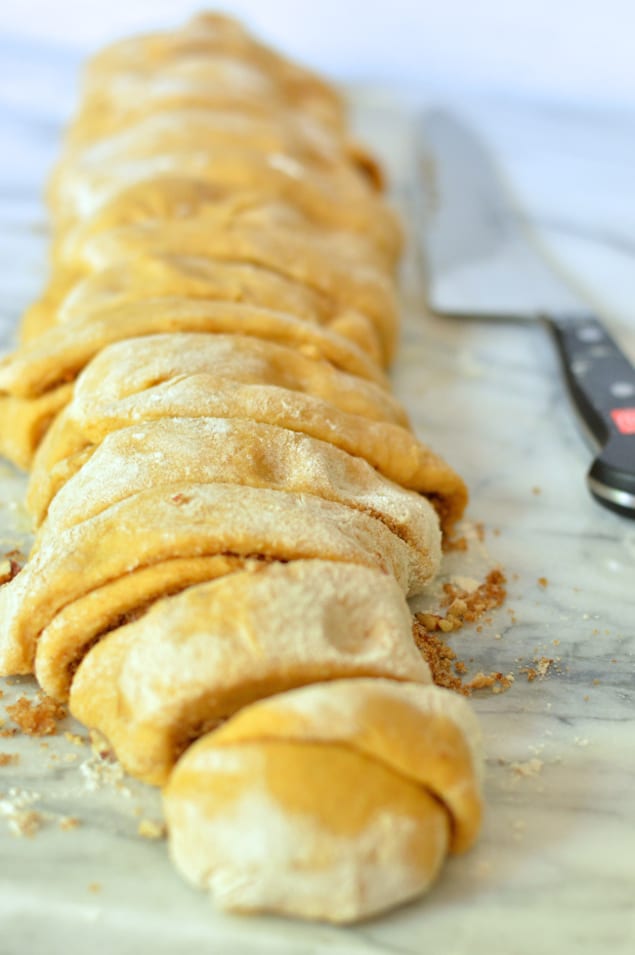 In my mid twenties, a year or so after I moved to Brooklyn, I decided I was going to start making my own sourdough. It'd had been ten + years since the last time I'd tried to make bread, and instead of trying to perfect a traditional white loaf raised with active dry yeast, I thought, "Oh! The last time I baked bread it was a minor disaster, so I should definitely try to make a bread so hard to master that there are entire online forums on the subject." Sometimes I can't even handle what a genius I am.
I mixed up my little cup of flour and water, set it near my kitchen window, and waited for a little community of wild yeast to set up camp and start birfin' some babies. To my surprise and elation, on the first try, my starter took and was bubbling away after a few feedings.
And then I made my loaf.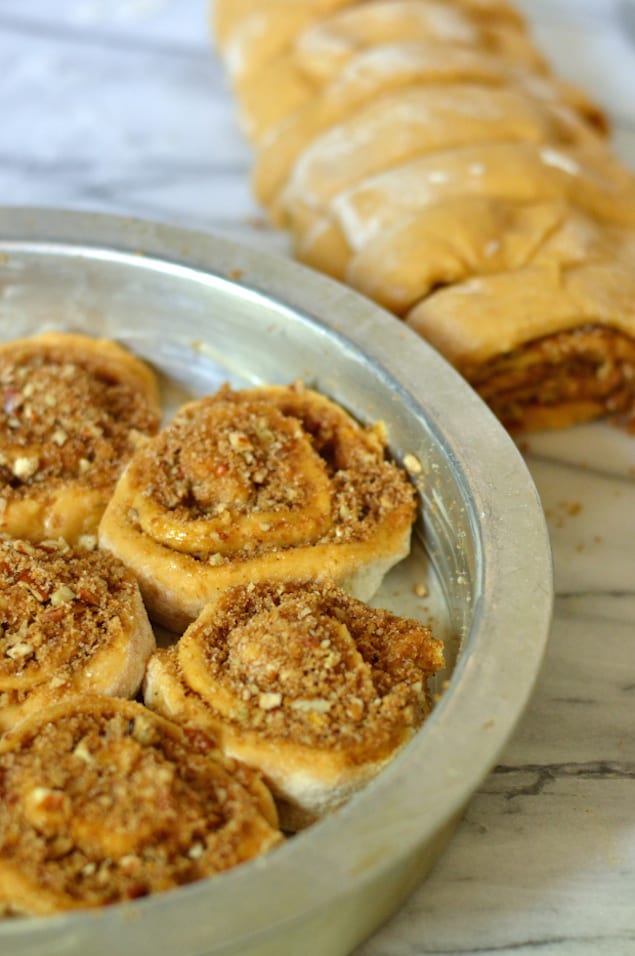 It barely rose at all. Dense. Heavy. Tough. Dry. Dull Thud.
History repeating itself.
I tried a few more times, thinking my starter just wasn't strong or mature enough, but never had any results that were worth eating and I decided my attempts were little more than a waste of time and wheat.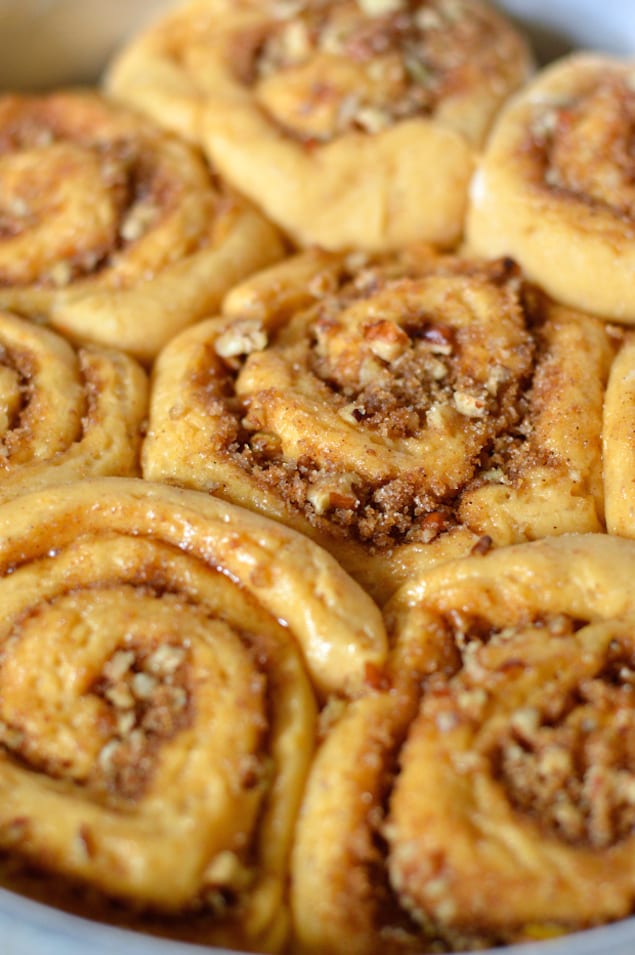 Still, not all yeast doughs intimidate me. I make a pretty decent pizza dough, and a few years ago I made some really great English muffins that I've been thinking about trying again soon. When it comes to actual loaves of bread though, I've accepted that they just might not be my thing. I might eventually go back to the basics and try some white bread again sometime, but for now I'm not all that worried about trying to perfect my bread game.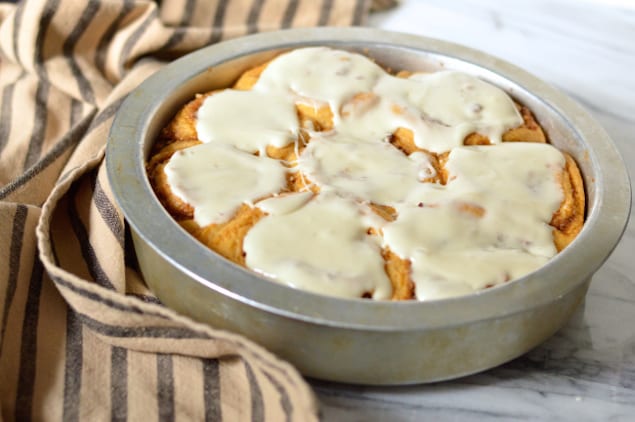 I decided recently that it might be fun to try to branch out and try some other types of yeasted doughs. A few months ago I made a roasted cherry kugelhopf with great results, and the other day I was in the mood for some cinnamon rolls with an autumnal twist. Sweet sticky yeasted doughs like cinnamon rolls are actually crazy easy to get right, to the point of being nearly fool proof. As long as you don't overheat the milk and kill your yeast, the amount of sugar in this dough will ensure that it will rise like it's getting paid.
The only thing I had a little trouble with was rolling the dough tightly around the filling, but once it rose again you couldn't tell the difference.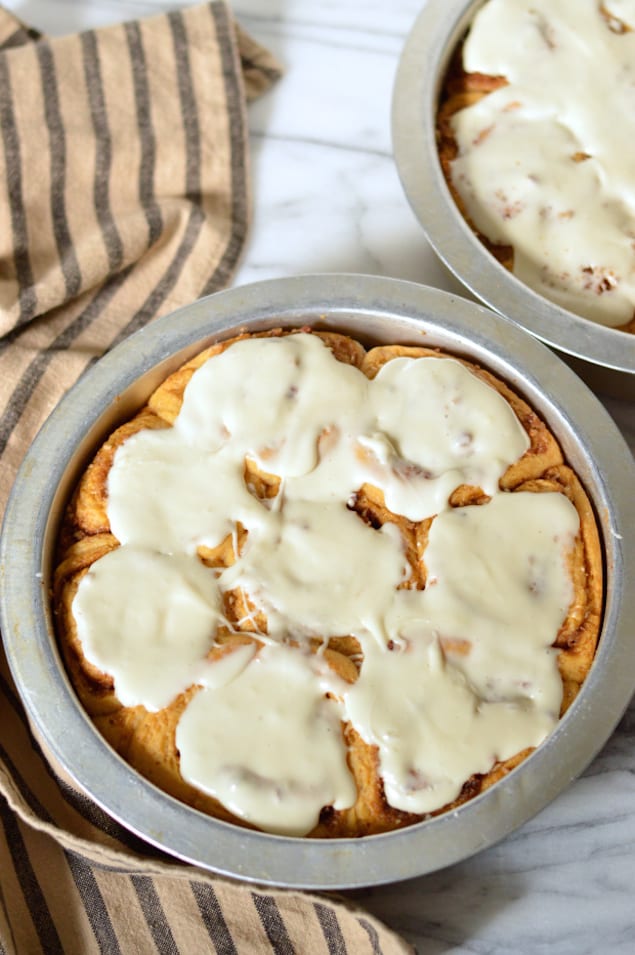 These cinnamon rolls are seriously unbelievable. Like… Whoa.
They're sweet, tender, light as air, and richly autumnal; with plenty of spice and a nice depth and hint of earthiness from the roasted sweet potato. Wrapped up inside is a sticky sweet filling that's dripping in cinnamon and bursting with toasted pecans. Then a sweet and tangy cream cheese icing goes on top and takes things to a place I almost can't even handle. Almost.
While I usually prefer desserts with a subtle, reserved sweetness; these cinnamon rolls are anything but subtle and I LOVE it. Warm from the oven they beg to be pulled apart into tender strips of gooey cinnamon heaven dripping with cream cheese icing. I honestly don't know who I thought I was fooling with that fork in the first photo. My fingers were covered in sticky nutty spicy sugary goodness mere minutes after these came out of the oven, and that fork went back in the drawer clean as a whistle. I promise that if you make these the last thing anyone will be looking for is a fork, but you should probably make sure you've got plenty of napkins on hand.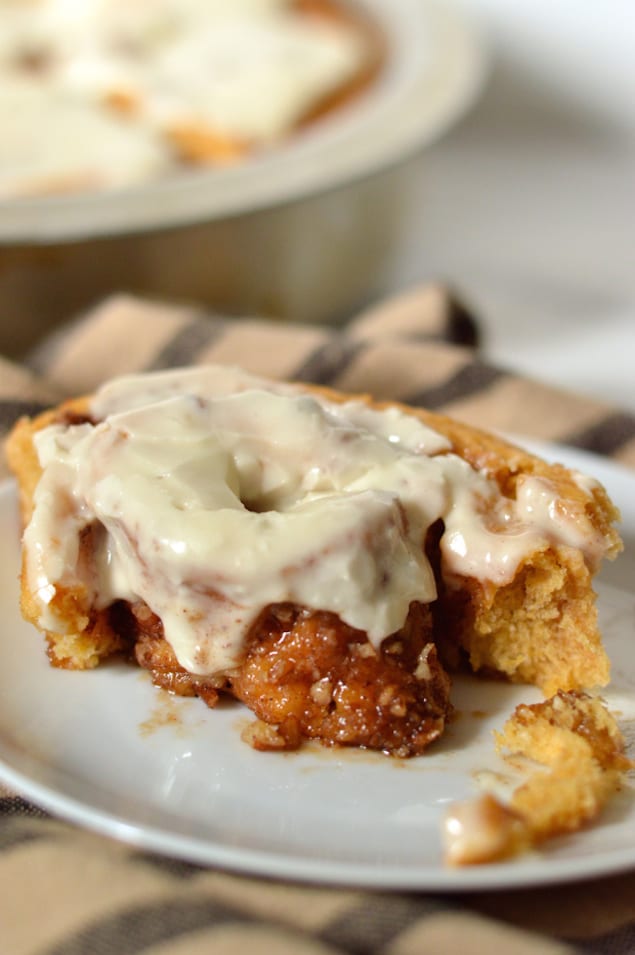 Sweet Potato and Pecan Cinnamon Rolls
These rolls are autumnal with earthy, roasted sweet potato. Inside is sticky sweet filling dripping in cinnamon and pecans topped with a cream cheese icing. adapted from Smitten Kitchen
Recipe Type:
Breakfast, baking, dessert
Ingredients
Roasted sweet potato puree:
2 medium sweet potatoes
1 tablespoon vegetable or olive oil
Dough
6 tablespoons unsalted butter, to be divided
½ cup whole milk
2¼ teaspoons active dry yeast (from a 1 .25-ounce envelope)
3½ cups all-purpose flour, plus extra for rolling out
¼ cup firmly packed brown sugar (dark if you have it, but light is fine)
¼ cup granulated sugar
1 teaspoon coarse kosher salt
½ teaspoon ground cinnamon
¼ teaspoon freshly grated nutmeg
⅛ teaspoon ground cardamom (optional)
¼ teaspoon ground ginger
⅔ cups sweet potato puree
1 large egg
Oil for coating rising bowl
Filling
¾ cup firmly packed brown sugar (dark if you have it, but light is fine)
¼ cup granulated sugar
⅛ teaspoon table salt
2 teaspoons ground cinnamon
1 cup finely chopped pecans
Glaze
4 ounces cream cheese, softened
2 tablespoons milk or buttermilk
2 cups confectioner's (powdered) sugar, sifted
Few drops vanilla extract (optional)
Instructions
Make the sweet potato puree:
Preheat your oven to 375 degrees. Wash your sweet potatoes and prick them all over with a fork. Rub them with oil and wrap in aluminum foil. Place on a baking sheet and bake for 30 to 60 minutes, depending on size. Check with a fork after 30 minutes, and if the fork slides through the flesh easily, they're done. If not, continue to check them every 10 to 15 minutes until they are done.
Let cool for at least 30 minutes, or until you can handle them comfortably.
Peel the skins off the potatoes, they should probably peel off pretty easily. Place flesh in a bowl and mash with a fork or potato masher. Measure out ⅔ of a cup, and eat the rest or save it for another use.
Make the dough:
Brown the butter in a medium saucepan for about 10 minutes or until nutty and golden. Once it starts to brown watch it carefully so it doesn't burn. Remove from heat and set aside to cool slightly.
Heat your milk in a saucepan or in the microwave, until warm but not hot. Too hot (over 116) and you'll kill the yeast. Combine the warmed milk and yeast in a small bowl and set aside to get slightly foamy, which should take about five to seven minutes.
In the bowl of an electric mixer combine flour, sugars, salt and spices. Add just ¼ cup (not all) of your browned butter and stir to combine. Add yeast-milk mixture, ⅔ cup sweet potato puree and egg, and mix until combined. Switch mixer to a dough hook and run it for 5 minutes on low speed.
Scrape mixture into a large lightly oiled bowl, flip it so the top of the dough is oiled too, and cover with plastic wrap or a damp kitchen towel. Set aside until doubled in size, about 1 hour, in a draft-free place.
Meanwhile, line the bottom of two 9-inch round cake pans (or 8-inch round if that's all you got) with parchment paper, and butter the paper and the sides of the pan.
Assemble buns:
Scoop dough onto a very well floured work surface and flour the top of it. Roll the dough out to an approximately 16×11-inch rectangle and brush with reserved browned butter. Stir together the filling ingredients and sprinkle mixture evenly over dough. Starting on the longer side, roll the dough into as tight a spiral as you can. It's will make a mess and filling will spill from the ends, no big deal. Just sprinkle the stuff that falls out over the pan after you put the rolls in.
With a sharp serrated knife, using as little pressure as possible, gently saw the log with a back-forth motion, trying not to squish it too much. The dough will be really soft so this will be tough, but you can reshape the rolls as you add them to the pan if need be. I cut the log in half, and then cut the halves in half, and again, and again, until I had 16 even(ish) rolls.
Divide the 16 rolls between two prepared pans, and sprinkle any fallen filling over them. Arrange the two end pieces cut side up. Cover each pan with plastic wrap and let rise for another 45 minutes.
If you want to do these ahead of time, at this point you can put the pans in the refrigerator overnight. In the morning, leave them out for an hour to warm up and finish rising.
minutes before you're ready to bake them, heat the oven to 350°F. Once they're finished rising, remove the plastic and bake the buns for 25 minutes, until puffed and golden and smelling like spiced autumn heaven. Meanwhile, make the glaze. Beat the cream cheese until it is smooth, light and fluffy. Add the powdered sugar and vanilla and beat until combined. Drizzle in the milk, a little at a time, until you get the consistency you're looking for, either thick enough to ice or thin enough to drizzle. Transfer the pans of finished rolls to wire cooling racks and drizzle or ice them with glaze. Eat them while they're still warm and steamy if you can.[/recipe]
Tux Loerzel
Tux is a food blogger, photographer, dog lover, husband, and avid baker living in Bushwick, Brooklyn. Originally from upstate New York, he inherited his love of cooking and baking from his mother and grandmother. With the encouragement of good friends and several glasses of wine, he began his food writing and blogging adventure in the fall of 2013. Learn more about Tux at his blog Brooklyn Homemaker