Also known as paratha, this Indian flatbread is easy and quick with mashed sweet potato and wheat flour. Mildly sweet, spicy it's great to eat with any side like a curd, pickle or try it with any kheer too.
By Priti S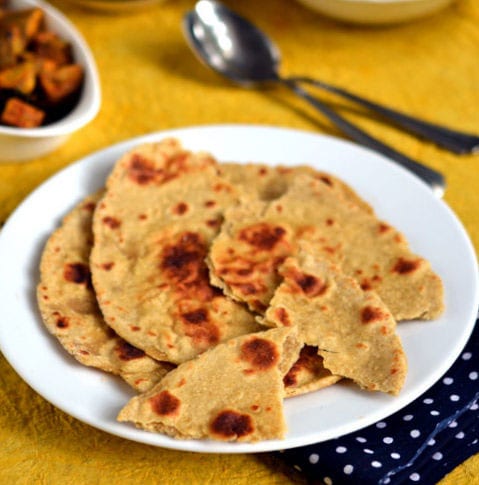 Sweet Potato Flatbread
Ingredients
3 Cups Atta/Wheat Flour
2 Cups Boiled, Mashed Sweet Potato
½ tsp Salt
1 tsp Cumin Powder [optional]
½ tsp Amchur Powder [optional]
1 tsp Red Chili Powder
½ tsp Turmeric Powder
1 tsp Ajwain/Carom Seeds
To Knead - Water
To Cook - Oil
Instructions
Wash and cook 4-5 medium sweet potato for 3 whilstlers, once cooled peel and mash well.
In a large bowl or plate take flour, mashed sweet potato, ajwain, chili powder, turmeric powder, cumin powder, amchur (if using), salt and mix well. Add water in small qunatity and knead to smooth soft dough.
Divide dough into 10-12 portions and make in to smooth ball and flatten it (peda). Roll in circle (paratha), it should be thick and not thin as roti, repeat same for rest of peda.
Heat a griddle (tawa) and place rolled paratha cook in slow to medium flame until bubble start to appears, flip and apply ghee or oil. Flip again and apply oil/ghee and cook both sides until brown patches appears. Cooking should be done in low heat to cook paratha well if not paratha won't be cooked well.
Serve hot, warm with any side dish of your choice or curd, pickle.