SPONSORED POST: We're celebrating the rest of summer with recipes and wines from Beaujolais that will usher us into fall in delicious style. Be sure to enter below for a chance to win the ultimate picnic set!
Sweet berry cloud eggs are an easy dessert of whipped egg whites that will remind your tastebuds of a pavlova. Serve these berry delights with a Beaujolais red wine for a perfect adult dinner party dessert.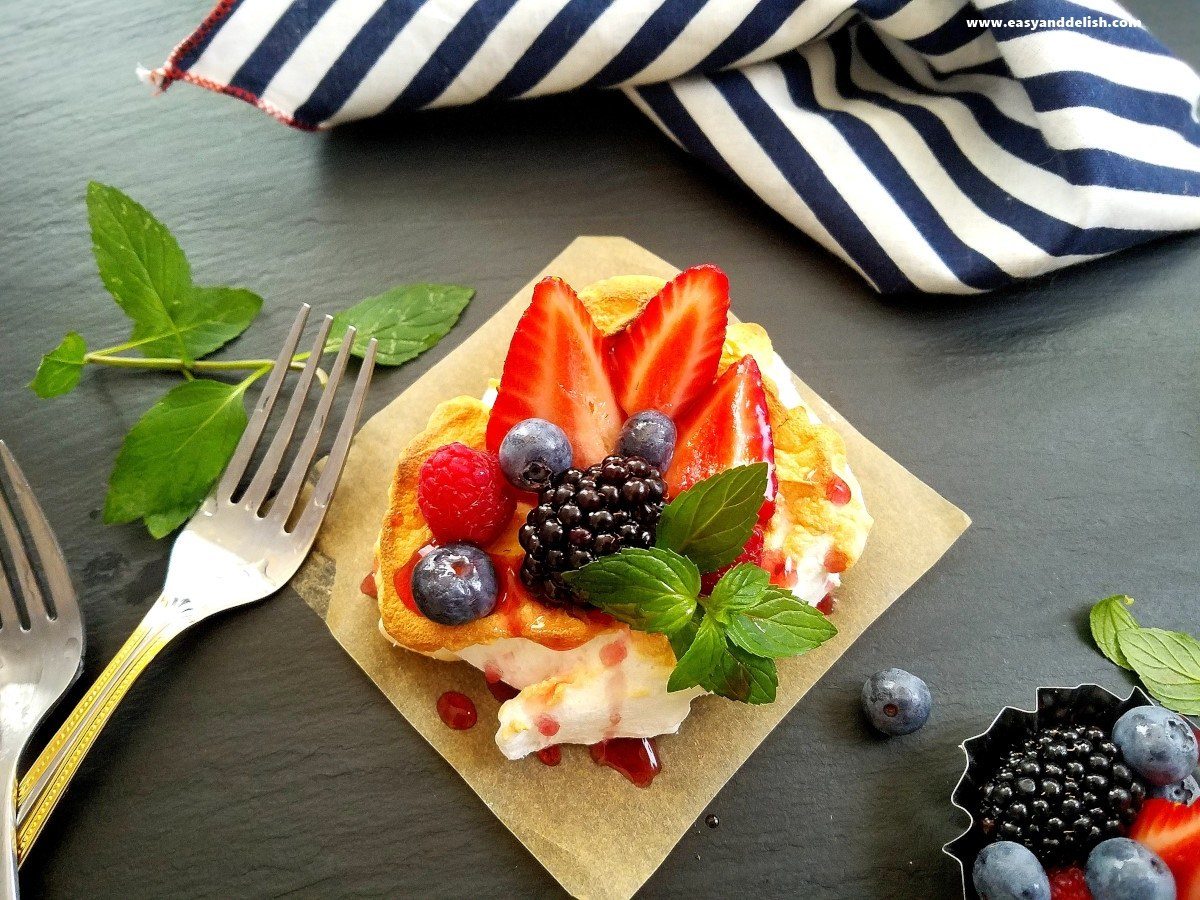 Have you ever heard of cloud eggs? Well, it is the latest Internet and Instagram trend– something appealing due to the easy prep and the creative way of using eggs. Our version, Sweet Berry Cloud Eggs, is sweet, instead of the usual savory. It reminds one of an individually portioned pavlova but with a firmer texture than a soft meringue. The advantage here is that it takes only 3-5 minutes to bake this delightful treat, in contrast to a pavlova or meringue.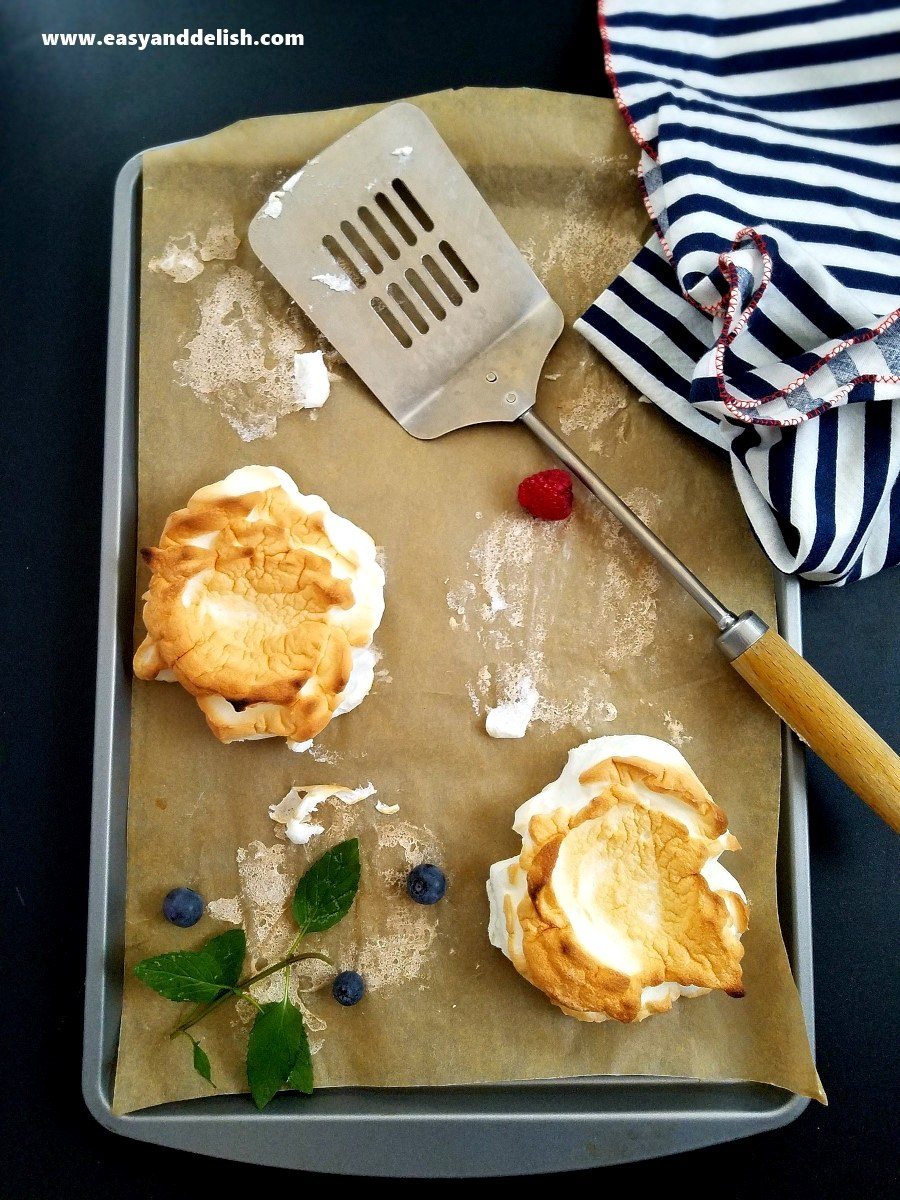 Want to impress your guests with a gluten-free whole-year-round treat? Make our Sweet Berry Cloud Eggs! Need a great pairing wine to accompany our no-fuss dessert? Beaujolais wines are the answer — especially the red, Chiroubles, Domaine de la Chapelle des Bois, 2014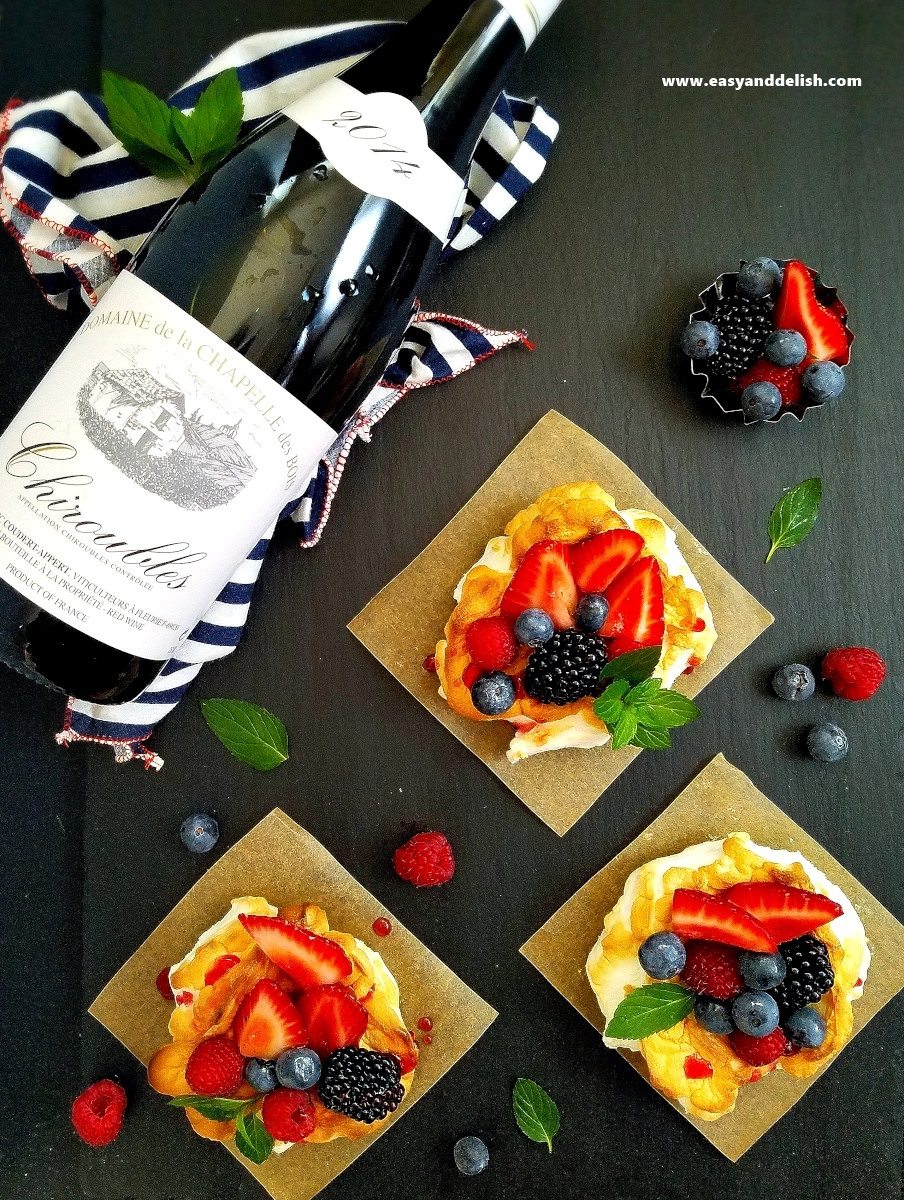 This anti-snob wine is artisanally made from Gamay grapes, a variety that is known for producing the light, fruit-driven red wines of Beaujolais in Eastern France. Ours, like other red Beaujolais wines (white and rosé as well), is versatile, food-friendly, and offers great value.
It can be enjoyed at room temp or slightly chilled with a variety of foods from different cuisines that are most often paired with white wine. Yep, it is your go-to wine for the summer and other seasons… to enjoy with BBQ, dips, pastas, simple desserts like ours, and more.
It offers a fresh, red-fruit aroma that pairs so well with our Sweet Berry Cloud Eggs, which are essentially made from stiff beaten egg whites whipped with sugar and lime juice.
The mounds are spooned onto a parchment paper-lined baking sheet… and baked for just minutes.
Once cooled to room temperature, our Sweet Berry Cloud Eggs are garnished with assorted macerated berries and mint leaves. Voila!
In a jiffy, a treat will be ready to be enjoyed that is appealing both to the eyes and palate– for even the most demanding of guests… and all cheered with a glass of an affordable, fruity red wine. It's simplicity at its best!
Easy to prepare? You betcha! Yummy? This falls into the category of eat and repeat!
Now, let's say cheers to easy entertaining… that makes life easy and delish!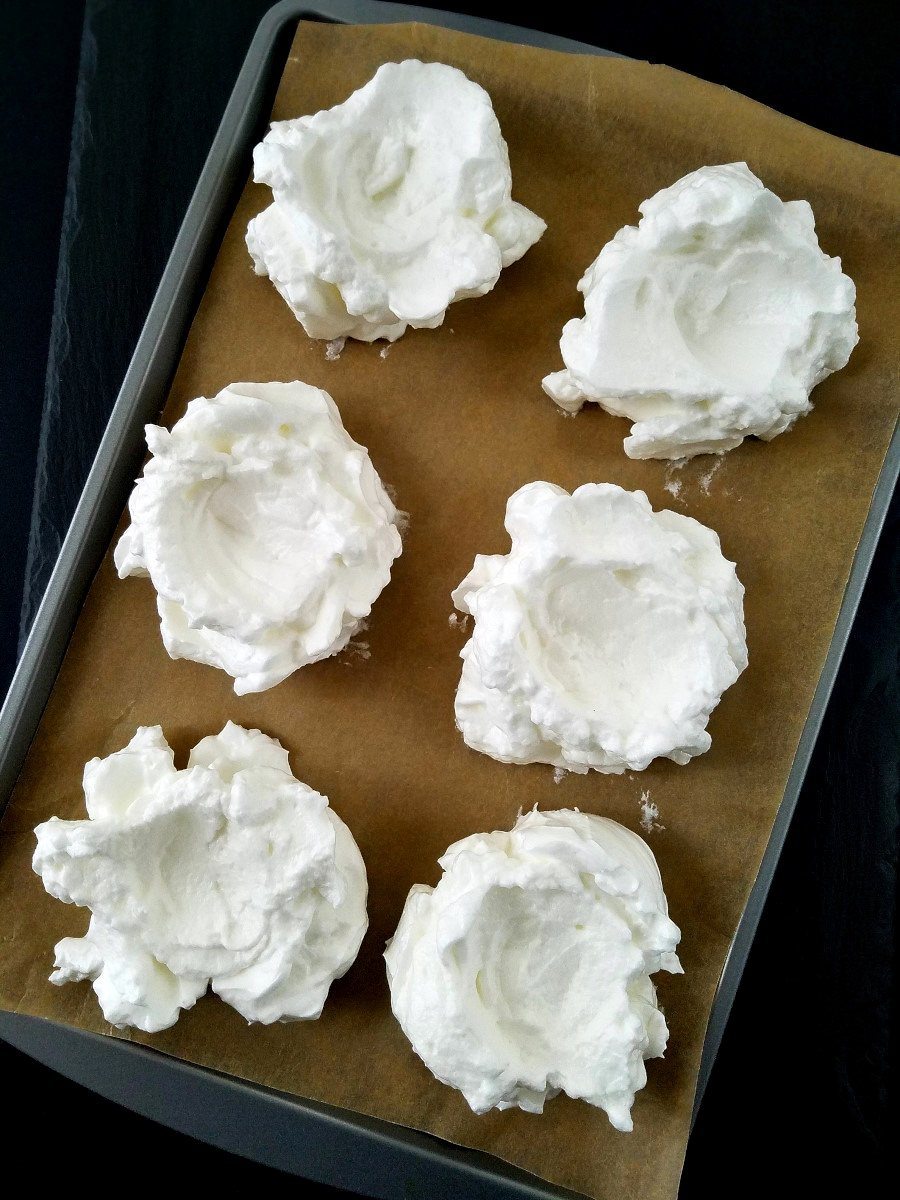 Enter THE GIVEAWAY below by 10/15/2017 for a chance to win a wine picnic set valued at $119.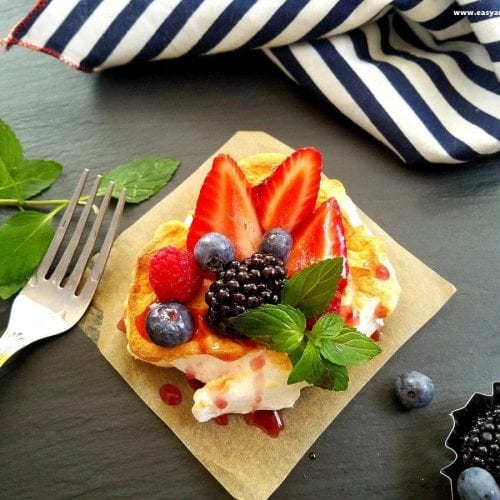 Perfect Dessert: Sweet Berry Cloud Eggs and Red Wine
Denise Browning
Sweet berry cloud eggs are an easy dessert of whipped egg whites that will remind your tastebuds of a pavlova. Serve these berry delights with a Beaujolais red wine for a perfect adult dinner party dessert.
Ingredients
1

cup

assorted berries

i.e. strawberries, blackberries, raspberries, and blueberries

2

Tablespoons

granulated sugar

1 1/2

Tablespoons

fresh lime or lemon juice

4

large egg whites

A dash of salt

4

Tablespoons

powdered sugar

fresh mint leaves

optional
Instructions
Start by macerating the assorted berries. Place 3 quartered strawberries and whole blueberries, blackberries, and raspberries in a medium plastic or glass bowl. Sprinkle granulated sugar and 1 Tablespoon of lime/lemon juice over the top of the berries and toss or shake. Let bowl sit at room temperature for at least 30 minutes. If not using immediately, cover and refrigerate overnight. If desired, our Sweet Berry Cloud Eggs can be garnished with fresh assorted berries -- maceration is not necessary although adds a nice sweet touch to the dessert.

Meanwhile, preheat oven to 425°F. Using a stand mixer or whisk, beat the egg whites on low until foamy. Add 1/2 Tablespoon of lime/lemon juice, a dash of salt, and just a bit of the powdered sugar toward the side of the bowl (not center). Beat on high speed until stiff peaks form. It is important to add sugar slowly, little by little and always toward the side of the bowl; otherwise egg whites won't increase in volume as intended. You may need to stop mixer a few times to scrape sugar from the side of the bowl.

Create 6 mounds of egg whites on a baking sheet lined with parchment paper. Make a well or indentation in the center of each mound to resemble nests. Place baking sheet on the oven middle rack and bake for about 3-5 minutes or until lightly golden and the mounds have firmed up.

Let cool and gently transfer to serving plate using a large metal spatula. Garnish indented center with berries and fresh mint leaves. Drizzle with a bit of the syrup formed during maceration if desired. Serve immediately and enjoy!
Denise Browning
Denise Browning is a native Brazilian foodie, trained Chef, cooking instructor, restaurant menu/recipe developer, and former lawyer. She is also the author of From Brazil To You - a blog that features Brazilian, fusion, and international dish recipes, stories, and photography of Brazil. Her writing has appeared in Cia Brasil Magazine, while her photography is frequently featured on Foodgawker, TasteSpotting, and Foodepix. She lives in Texas with her American husband and two children.