When it comes to Samosas, it's all about the stuffing. Taking the ever so popular Indian snack to a whole new high with a mix of sweet potatoes and beetroots spiced up to a nicety.
By Priya Mahadevan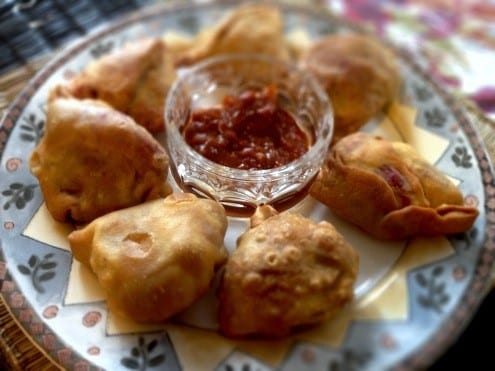 Sweet & Beet Samosa

#ratingval#

from

#reviews#

reviews

Print
Recipe Type:
Hor D'Oeuvres/ Appetizers
When it comes to Samosas, it's all about the stuffing. Taking the ever so popular Indian snack to a whole new high with a mix of sweet potatoes and beetroots spiced up to a nicety.
Ingredients
FOR THE DOUGH
1 cup AP Flour
2 tbsp Sooji or cream of wheat (slightly coarse)
1/2 cup of warm water
1/2 tsp salt
2tbsp olive oil
For the Stuffing
4 medium sized Sweet Potatoes
3 medium sized beets
2-3 spicy green chilies
1/3 cup grated paneer (optional)
2 tsp olive oil
Instructions
Steam the sweets and beets.
Strain or dab off any excess water
Mash the sweets
Grate the beets
chop the chilies finely add the salt
In a pan add 1 tsp of oil and the veggies and cook for a couple of minutes
For the Dough
Mix the dry ingredients and add the oil and mix – Add water slowly making sure you only use as much as you need to make a non-pasty, firm but soft & fine dough. Pinch into 5-6 Roll out the pinched balls into 5-6 inch wide tortillas/chappatis
Cut right through the centre dividing them into 2 half moons
Wet the corners with a touch of water and fold to create a cone.
Press ends together to make sure they stick well.
Now spoon in the stuffing, pushing it into the cone tightly.
Fold the dough over the stuffing and close the ends by pinching them together.
Notes
Makes about 12-14 samosas
2.2.6
Priya Mahadevan
Priya Mahadevan is a writer and food blogger with a background in journalism & communication. Priya's mission with her food blog is to blow the myth that healthy cannot be tasty. She was a political and feature correspondent for a prominent Indian newspaper in the 90s before moving to the US. She lives in Virginia with her husband and 3 beautiful children. You can find her world of vegetarian recipes at http://priyasnowserving.blogspot.com.