Soft cornbread is made tender with corn kernels and shredded zucchini for a flavorful skillet perfect with honey or dunked into a bowl of chili.
By Marcie Bidou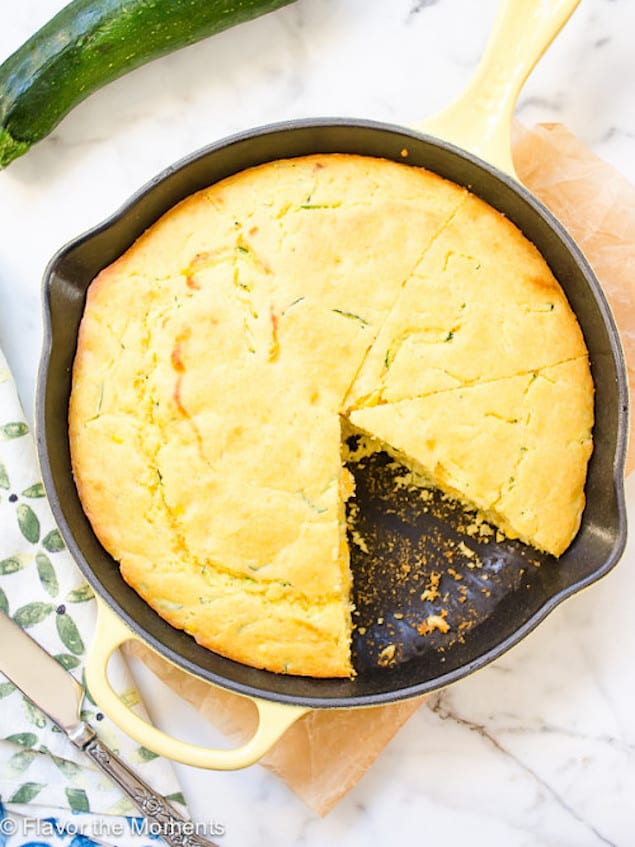 I love cornbread, any way you slice it. Serve it to me as a muffin, a big, warm square, or a large wedge — just please serve it to me. I actually took matters in my own hands and served myself a moist, fluffy wedge this time, complete with a crispy, golden brown crust. That's what you get when you add zucchini to your cornbread batter, and bake it in a skillet.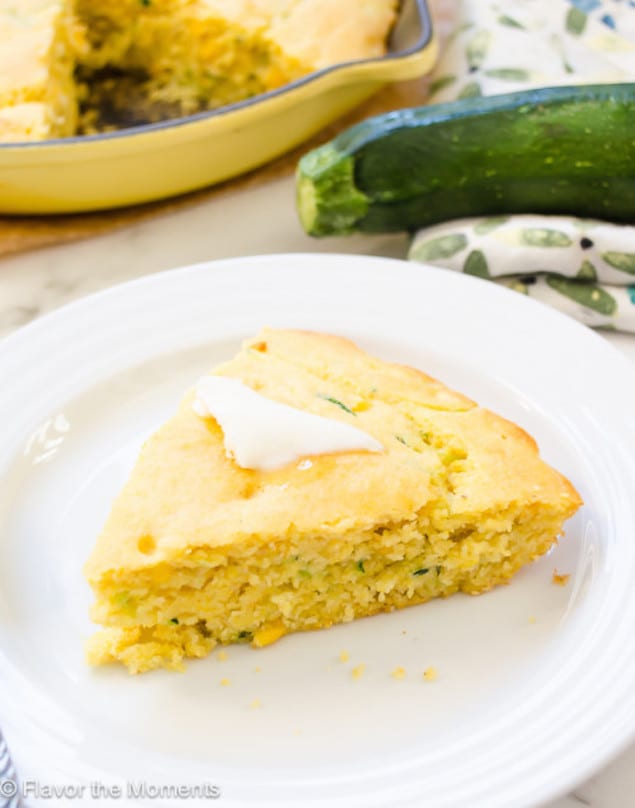 Last year one of my favorite recipes was my Butternut Squash Cornbread Muffins. The butternut squash puree gave the cornbread such moist, tender crumb, it was hard to believe it was healthy. They're a favorite in my house, and who can resist the color?
Being that it's the middle of summer right now, that means my focus is on summer squash and zucchini. I've received a ton of zucchini from a friend's garden, which means I'm going to find lots of different ways to use it. I had a hankering for cornbread and plenty of zucchini, so yeah — that's what happened.
The zucchini also added plenty of moisture, making this cornbread so moist and fluffy. I know the photos show it with a pat of butter, which was the way I devoured my first wedge, but every piece since, I've eaten it warm with a drizzle of honey.
Whether you serve it with honey, butter, maple syrup, or just plain warm dipped in some soup or chili it is all good.

Summer Zucchini Cornbread
Soft cornbread is made tender with corn kernels and shredded zucchini for a flavorful skillet perfect with honey or dunked into a bowl of chili.
Recipe Type:
Baking, Bread
Serves:
10 to 12 servings
Ingredients
1 cup all purpose flour
1 cup cornmeal
1 tablespoon baking powder
½ teaspoon baking soda
½ teaspoon salt
1 large egg
1 cup buttermilk
⅓ cup + ½ tablespoon canola oil, divided
3 tablespoons honey*
1 cup grated zucchini
½ cup fresh or frozen corn kernels (thawed if frozen)
Instructions
Preheat the oven to 400 degrees. Grease a skillet with the ½ tablespoon canola oil and set aside.
In a large bowl, whisk together the flour, cornmeal, baking powder, baking soda, and salt. Set aside.
In a medium bowl, beat the egg lightly. Add the buttermilk, canola oil, and honey, and whisk until combined. Pour the wet ingredients into the dry ingredients and stir together until just incorporated. Stir in the zucchini and corn, careful not to over mix, and pour into the prepared skillet.
Bake on the middle rack of the oven for 20-25 minutes or until lightly golden on top and a toothpick inserted into the center comes out clean. Cool on a wire rack for 10 minutes, then slice, serve, and enjoy!
Notes
You may substitute the honey with your favorite sweetener.
Cornbread may also be baked in a greased 8x8" square baking dish.
Marcie Bidou
I'm a wife, mother, and food blogger, residing in the San Francisco Bay Area. I graduated from culinary school in March 2014, and I'm a food blogger at flavorthemoments.com, where I publish a combination of my own recipes and adaptions of others. My style of food is fresh, seasonal, and always homemade.