Suculent: Cooking The Soul of Barcelona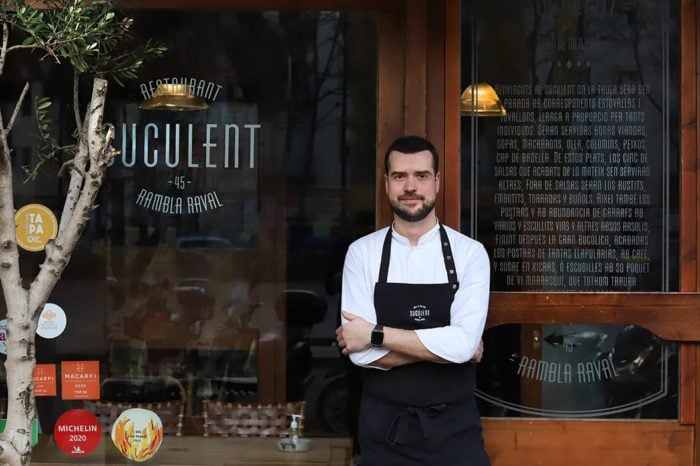 Barcelona is one in a million in many ways. It's one of those few cities that have everything and that we all want to go to or live in at some point in our lives. Fast, colourful, passionate, artistic and full of flavor. At Suculent, Antonio Romero has reduced those ingredients, and cooks dishes that capture the soul of one of the best cities in the world.
Soul: the spiritual or immaterial part of a human being or animal (let's add city), regarded as immortal. Barcelona is a city with soul, one that holds a special place in the culinary world with New York, Paris, Copenhagen, Lima or Tokyo, just to name a few. A city that needs to be visited on numerous occasions and when it comes to food, tried in many different ways to be figured out. One of those places you definitely need to go to, is Suculent.
Despite its brilliant trajectory since it opened in 2012, Suculent remains a well-kept secret of Barcelona; one of those restaurant where other chefs go to feast on their days off. Without pretensions or luxuries, chef Toni Romero has spent years renewing and giving his own twist to traditional Mediterranean dishes, with hints and influences from other cultures.
Here the focus is not necessarily on technique – which is something that Romero knows quite well having spent years cooking at elBulli with the Adrià-brothers, Arzak and Akelarre – as it is on the flavor. Broths and sauces are where the real DNA of Suculent can be found and almost every dish is created with that in mind. The emotional energy of Barcelona is concentrated, reduced and turned into intense bases that cover every single vegetable, piece of fish or meat.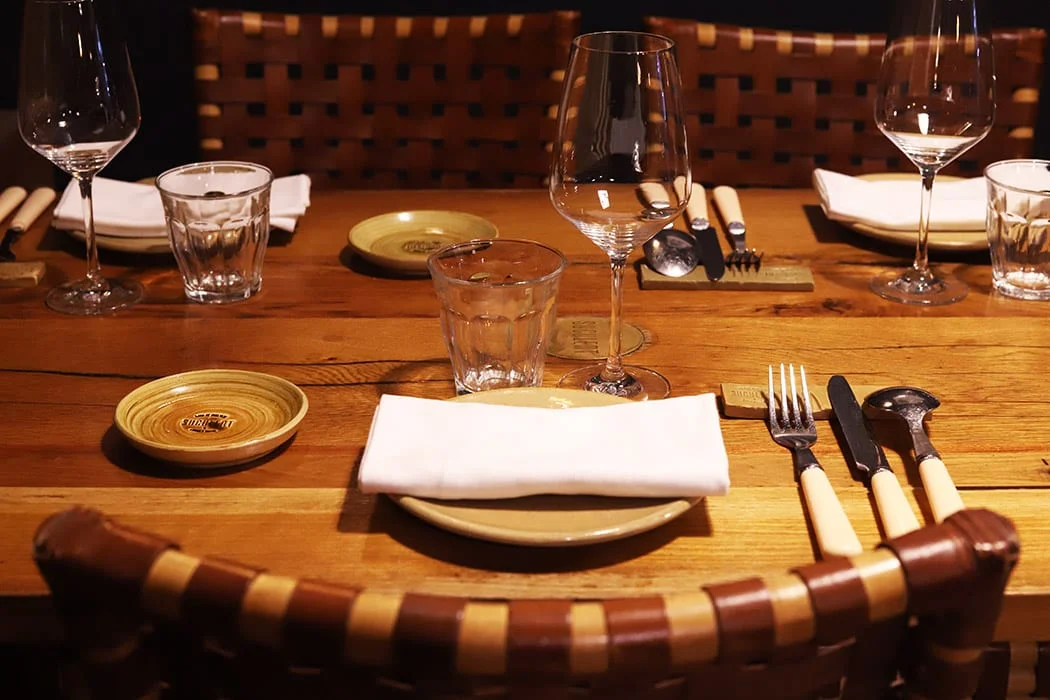 The Beginning
As a younger man, Toni was intrigued by the gastronomic world. He remembers reading culinary books, watching programs with Sergi Arola or Ángel León on his TV and feeling curious… Going against his mother's wishes, he changed his career path and started studying Hospitality Management at Costa de Azahar, and right from the start he knew that he had to combine school with a job at a real kitchen to really learn the trade.
His first experience working at a gastronomic restaurant was on a summer job at a Panticosa resort directed by Pedro Subijana (of Akelarre), but his true inspiration came from his teachers. Being pushed and motivated by them made him fall in love with cooking and gave him the impulse to participate in cooking competitions like SpainSkills, which he won in 2007.
"School is super good because you learn the bases, and it's good that they teach it to you calmly, and then in the real kitchen you see the rhythm. In school you do one task between 10 students and in the restaurant one person does 10 tasks. It was a very good way to understand the reality of a kitchen at a young age."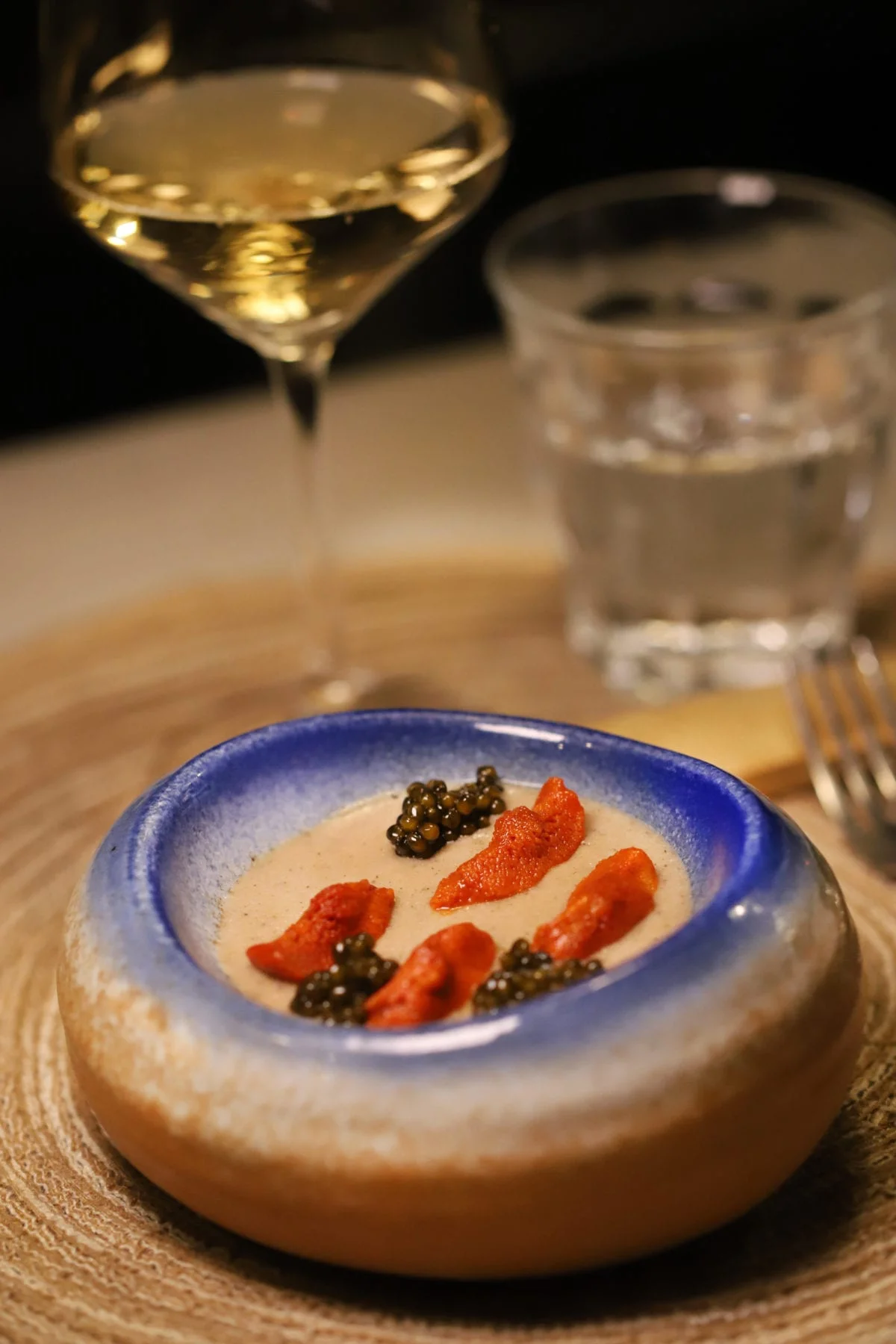 The Gastronomic Era
Internships are a controversial subject in the culinary world. To some, the amount of time, work, stress and pressure – often unpaid, of course – that these students have to endure crosses the line of exploitation. But if one thing is right is that still to this day all students want to spend a few months at Noma, El Celler de Can Roca, Mugaritz or Central, and those months can either make or break their career as a fine dining chef.
In 2009 Toni had the amazing opportunity to leave his classrooms and go straight into the kitchen that revolutionised Spain; he got one of the coveted spots at elBulli.
"I remember that the day flew by. The time of mise en place always flew. It's a time in my life that I would never change and in the end I learned a lot, both at the level of assuming responsibilities and at a creative level. I realised how they understood their cooking and the concepts of their dishes. elBulli worked like a clock."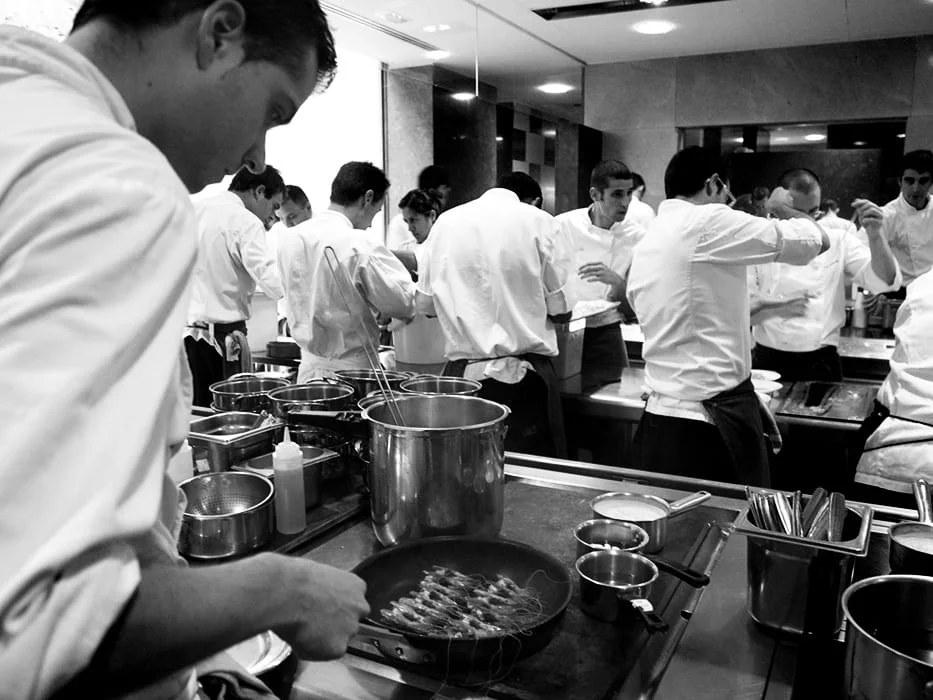 His good performance earned him more responsibility and by the time the season ended he was a chef de partie, meaning for the 6 month that the restaurant was closed, he would go to another top restaurant to exchange knowledge. Antonio got to go to Arzak in San Sebastián, and as if that wasn't enough, to Akelarre during weekends.
In 2011, after the closing of elBulli, Toni packed his bags and moved to work for Anne-Sophie Pic at her three-starred Michelin restaurant Pic in Valence. France was another important lesson for him. Tradition, consistency, history, precision and very long hours. For six months that was his routine until one day he got a call from the renowned Spanish chef Carles Abellan offering him to develop and direct a new project in Barcelona.
Sucar Lent
Sucar is the Catalan word for soaking and lent means slow. The game of words resulted in Suculent, that translates into succulent in English. Since the beginning of the project the idea was simple: a rustic eatery, reminiscent of your grandma's house, with vintage crockery, slow cooked meals and lots of sauces. A revisit to the history of Spanish and Mediterranean cuisine, redefined and refined, and it all starts with the bases.
"My way of making bases and broths is something that I bring from my time at elBulli. At the end I was in charge of the meat station. It was more about cooking and not as technical as pantry or pastry could be. The most important thing for Ferran and Albert was the purity, not to mask the flavors. In the end each product has to stand out for what it is, so you can identify the flavors well and make the sauce the soul of a dish."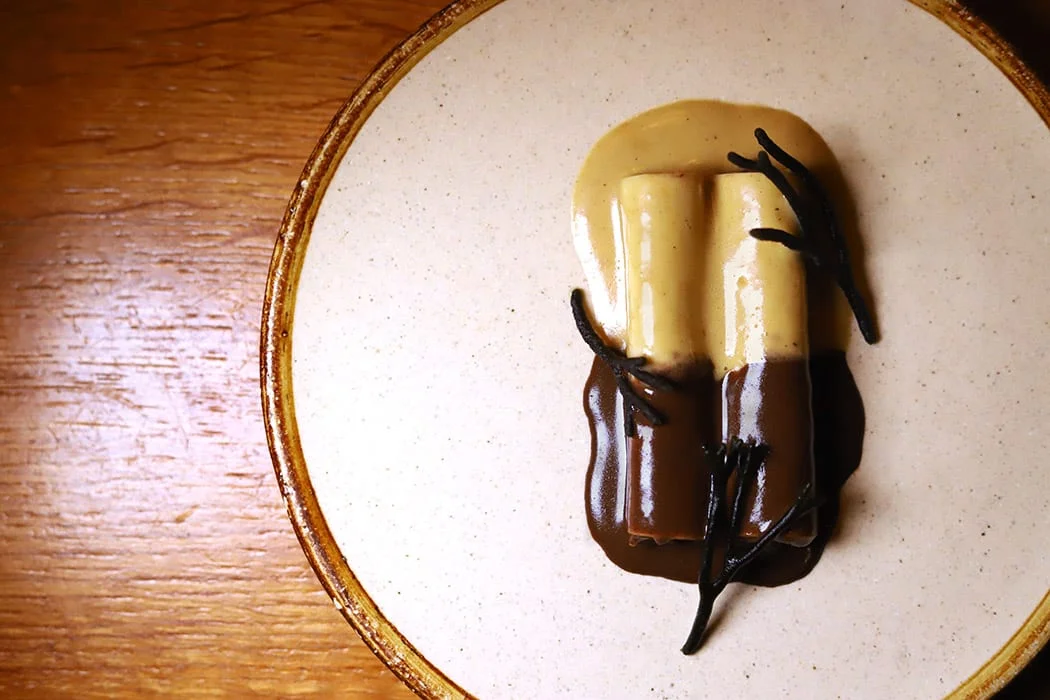 The result of this way of cooking has slowly made Romero earn the respect of critics, colleagues and clients, and even after going separate ways with Abellan and taking over the whole endeavour three years ago, Toni keeps laying strong stepping stones towards what promises to be a long and even more successful culinary journey. From being named Barcelona's Best restaurant by Time Out Magazine in 2013, being nominated as breakthrough restaurant at Madrid Fusion in 2013 and 2017, and earning a Michelin plate and a Repsol Sun last year, to being ranked as 83rd at The Best Chefs Awards list, the accolades keep coming his way.
And all this happens because of dishes like the glazed chicken comb canapé: Crispy chicken skin and confit chicken comb glazed with chicken juice. The crest is pure gelatine but has little flavor so they glaze it with a potent chicken wing broth and garnish it with cucumber, hoisin sauce, and sashimi togarashi that combine into two intense chicken bites. Juice, crest and skin.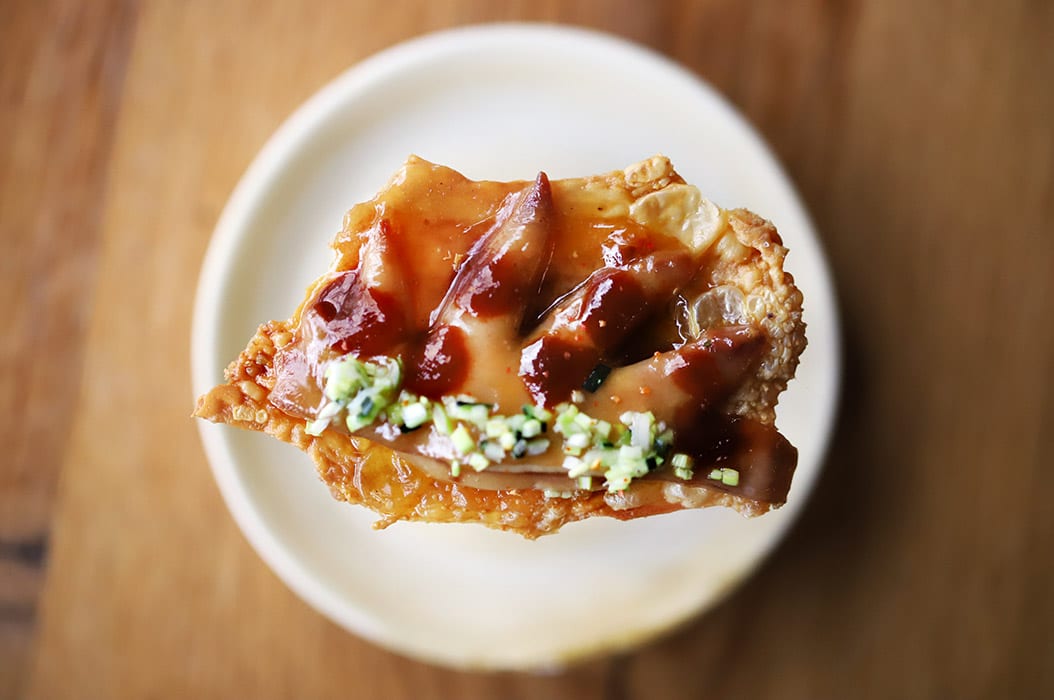 Flavor First!
"Technique? Each dish includes it to some level, but we don't focus on using modern techniques, it's not a priority. If at some point I am avant-garde or disruptive, I prefer to be because of the concept of the dish rather than because I am using a modern technique" says Toni Romero.
An example; lobster tartare with crispy chicken skin. It's based on the very traditional sea and mountain dishes in Catalan cuisine but done in Toni's way. An extremely creamy tartare enhanced with lobster oil, a fresh citrus touch and served on top of a thin and crispy chicken skin.
Another dish with a story is the steak tartare over grilled bone marrow and pommes soufflés. Done for the first time by the chef in 2013, it's been one of his most praised and replicated dishes in Spain. The first idea was a duck and foie tartare but the textures didn't work. At that time, he was using bone marrow split in half with miso, tobiko and katsobushi. He then decided to close the circle by doing a tartar out of the same animal, empowering every bite not only with the flavor of the grilled bone marrow, but also with its warm temperature.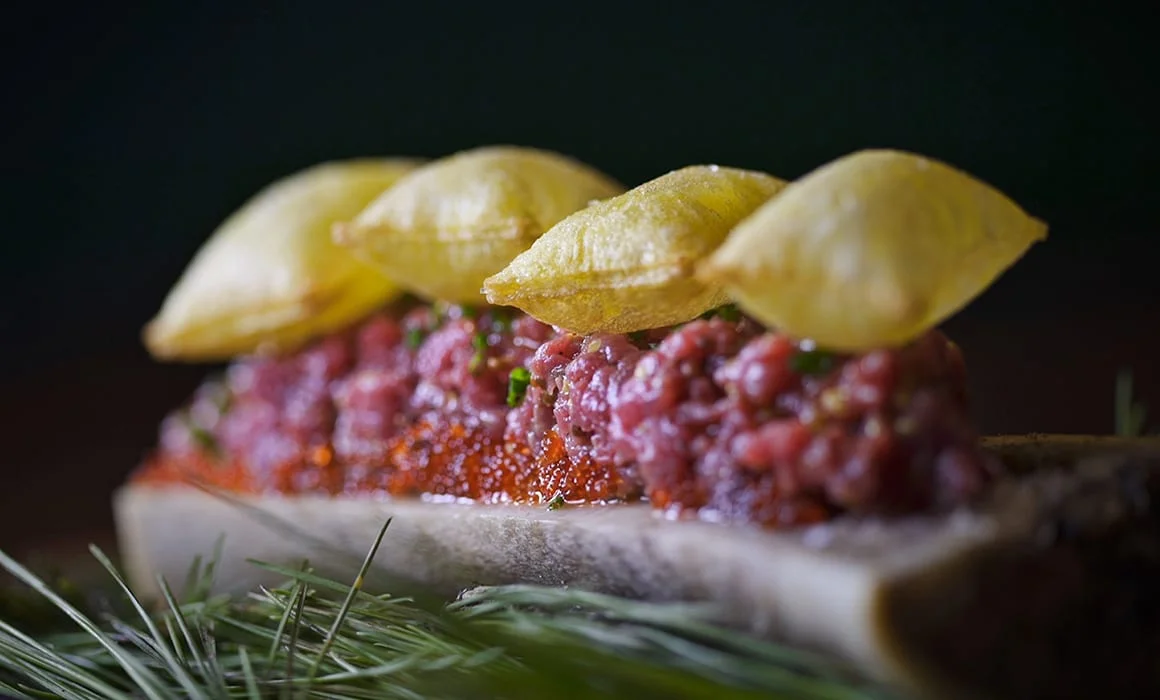 A good mention to highlight would also be the red prawn ceviche with avocado and corn. Yes, it sounds like the complete opposite of what I've been writing about, but since day one it was one of the hints from other cultures included on the menu and a guest favourite, except for one important guest…
"The first day that we opened Ferrán Adrià came to eat and told me: I really like the menu but what's this ceviche doing here? And I told him he was right, but I didn't take it off the menu," says Antonio while he laughs. "And I always pay attention and do what he tells me too… But at the end of the day I knew that this one was going to be a guest favourite, and years later it still is."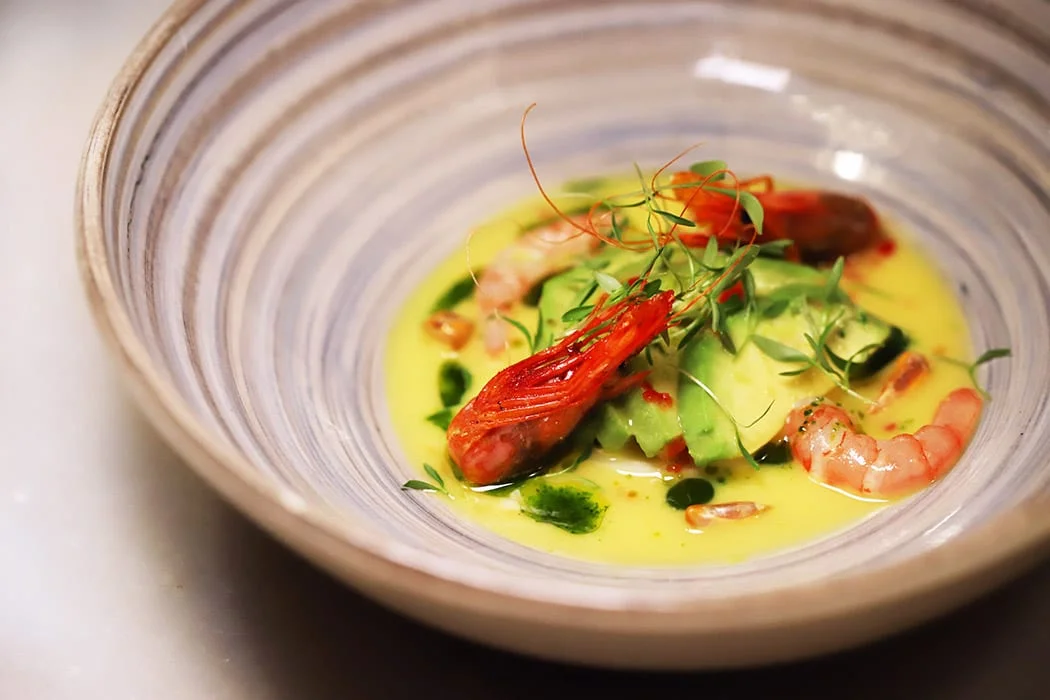 What's next?
After what could easily be the worst year for the restaurant industry, chef Toni and Suculent keep looking ahead. The main goal is of course to survive and adapt to these strange times. Delivery has become a great way for him to stay in touch with his guests, for example. He also confesses that he has reconnected with a local clientele that didn't feel comfortable sharing spaces with tourists. So yes, even the restaurants conceived to make you feel at grandma's home had to jump into the digital world.
Some other projects are in the works but nothing will get announced until it's confirmed. What's most important for Antonio is for his first solo project to keep evolving and getting better with time. And although it's hard for Barcelona locals to see it sometimes in this post COVID world, cities like this one always bounce back better and stronger.
Le Corbusier once said: "Allow me to state how much I love Barcelona, an admirable city, a city full of life, intense, a port open to the past and future." And reading that quote made me sure that the title to this article was the right one. Suculent, with its intense dishes full of life, cooks the past and the future of the Catalan metropolis.
Suculent cooks the soul of Barcelona.
Suculent, Rambla del Raval, 45, 08001 Barcelona, www.suculent.com
David Egui
Venezuelan based in Barcelona • Food photographer and writer @comeresblog