If you're a Britain lover like Regula Ysewijn, you will surely love this summery cocktail.
By Regula Ysewijn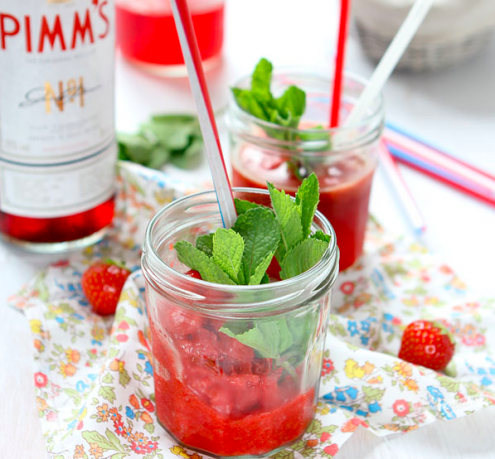 Strawberry and Pimm's Granita
If you're a Britain lover like Regula Ysewijn, you will surely love this summery cocktail.
Ingredients
1 kg strawberries
4 shot glasses Pimm's (or more if you want it stronger!)
2 teaspoons of Pimm's
2 teaspoons of sugar
a few sprigs of mint
Instructions
- slice the strawberries and cover with the sugar and the 2 teaspoons of Pimm's
- crush the strawberries, cover and leave to rest for 30 minutes
- liquidize the fruit
- pour the strawberry juice in a wide shallow container
- put into the freezer and leave for 60 minutes
- scrape the now almost frozen juice loose and mix with the unfrozen parts
- put back into the freezer for 30 minutes and repeat until the granita is frozen and fluffy.
When ready
- serve in a wide glass
- scoop granita into the glasses
- add the Pimm's
- decorate with fresh mint
Regula Ysewijn
Regula fell in love with Britain when she was a little girl, her parents travelled with her across the country feeding a love that is still as strong now as it was over a decade ago. On her blog 'Miss Foodwise' she writes about her quest discovering everything there is to know about British food and culture. She has a passion for vintage British cookery books and a weakness for dainty floral tea cups. Regula is a photographer, graphic designer and culinary school student.