This frozen strawberry cream pie in a sweet and salty pretzel crust is about to become a favorite warm-weather treat.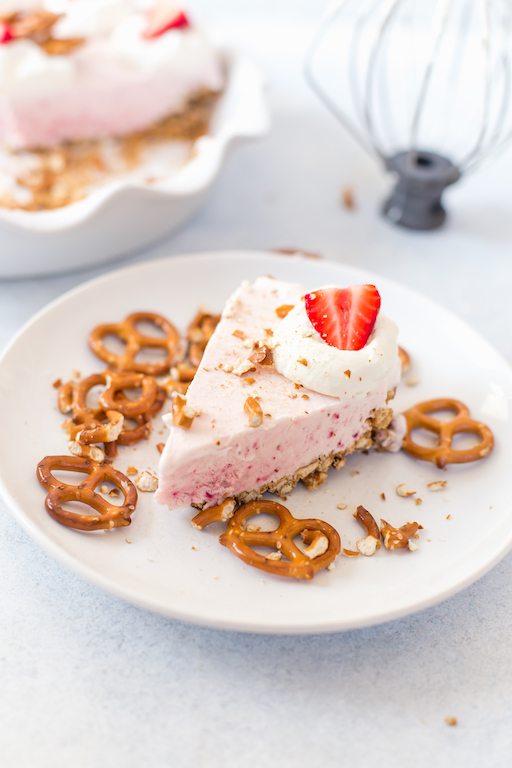 One of the most nostalgic desserts that I can think of from my childhood, aside from my grandma Esther's bunny cake and my grandma Patsy's Coca Cola cake, is the strawberry jello dessert with a pretzel crust. Also can we just appreciate, for a second, that this dessert is widely known as Strawberry Pretzel Salad? You just have to love those desserts that are named "salad". Snickers Salad is another favorite of mine. Is this just a Midwestern thing? Fill me in.
One look at all of the photos of strawberry pretzel salad dessert through a Google search and I am immediately transported back in time to a summer picnic with burgers and hot dogs on the grill and a plethora of potato salad and chips.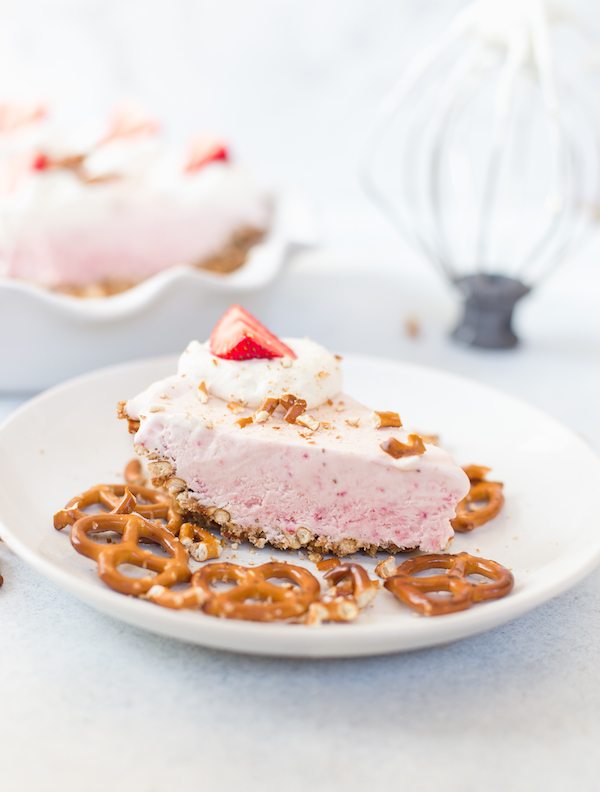 I wanted to recreate this dessert as a creamy strawberry pie with a pretzel crust and this is what I came up with. I thought about basically making the strawberry pretzel salad similar to the original, as a cream cheese layer topped with a strawberry gelatin layer, but putting it in a pie dish. However, I really wanted it to be a creamy strawberry filling. I also felt like the salad dessert has a lot of different steps between the crust and two different filling layers. I wanted to keep it simple!
The end result of this Frozen Strawberry Cream Pie with Pretzel Crust turned out so tasty and super simple. The pretzel crust is basically like a graham cracker crust but with pretzels. The filling is simply mixing a bunch of ingredients together, pouring it into the pie crust, and popping it in the freezer. You do have to whip some heavy cream but there's no fussing with gelatin or worrying about things setting up.
While this recipe isn't technically no-bake since the pie crust does need to be baked for a few minutes, this still makes a great spring or summer dessert for when the warmer temps discourage us all from using our ovens.
Click here for the pretzel crust recipe.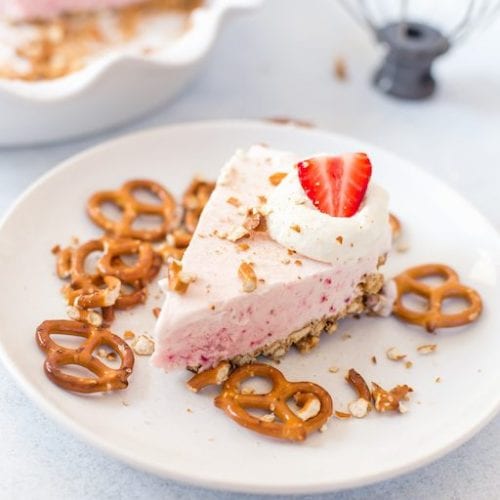 Strawberry Cream Pie in a Pretzel Crust
Ingredients
For the pie filling:
2

cups

heavy whipping cream

2

cups

diced strawberries

1

8 ounce package cream cheese

1

can sweetened condensed milk

½

cup

powdered sugar
Instructions
Preheat oven to 350 degrees F.

Mix together crushed pretzels, brown sugar, and melted butter in a medium bowl.

Press into the bottom of a greased 10" pie dish.

Bake in preheated oven for 8-10 minutes, or just lightly browned.

Let cool completely.

To make the pie:

Beat 1 cup whipping cream in a medium bowl with electric mixer until stiff peaks form.

Set aside.

Place strawberries in a food processor and pulse until finely chopped.

In a large bowl with electric mixer, beat together cream cheese and sweetened condensed milk.

Add strawberries and mix until well combined.

Fold in whipped cream.

Pour into pie crust and freeze at least 6 hours.

Beat remaining heavy whipping cream with powdered sugar until stiff peaks form and spread over pie.

Freeze another hour, if desired. You can also serve it with the whipped cream not frozen.

Serve and enjoy!
Taylor Kadlec
Taylor Kadlec is a lover of all things food including baking, cooking, and of course, eating. She is a self-taught baker and cook, and she shares her kitchen adventures on her blog Greens & Chocolate, where healthy cooking meets sinful indulgence.