A fresh salad loaded with vegetables and protein is just what we need to feel energized. But on a cold winter's day we also need a topping to feel warm and full, enter the best steak salad we've had yet.
By Lynne Sampson Curry
This article has been posted with permission and originally appeared as Chopped Greek Steak Salad with Yogurt-Lemon Dressing on Relish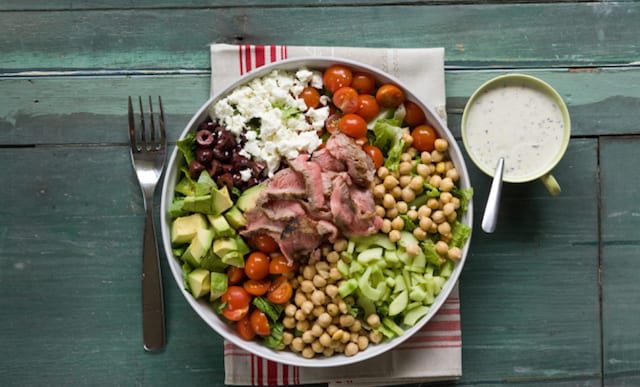 Mark Boughton/styling: Teresa Blackburn

Steak Salad with Lemon Yogurt Dressing
A fresh salad loaded with vegetables and protein is just what we need to feel energized. But on a cold winter's day we also need a topping to feel warm and full, that's why we bring in the delicious steak.
Author:
Lynne Sampson Curry
Ingredients
Dressing:
⅔cup nonfat plain yogurt, preferably Greek-style
1 garlic clove, mined
1tablespoon finely grated lemon rind
2tablespoons extra-virgin olive oil
3teaspoons red wine vinegar
½teaspoon dried thyme
¼teaspoon salt
⅛teaspoon black pepper
Steak:
1 rib-eye, stip loin or top sirloin steak (about 12 ounces)
¼teaspoon salt
Freshly ground black pepper
Salad:
4cups finely chopped hearts of Romaine
¼cup finely chopped fresh parsley
1large cucumber, peeled and seeded and chopped
1pint cherry tomatoes, cut in half
1 (14-ounce) can chickpeas, drained and rinsed
1 avocado, pitted and diced
¼cup pitted and sliced kalamata olives
3ounces crumbled feta
Instructions
To make dressing, whisk yogurt, garlic, lemon zest, olive oil, vinegar, thyme, salt and pepper in a small mixing bowl until smooth. Thin with up to 3 tablespoons of water so it dribbles off a spoon. Let stand at room temperature at least 15 minutes to develop flavors. (Can be made up to 2 days in advance and stored in the refrigerator.) Makes 1 cup.
To prepare steak, preheat a gas or charcoal grill for high heat, pat steak dry and season with salt and pepper. Grill 4 to 5 minutes per side for medium-rare. Transfer to a plate and let rest 10 minutes before slicing into thin strips.
To prepare salad, make a bed of romaine on a large serving platter and sprinkle on parsley. Arrange cucumber, tomato, chickpeas, avocado, olives and feta in mounds, and place steak strips in center. Serve with a large spoon for guests to make their own mix and pass dressing on the side.