The quote 'Less is more' can be applied to this lovely recipe for spicy Tindora or Ivy Gourd Roast.
By Sia Krishna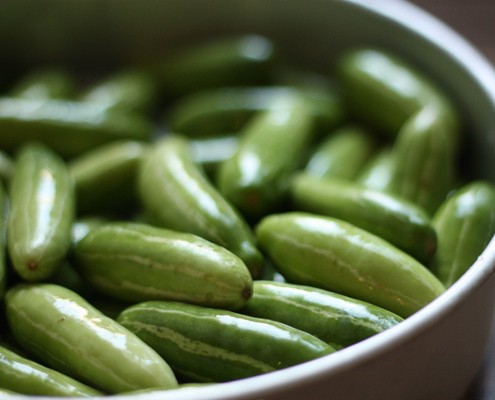 My love for Tindora or Ivy Gourd grows more with each passing day. Not only I am a great fan of its crunchy texture and taste, I have many fond memories of my childhood days spent with my sister under the shade of its beautiful green vines where we shared our joys, sorrow and many secrets. Whenever I cook with these little green gems, I fondly remember the times we spent lying under the shades of these vines beautifully spread across guava tree in my parents' vegetable garden.
Cooking with Ivy Gourds is always fun as its one of versatile vegetables that compliments many aromatic spices used in cooking it. And yet it manages to retain its crunch and taste. Ivy gourd is a very popular vegetable in south India and also in some parts of western Indian states. From simple stir fries to delicious and complex gravy based dishes, there are many mouth watering recipes for cooking these little gems. The recipe I am sharing with today is really simple and takes just few minutes of your time. It's all to do with quick preparation as the cooking is done in an oven.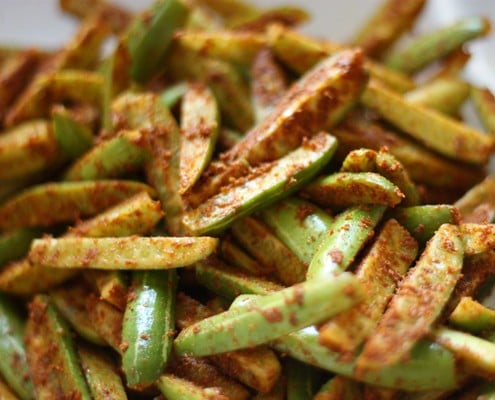 See Also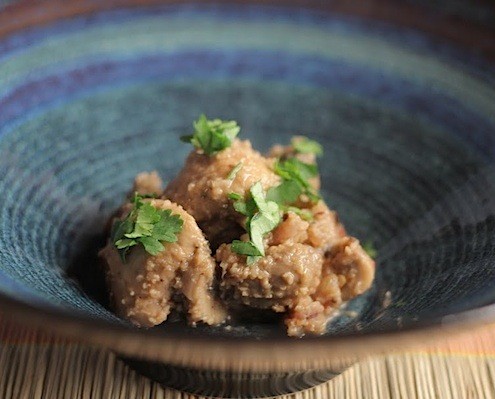 The quote 'Less is more' is applied to this recipe of spicy Tindora or Ivy Gourd Roast. Just handful of freshly ground aromatic Indian spices and the end product is one of the best tasting side dish. Thin strips of ivy gourds are generously dusted with few selected spices and then roasted in oven. Some twenty or little more minutes later you have this delicious bowl of crunchy and spicy Tindora or Ivy Gourd Roast that jazzes up any boring meal. Best way to serve it is with plain rice, dollop of Ghee and a bowl of hot Rasam (South Indian tomato soup) or Dal (creamy lentil soup). Get little creative and serve it as a stuffing for sandwich or warps with a spoonful of sour cream and some salad leaves.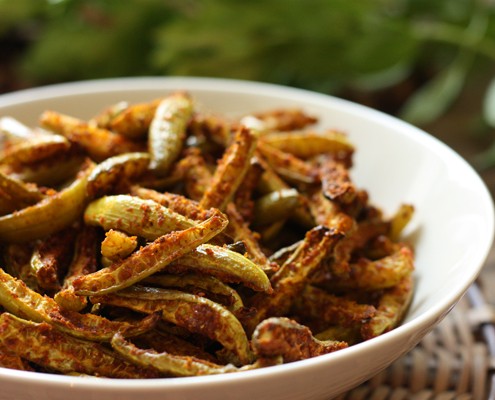 Spicy Tindora - Ivy Gourd Roast
Just handful of freshly ground aromatic Indian spices and the end product is one of the best tasting side dish.
Ingredients
20-24 Ivy Gourds/Tindora
1 tsp Coriander Powder
½ tsp Cumin Powder
1 tsp Rasam Powder (according to taste)
¼ tsp Turmeric Powder
½ tsp Amchur/Dry Mango Powder (optional)
A pinch of Hing/Asafoetida
1 tbsp Oil
Salt to taste
Instructions
Pre heat the oven at 180 deg C/350 deg F.
Trim the ends of ivy gourds and slit it in the middle. Cut each halves into 2-3 thin stripes and transfer it into large mixing bowl.
Add all the spice powders along with oil and salt to taste to ivy gourd pieces and mix them well. Make sure every single piece of ivy gourd is coated well with spice mixture.
Line the baking sheet/tray with aluminium foil and arrange the ivy gourds in single layer. Place the baking sheet/tray in mid rack and set the timer for 15 minutes.
After 15 minutes, take out the tray and gently turn over the ivy gourds and bake them again for 7-10 minutes.
Serve them warm with plain rice and Rasam (South Indian tomato soup) or any Indian flat breads and Dal (creamy lentil dish).
Notes
Ready to use Rasam powder is available at any Indian grocery shops. If unavailable, you can substitue it with Garam Masala.
Sia Krishna
Born in India and raised in fun and food loving family, Sia Krishna is currently living in UK with her better half and her two babies, one year old son and 5 year old blog Monsoon Spice. Her cooking style has strong root in Indian culture and at the same time embraces the world cuisine with equal passion. With never ending love for food, spice and life, Sia is passionate about making Indian food less intimidating which reflects in her food blog "Monsoon Spice", nominated for Top Food Mom Bloggers 2011 by Babble.