Browned in Butter Sha'reyya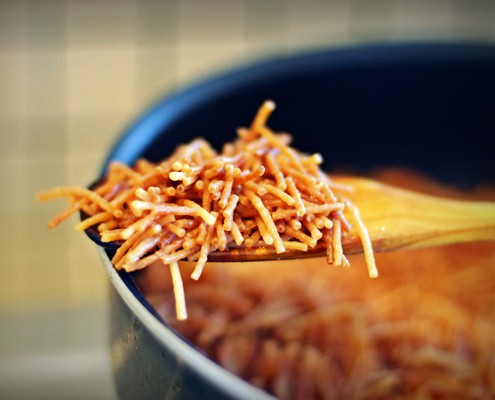 Served for a mid-week late lunch or early dinner, Egyptian Sha'reya is a great comfort food, especially on cold winter nights.
By Sarah Khanna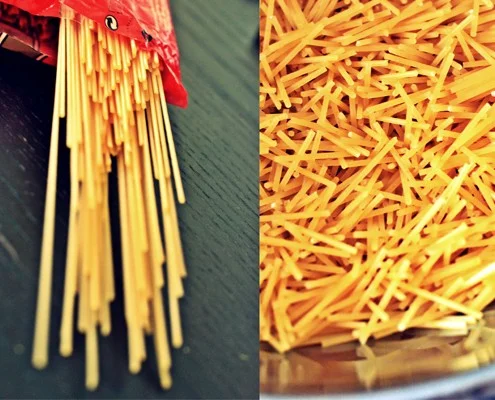 Steamed rice is not a common occurrence in the average Egyptian home. We like to coat our rice in butter or ghee before letting it drink up the liquid it cooks in.  This way and if we cook it for the right amount of time, we can guarantee that each rice grain is an individual, with a personality of its own. It will grow to shine and shun its fellow sister grains when they come too close. Glistening in the light, rice in an Egyptian kitchen doesn't smell of rice. It smells of butter.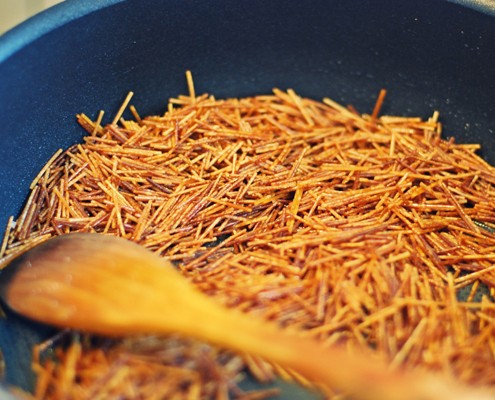 Apart from buttered rice, we also enjoy adding Sha'reyya, or fried vermicelli to the pot, mixing it into the rice to get the best of both rice and pasta worlds. Vermicelli, always browned before cooking, is also cooked alone as a side dish. On occasion, dinner or "dessert dinners", where we've already had a big meal for lunch (being the main meal of the day) and can allow ourselves or our kids a sweet treat for dinner, comprises of browned-in-butter vermicelli and sugar, sprinkled and mixed in. Some people add milk while cooking. I prefer the delicate crunch of some plain white caster sugar.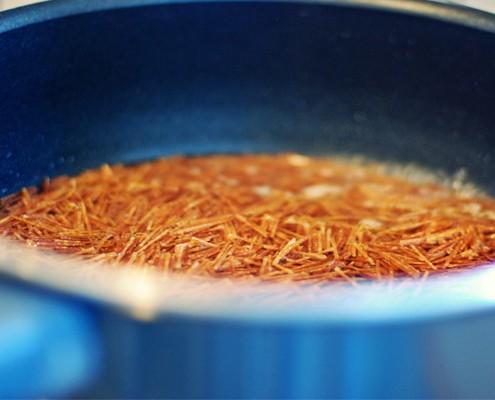 Here's a recipe for the basic Egyptian sha'reyya. To sweeten, cook without salt and sprinkle with sugar in the last minute.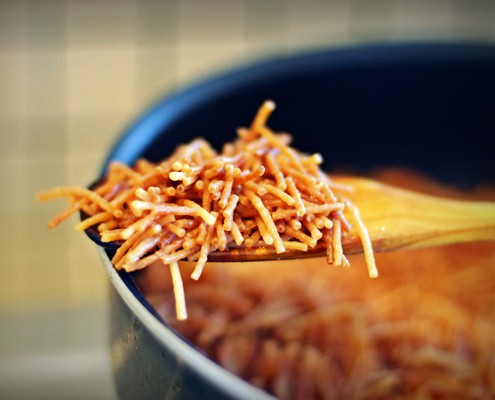 Browned-in-butter Vermicelli
Served for a mid-week late lunch or early dinner, Egyptian Sha'reya is a great comfort food, especially on cold winter nights.
Ingredients
Egyptian Vermicelli (Sha'reyya)
500 grams/ 1 lb. of uncooked vermicelli
1 full tablespoon of butter or ghee
2 cups water
salt or sugar to taste
Instructions
Break up your vermicelli into small equal bits.
Fry in butter or ghee until it reaches a golden brown color.
Add the water and salt and bring to a boil.
When the water seems almost absorbed, lower your heat and continue to cook until done (al dente).
Serve.
Sarah Khanna
Sarah Khanna is the half-Egyptian, half-Indian author behind Buttered-up.com who quit her Cairene career in advertising to become a full time cook, writer and photographer in Kuala Lumpur. She is also a weekly food columnist for the Daily News Egypt where she critiques Arab food culture. Raised as a hotel brat, Sarah has moved frequently but considers Egypt to be her real home. She loves butter and knives and shudders at the sight of canned tuna.