The often-underrated cauliflower gets an expected kick from cumin and coriander.
By Lauren Tangey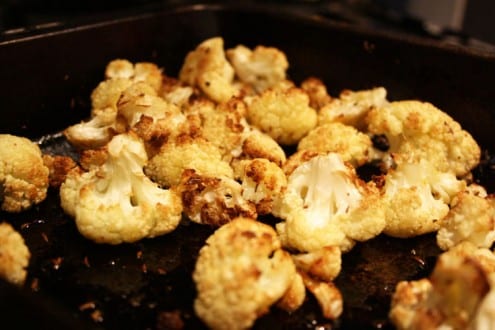 Spiced Roast Cauliflower
The often-underrated cauliflower gets an expected kick from cumin and coriander.
Ingredients
1 head of cauliflower, stem removed and cut into various sized florets
cumin seeds
ground coriander
olive oil
salt and pepper
Instructions
Preheat oven to 200 degrees Celsius
Throw all of your cauliflower into a baking/roasting pan. Sprinkle generously with coriander and cumin, season well with salt and pepper, and drizzle with olive oil.
Shake the pan and shuffle the cauliflower around in the pan making sure it's all covered in awesome-ness.
Pop into the oven for 15minutes. Shuffle again. Bake for another 15minutes
Serve.
Lolly
Food Lover. Food Blogger. Chef. Mother. Lover. Free Spirit. Ever Evolving... Lauren Tangey thinks food is exciting and not to mention versatile. It's time to get back to basics. It's time to get involved in the food we eat.