Spiced Cauliflower Fritters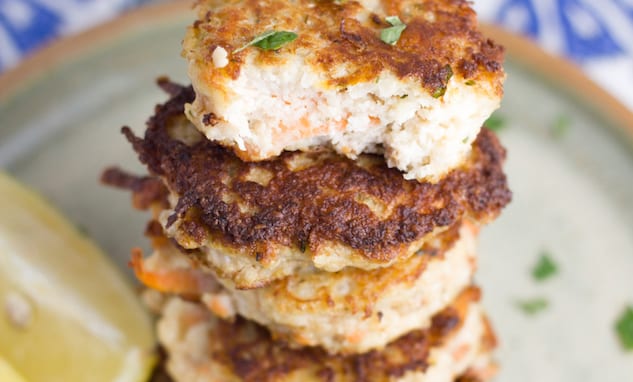 Fritters are always a fun way to showcase seasonal vegetables with a delicious sauce. Try these crispy cauliflower fritters served with a squeeze of lemon juice or a bold garlic aioli.
By Vanessa Vickery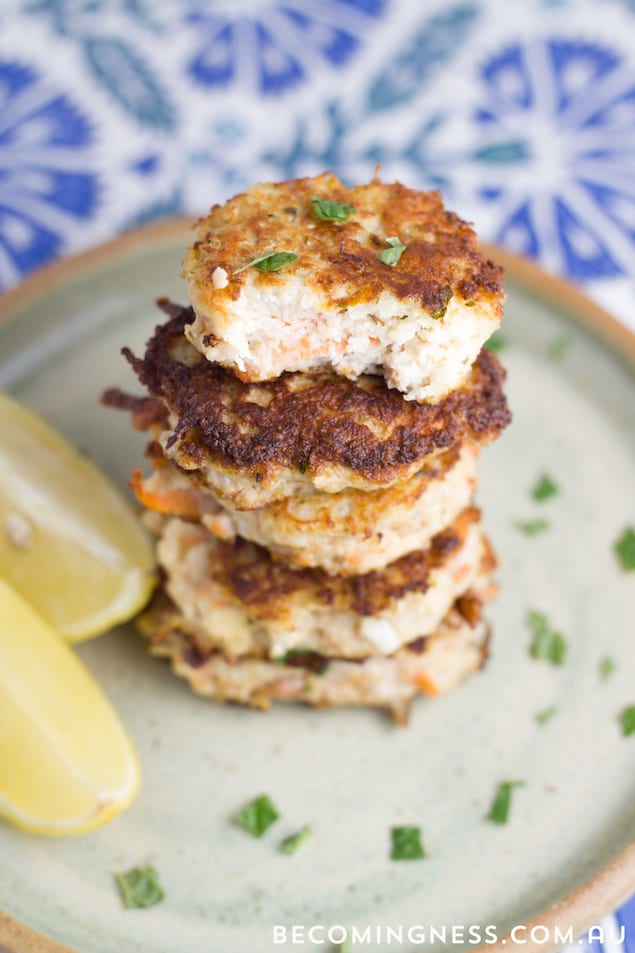 I decided to make another fritter recipe as my previous fritter recipes, Quinoa Fritters and Zucchini & Sweet Potato Fritters have been so popular. So, today I bring you my Cauliflower Fritters.
These Fritters are gluten and dairy free and suitable for Paleo. They can be be adapted slightly, by swapping the egg with mashed potato so that they are also suitable for Vegan (see Chef In You's post for more info). You can change up the herbs if your like also, I used parsley and coriander, but you could also use mint and dill or parsley and chives. These fritters go well with my Garlic Aioli or just drizzled with some lemon.

Spiced Cauliflower Fritters
Fritters are always a fun way to showcase seasonal vegetables with a delicious sauce. Tried these crispy cauliflower fritters served with a squeeze of lemon juice or a bold garlic aioli.
Recipe Type:
Side, Appetizer
Serves:
about 35 fritters
Ingredients
700 grams (1.5 pounds) cauliflower, finely grated (or you can process using your food processor)
150 grams (5.3 ounces) carrot, grated
5 eggs (replace with mashed potato for vegan)
⅔ cup almond meal
2 spring onions, thinly sliced
1 clove garlic, minced
1 tablespoon fresh parsley, chopped
1 tablespoon coriander, chopped
Salt and pepper to season
2-4 tablespoons coconut oil (for cooking)
Instructions
Add all ingredients (except coconut oil) to a large bowl and mix thoroughly.
Add 2 tablespoons of coconut oil to a medium fry pan on moderate-high heat. Measure out patties using a ⅛ sized measuring cup and place in the fry pan.. Place as many as you want in the fry pan, making sure the edges don't touch. (I made my fritters around 5cm diameter).
Cook for a few minutes on each side, until golden and drain on paper towels.
Then repeat until you use up all the fritter mixture. You may need to add more coconut oil in between batches.
Vanessa Vickery
Ness is a qualified nutritionist, a life & wellness coach in-training, and a mother of two extremely energetic toddlers. She has created Becomingness, a health and wellness website, to help women achieve their health and wellness goals by providing accurate, accessible and attractive products and services that promote motivation, empowerment, self-belief and happiness.