The best way to prepare beets is to roast them. The earthy and sweet flavors come out, and you can dress them with additional herbs and spices for a tasty dish.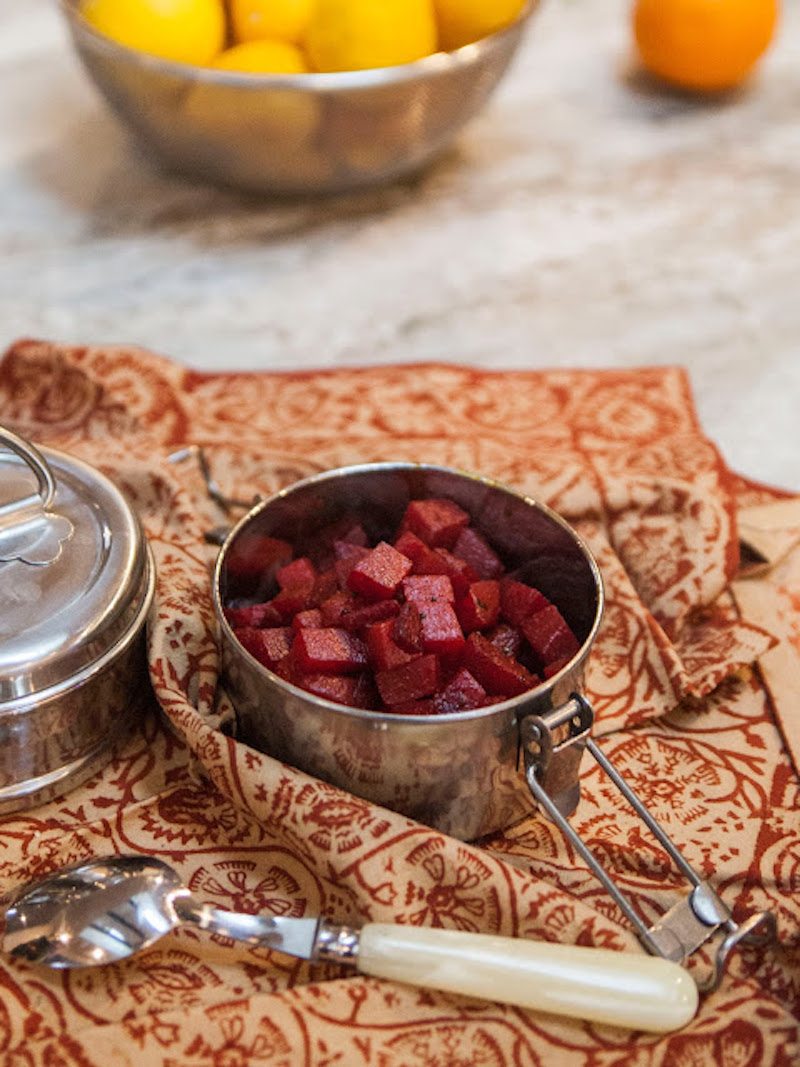 Beets are great vegetables and I never really appreciated them until I started cooking and eating fresh ones rather then those things my mom would always reheat out of a jar. I'm a great believer that most vegetables people hate translate to "you've just been eating them wrong" meaning cooked the wrong way. That seems to work with a lot of things… except maybe okra… in my husbands' case. I did plant some two years ago but it mysteriously never came up. I don't know whether he had something to do with that or not, it remains a mystery. Beets however don't need any persuading around our house and I've got a simple traditional Indian recipe that makes cooking them a snap.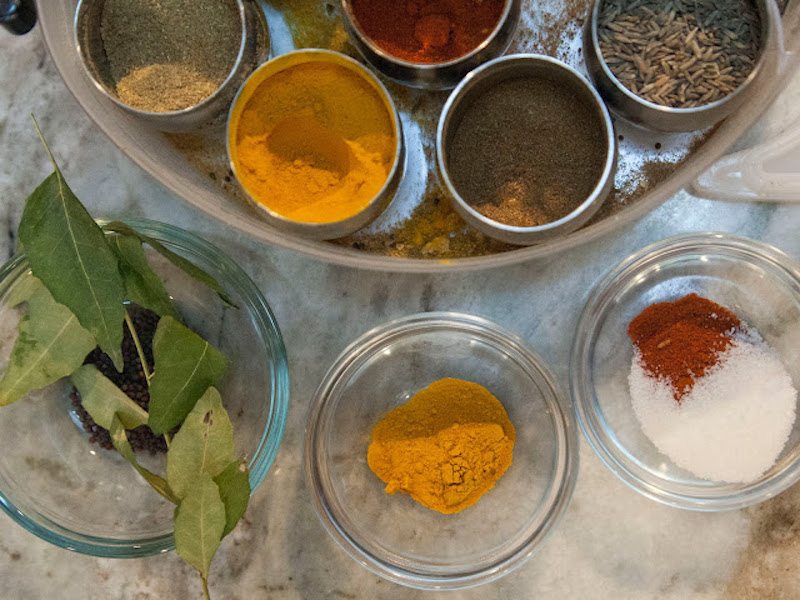 See Also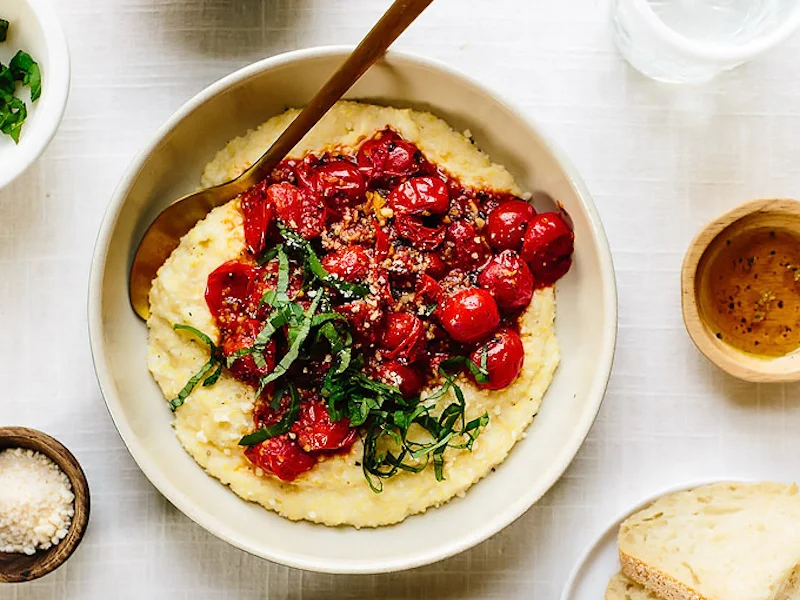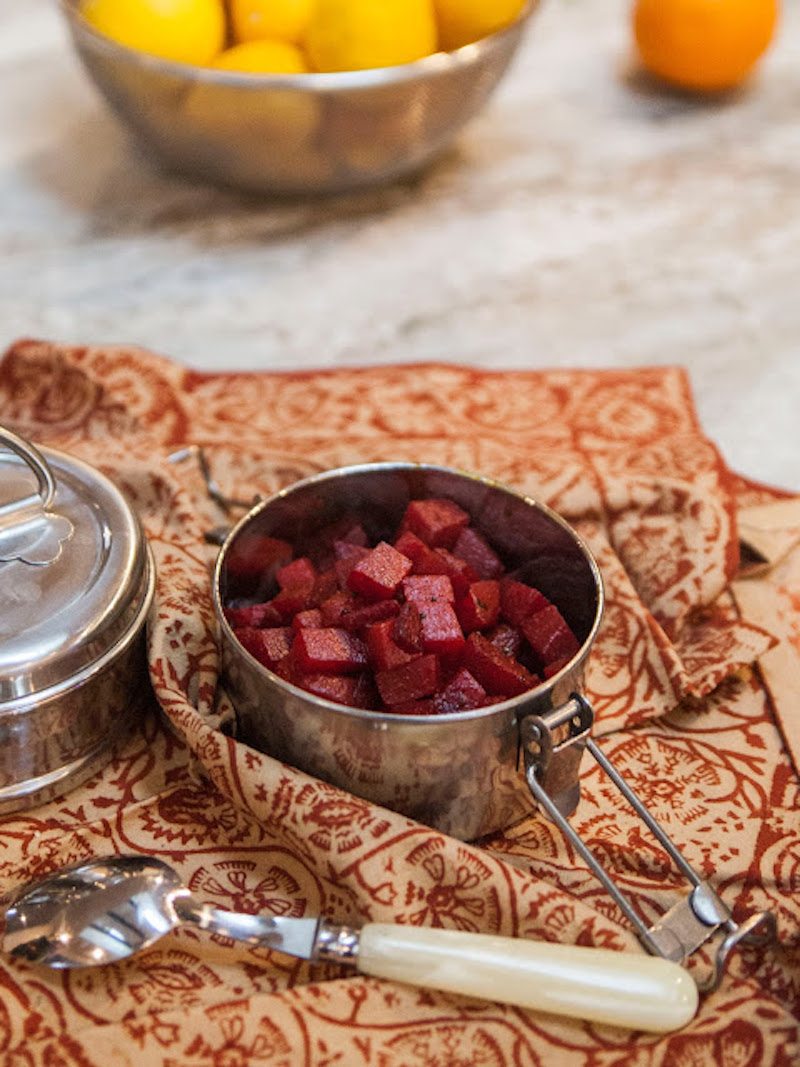 Print
Author:

Kathy Gori

Category:

Side
2

or

3

large beets

1/2 tsp

black mustard seeds

10

curry leaves (optional)

1/2 tsp

turmeric powder

1/2 tsp

Kashmiri chili powder (or

1/4 tsp

paprika mixed with

1/4 tsp

cayenne which can in a pinch be a substitute)

1 tsp

salt

2

Tbs vegetable oil (I use coconut oil)
Instructions
The first thing to do is prep your beets , The easiest way to do that is to roast them. This is how to do it with the least muss and fuss. Preheat your oven to 375 degrees
Wash the beets off and dry them.
Trim the beet tops to about an inch.
Rub the beets with some vegetable oil and wrap them individually in foil this prevents beet leakage which can make ones oven resemble a murder scene.
Place the wrapped beets on a cookie sheet and bake them for about 45 minutes to an hour. Unwrap them a bit to check. When a fork goes into them easily they're done.
Either unwrap them and let them cool, to use them immediately. Or keep them wrapped and cool them on the counter then place them in the fridge overnight for use the next day.
Now that the beets are roasted here's what's next.
WARNING: These beets are going to leak either way the minute you cut into them, so I usually use surgical gloves that one can get at any drugstore when working with them. I have a box of them for culinary use for beets and chilies.
Cut the tops off the beets.
Cut the bottom off the beets.
You can at this point slip the skin off of them with a paring knife or just trim it away easily.
Naked beets!
Cut the beets into small cubes, about 1/2 inch.
Get your spices ready, because this dish cooks up pretty fast once the beets are roasted.
In a skillet or kadhai heat the vegetable oil.
When the oil is hot toss in the mustard seeds and the curry leaves if you are using them.
When the mustard seeds start to pop and the curry leaves sizzle toss in the beets.
Turn the heat down to medium and add in the turmeric.
Stir it around well, then cover the pan and let things cook for about 5 minutes.Take the lid off, give things a good stir and add in the salt and chili.
Keep the lid off the pan and cook for another 5 minutes or so. You want to make sure everything is well blended and nothing is sticking or burning, so give it a good stir every now and then.
When the beets are nice and tender, they're good to go.
Take out the curry leaves and dish them up.
Kathy Gori
Kathy Gori has a passion for Indian cooking. She brings 20 years of cooking experience and a natural flair for communicating her culinary adventures to her blog The Colors of Indian Cooking "A Hollywood Screenwriter, A Bollywood Kitchen". Food writer, commercial and cartoon voice actor (Rosemary the telephone Operator in Hong Kong Phooey among others) and screenwriter (Chaos Theory starring Ryan Reynolds) Kathy is also a Clio award-winner. She and her screenwriting-partner husband Alan live with their Siberian Husky Patsy in Sonoma, California.