The Greek favorite, spanakopita can be enjoyed morning, noon, and night. This recipe is a twist to the classic, adding sensible goodness and leaving out the guilt. 
By Alyssa Ponticello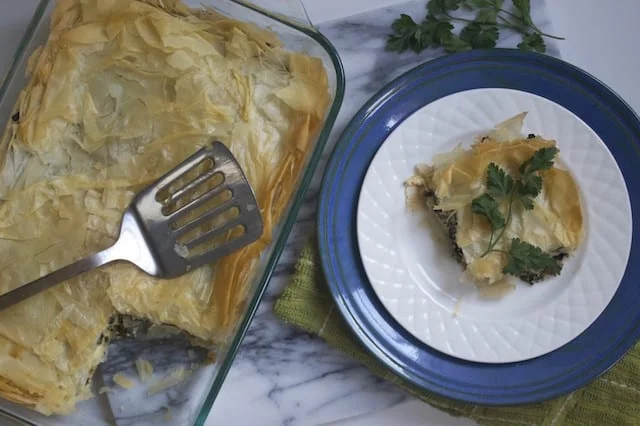 I'm never one to say no to indulging (have you seen my Instagram?!). But I'm also never one to say no to a good dose of healthy (despite what it may seem like). I'm obsessed with a capital "O" with spanakopita! Like I could eat it for breakfast, lunch, dinner, midnight snack, why-am-I-awake-at-3-am snack…I think you get the picture. But since kale has taken over my refrigerator (and my life), I thought, why not try making spanakopita using it in place of spinach? And because, in my mind, it totally makes it so much better for you. To take the healthiness a step further, I also replaced the cottage cheese with Greek yogurt and butter with olive oil. This kale spanakopita tastes just as good as the original (if not better) and with my "healthy" substitutes I'm now completely convinced eating the whole pan is basically the same thing as eating a giant kale salad with Greek yogurt dressing. So in that case, I better get eating….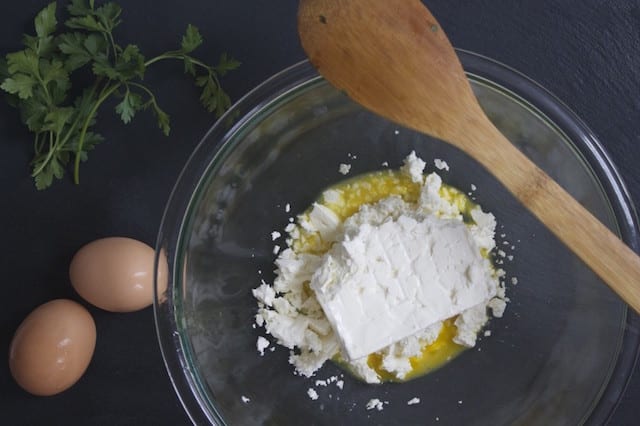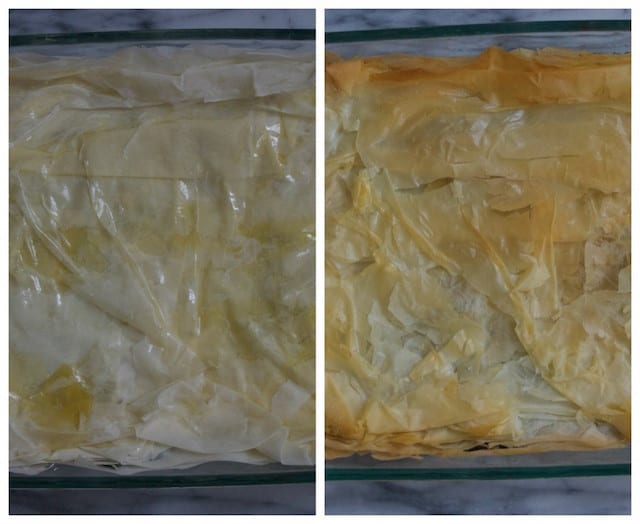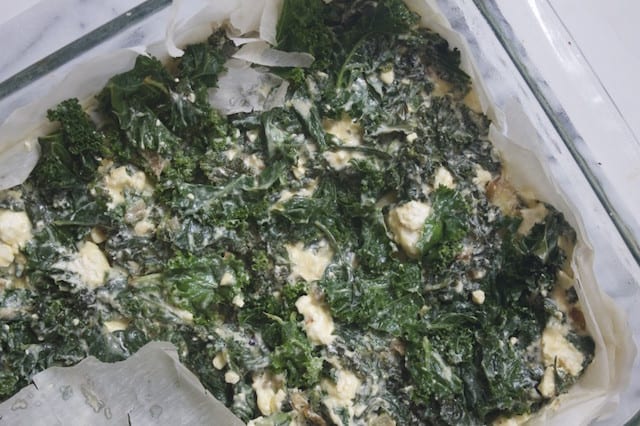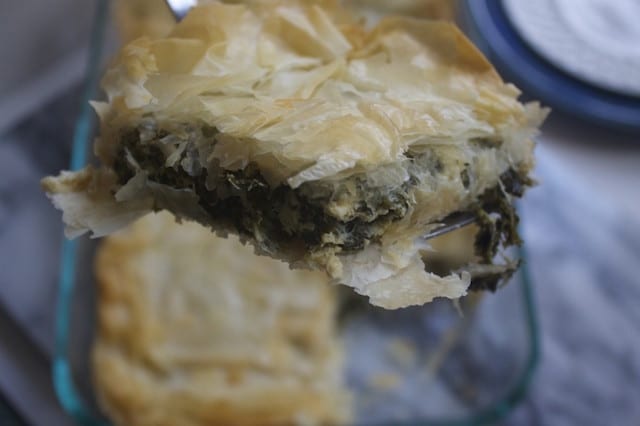 Spanakopita with a Twist
Author:
Alyssa Ponticello
Recipe Type:
Vegetarian dish
Ingredients
2 tablespoons of olive oil + extra for the phyllo dough
1 small onion, chopped
10 cups of fresh kale (about 10 handfuls; chopped & stems removed)
¼ cup parsley, roughly chopped
¼ cup of water
1 teaspoon of salt
½ teaspoon of nutmeg
8 ounces of feta cheese, crumbled
3 eggs
½ cup Greek yogurt
12-16 phyllo dough sheets
Instructions
Preheat the oven to 350 degrees.
In a medium-sized skillet, heat the 2 tablespoons of olive oil over medium heat. Toss in the onions and sauté for about 5 minutes, or until they start to turn translucent. Add in the kale, parsley and the water. Stir in the nutmeg and salt, then put a lid on the pan and continue cooking for about 10 minutes, or until the kale has wilted.
While the kale is cooking, make the creamy part of the filling. In a medium bowl, mix together the eggs, feta cheese and Greek yogurt.
Once the kale is wilted, mix it into the feta mixture.
Prepare a 13"x9" casserole dish, by spraying the bottom with a little cooking spray or olive oil. Next, layer on 6-8 phyllo sheets (depending on how thick you like it), spreading on a little olive oil after every 2 sheets. Pour your filling on top of the phyllo dough and spread it out evenly. Finish with another 6-8 phyllo sheets on top, again putting olive oil in between every 2 sheets (do not worry about the phyllo dough looking perfect, or if some of the dough hangs over the side). Give the top a good brush with olive oil, then pop in the oven for about 35 minutes, or until the top is golden brown. Serve immediately.
NOTES
You can use oregano in place of the parsley.
Feel free to use frozen kale, just make sure you don't add the extra ¼ cup of water when you are cooking it.
For the phyllo dough, I prefer the bottom to be thicker than the top so I used 8 sheets on the bottom and 6 on top.
I used olive oil to make this dish a bit healthier, but butter can be used instead.