Spaghetti with Roasted Sweet Corn and Cherry Tomatoes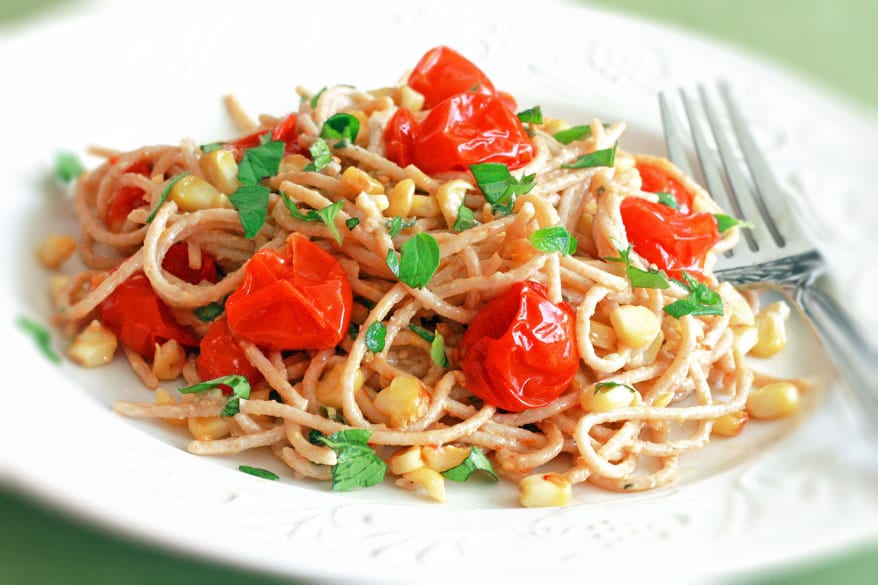 Mix the salt and pepper with the extra virgin olive oil. Stir in the herbs. Toss the prepared spaghetti (cooked al dente) with the oil/herb mixture and then toss in the corn and cherry tomatoes. Simple as that.
By Kimberly Killebrew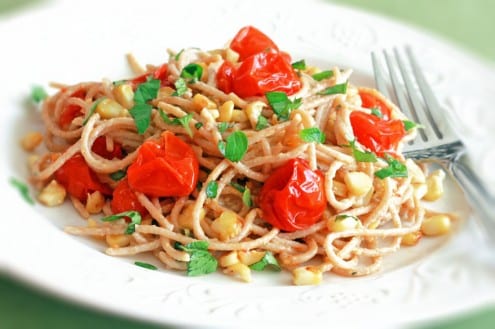 Use a mixture of fresh herbs, whatever you prefer. I cut off a few sprigs of oregano, marjoram, thyme and rosemary from my garden. You can also add some basil and sage. You want at least 2 tablespoons of finely chopped herbs.

Spaghetti with Roasted Sweet Corn and Cherry Tomatoes
Mix the salt and pepper with the extra virgin olive oil. Stir in the herbs. Toss the prepared spaghetti (cooked al dente) with the oil/herb mixture and then toss in the corn and cherry tomatoes. Simple as that.
Author:
Kimberly Killebrew
Ingredients
8 oz whole wheat spaghetti noodles, prepared according to package directions, rinsed and drained
2 ears corn, husks removed
1 pint (about 2 cups) cherry tomatoes
¼ cup extra virgin olive oil
¼ teaspoon salt
¼ teaspoon freshly ground black pepper
2 tablespoons grated Parmesan cheese
2 tablespoons chopped fresh Italian herbs (oregano, rosemary, marjoram, thyme, basil, sage, etc)
Instructions
To roast the cherry tomatoes, place them on a baking sheet covered with aluminum foil. Drizzle some extra virgin olive oil over them. Roast in an oven preheated to 400 degrees F for 10-15 minutes or until the skins are collapsed and are just barely beginning to brown. Remove from oven and set aside.
To roast the corn, either leave the corn in the husks or wrap them in aluminum foil and roast along with the cherry tomatoes, 20-25 minutes or until done.
While the tomatoes and corn are roasting, cook the spaghetti al dente according to package directions. Drain and rinse the pasta.
Combine the salt and pepper with the olive oil. Toss the pasta in the olive oil, then toss with the Parmesan cheese and fresh herbs.
Using a sharp knife, carefully cut the corn from the cobs.
Toss the cherry tomatoes and grilled corn in with the pasta and serve immediately, garnished with more chopped fresh herbs.
Kimberly Killebrew
Raised in Western Europe, widely traveled, and currently residing near Seattle with her husband and children, Kimberly loves preparing and experimenting with a large range of flavors and cuisines. This is reflected in her food blog, The Daring Gourmet, where she invites all to "tour the world through your taste buds." Passionate cook, recipe developer and photo enthusiast, her culinary repertoire includes everything from gourmet to simple comfort food, and, as she puts it, "simply downright good eats."