Spaghetti with Avocado and Mint Pesto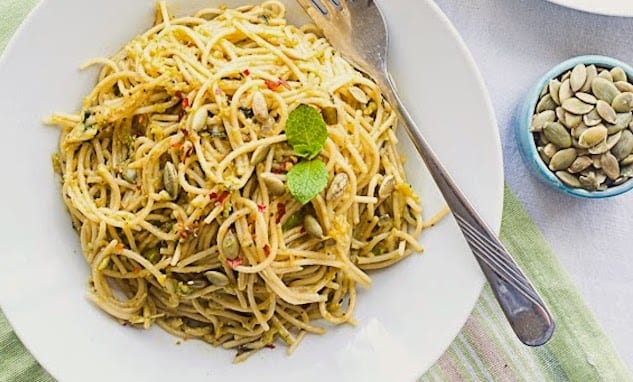 The creamy pesto is this dish is filled with strong flavors of mint, a zing of lemon juice, and a nuttiness from the cashews. This recipe is super simple to make and without a doubt, add a healthy boost to your plate.
By Nandita Nataraj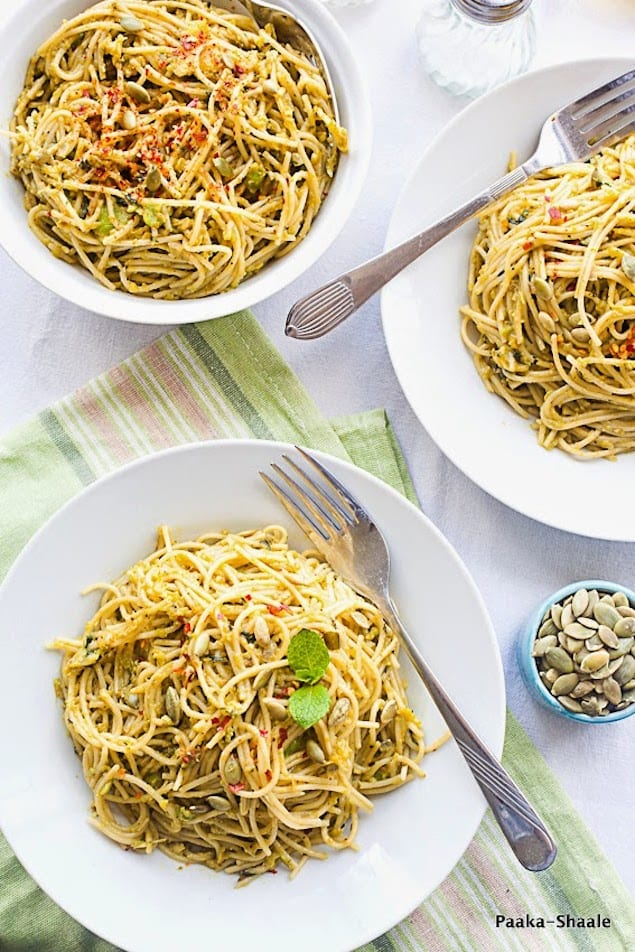 I think my love for avocados is not a secret anymore. I just love avocados. Be it in smoothies, in sandwiches, in desserts or with tortilla chips. I simply love them. Did you know that Avocado is an extremely unique fruit. This is because, unlike other fruits, it has more good fats than carbohydrates. Avocados are rich in Vitamin C, Vitamin K, folates, potassium, Vitamin B5 and B6. This antioxidant rich fruit are said to extremely beneficial for arthritis, and said to improve vision. It is said, that avocados are said to prevent certain kinds of cancer. It is even said that avocado extract helps to reduce the side effects of chemotherapy. Now, what's not to love about this wonder fruit.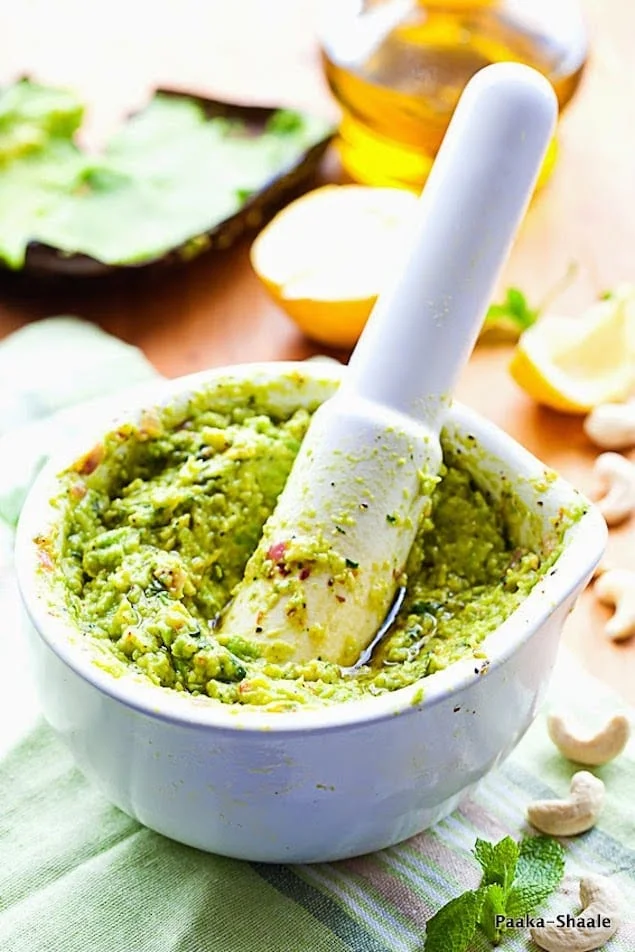 As mentioned earlier I have used avocados in a number of dishes. But somehow I had not tried combining it with Pasta. So I decided to make a pesto with the avocado along with some mint and the little cashew meal that was waiting to be used up. The result was simply phenomenal. The creamy pesto was filled with strong flavors of mint and there was also the zing from the lemon juice. The cashew meal added a mild sweet taste to the pesto. This dish is super simple to make and without a doubt, add a healthy boost to your plate.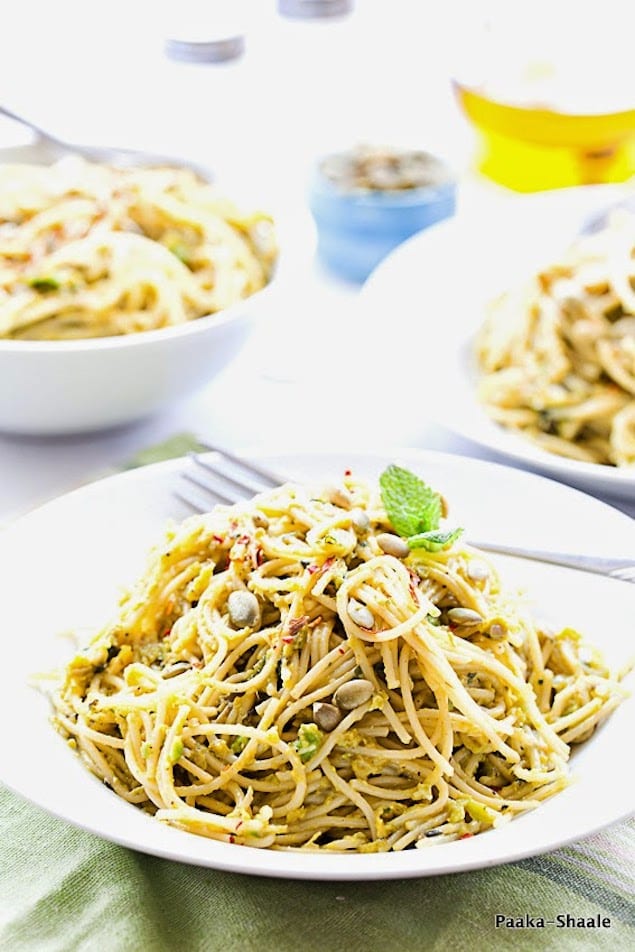 Spaghetti with Avocado and Mint Pesto
The creamy pesto is this simple to make dish is filled with strong flavors of mint, a zing of lemon juice, and a nuttiness from the cashews.
Ingredients
Spaghetti- 200gms
Salt- ½ tsp+1tsp
Olive oil- 1tsp+3tbsp
Onion- 1med, chopped fine
Garlic- 2 pods, peeled and finely chopped
Avocado- 1 large, halved, stoned and flesh scooped out
Juice of half a lemon
Mint leaves- a hand full
Freshly ground black pepper powder- ½tsp
Powdered cashewnuts- 1-1/2tbsp
Chili flakes- ½tsp (optional)
Pepitas- 1 tbsp, toasted and cooled.
Instructions
Cook the spaghetti along with ½tsp of salt and a tsp of olive oil in enough water. Drain and reserve half cup of the stock and set aside.
To make the pesto, heat olive oil in a pan and add the chopped onion and garlic and sauté till they turn brown and tender and keep aside.
Combine the avocado flesh along with the lemon juice, mint leaves, cashew meal, pepper powder, salt and the sautéed onion and garlic in blender jar or a mortar and pestle and grind till smooth.
Pour the prepared pesto over the cooked spaghetti and toss well. Add the chili flakes and pasta water only if required and mix well.
Garnish with toasted pepitas and serve immediately.
Notes
To make the cashew meal, toast about 8-10 cashew nuts in pan. Cool completely and grind in a blender to a slightly coarse powder. Store in airtight container till further use.
My preparation time was slightly longer because I ground the pesto in a mortar and pestle. It will not take you more than 10mins if you make the pesto in a blender.
Nandita Nataraj
Nandita was born, bred and spread in India, but right now lives in Tanzania where her quest for simple and exotic pleasures of food led to the creation of the blog Paaka-Shaale. She believes that food is not just a means to feed a body. But it is also meant to appeal the mind and satiate the soul.