The perfect pie is when you can use your own, seasonal fruits that you have just picked from the tree. Try this recipe for a wonderful cherry cake.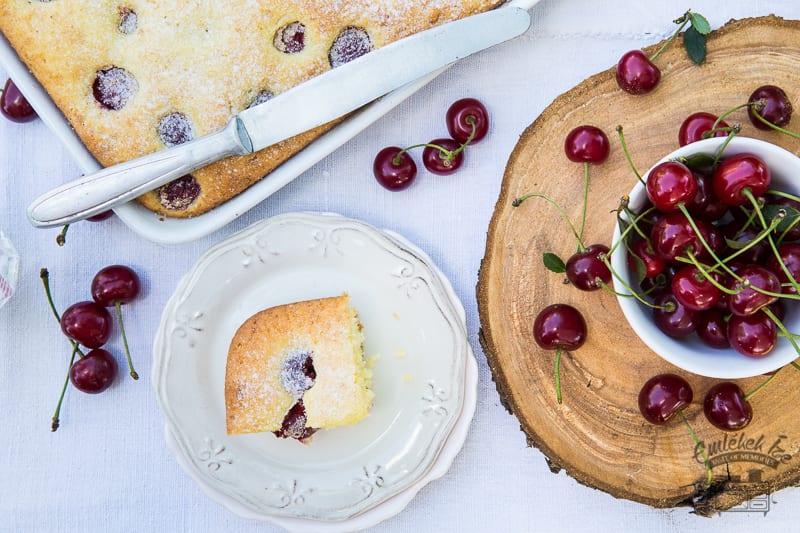 Picking fruits can be a quite dangerous process, especially without experience, knowledge and appropriate tools for that. Thanks to the lot of sunshine the sour cherries grew ripe this week so it was high time to pick them and of course to bake a wonderful sour cherry pie according to my mother's recipe. I take the basket, our ladder which was once not created for fruit-picking and go to one tree after the other one. The low branches don't cause any problems but even if I climb until the highest rung of the ladder I cannot reach the reddest and apparently more delicious fruits on the upper branches. I need a creative solution. I look around in our wood-shed where we still keep the old tools of my grandmother's brother-in-law, Jóska. There is a rusted pitchfork, an old, wooden ladder which is highly recommended not to be used since it is full of holes by wood-worms. A pair of worn rubber boots, a petrol lamp, an old saw, a retro orange colored lampshade and an old worker jacket. We put our own tools on the side, somehow we don't want to remove the old ones, maybe because of respect or because of hope that with the old tools his knowledge about our garden remains with us. I don't find any appropriate tool but I decide a hoe can serve as well. I stand on the top of the ladder and hook the hoe to the higher branches and meanwhile I pray for that 1. the ladder doesn't fall over 2. the branch doesn't break 3. our neighbors don't see me. Maybe the fruit pickers' guardian angels were listening to may prayer so somehow I succeeded to fill up the basket by cherries and not to fall down. I pit the cherries, mix the dough and only change my mother's recipe by reducing a little bit the amount of baking powder.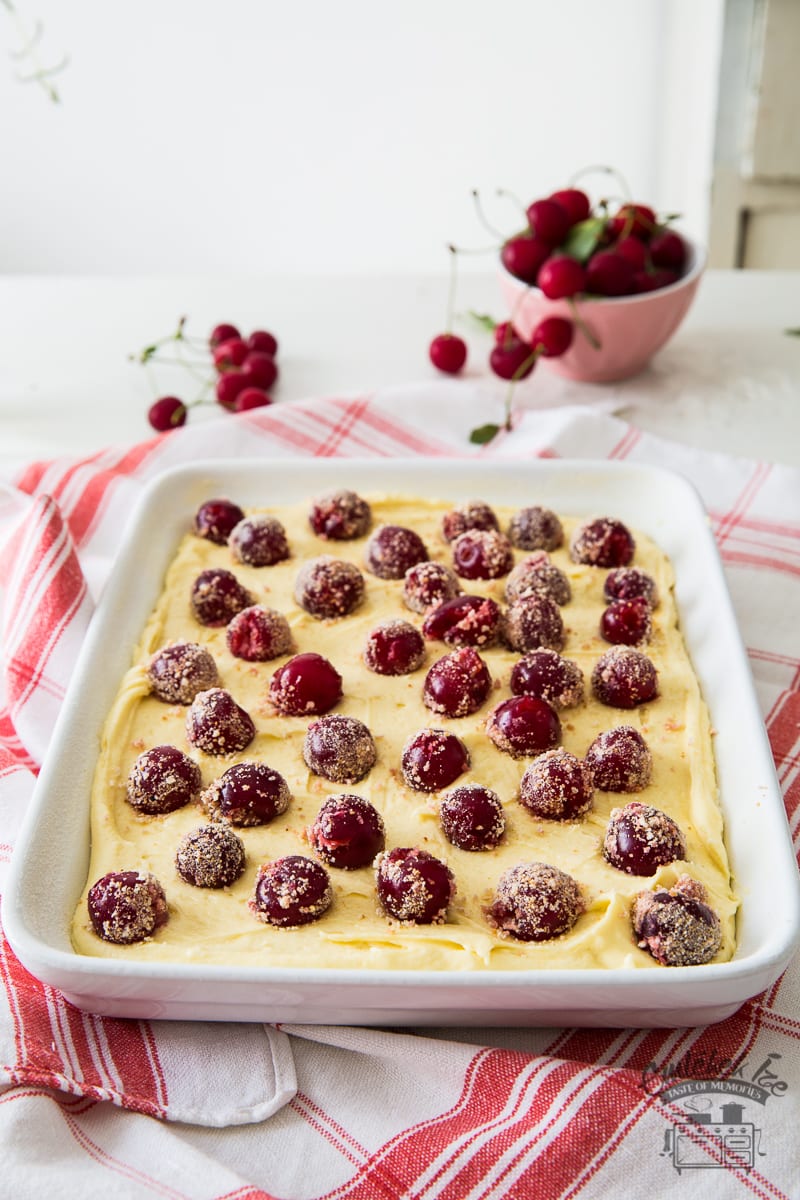 The pie rises perfectly in the oven and gets a beautiful golden brown color. When Áron, my boyfriend arrives I explain my fantastic invention but instead of being enthusiastic about my creativity he raises his eyebrows and asks: "With a hoe? On the top of the ladder?" I can hear his disapproval in his voice so I cut a piece of cherry pie and it convinces him more or less that it was worth it. In any case we agree that he needs to make a tool for me for that purpose, so we put this also on the to-do list. I put the wild flowers into a vase that I picked on the fields when walking with our dog. We are sitting under our cherry tree, eating cherry pie made from our own fruits , in our first year in the Hungarian countryside. I think, life couldn't be any better.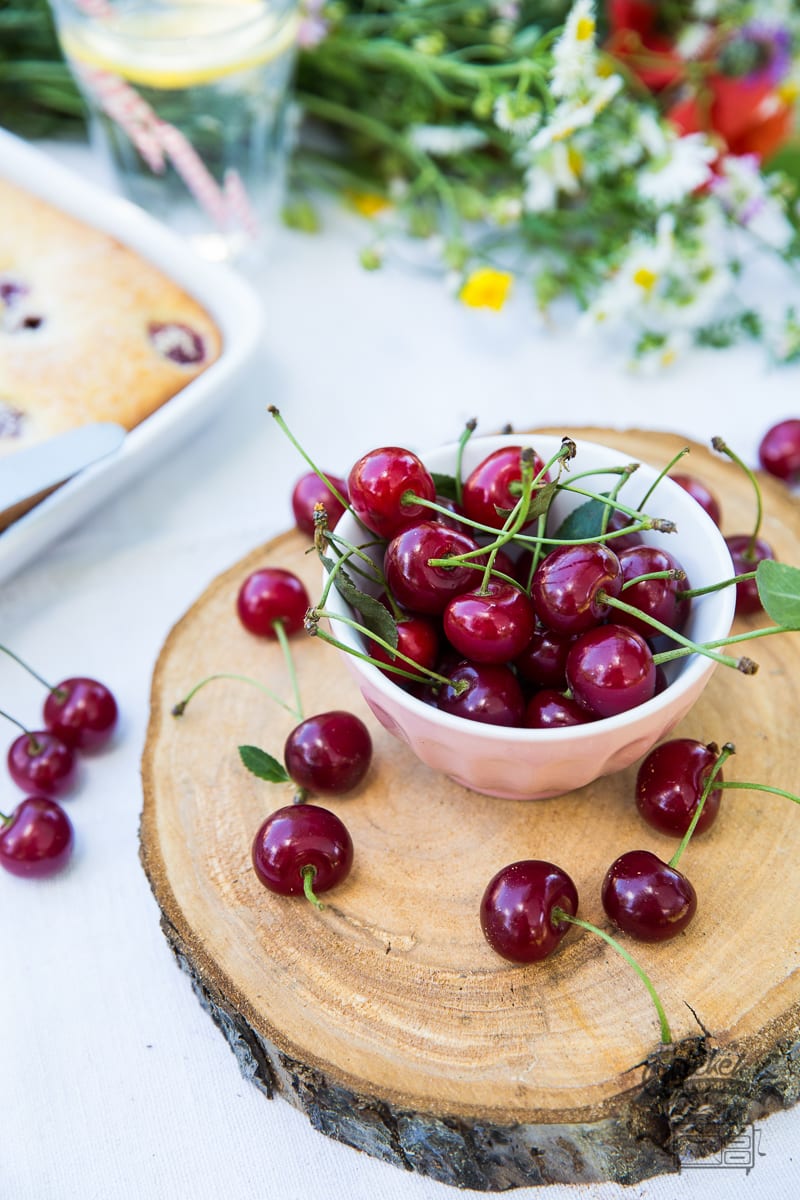 Cherry pie according to my mother's recipe
See Also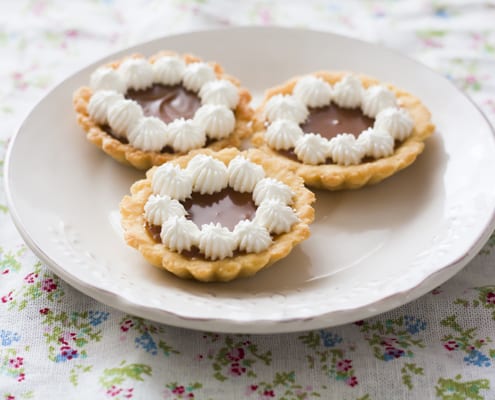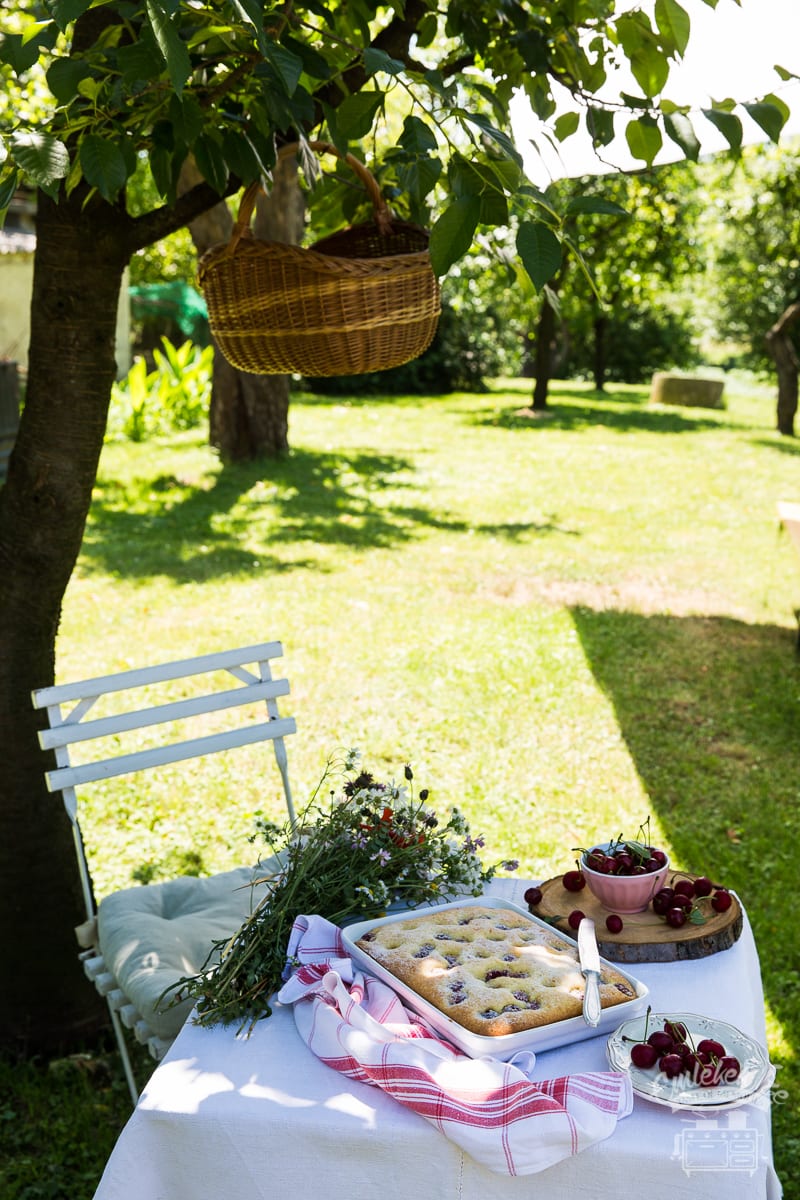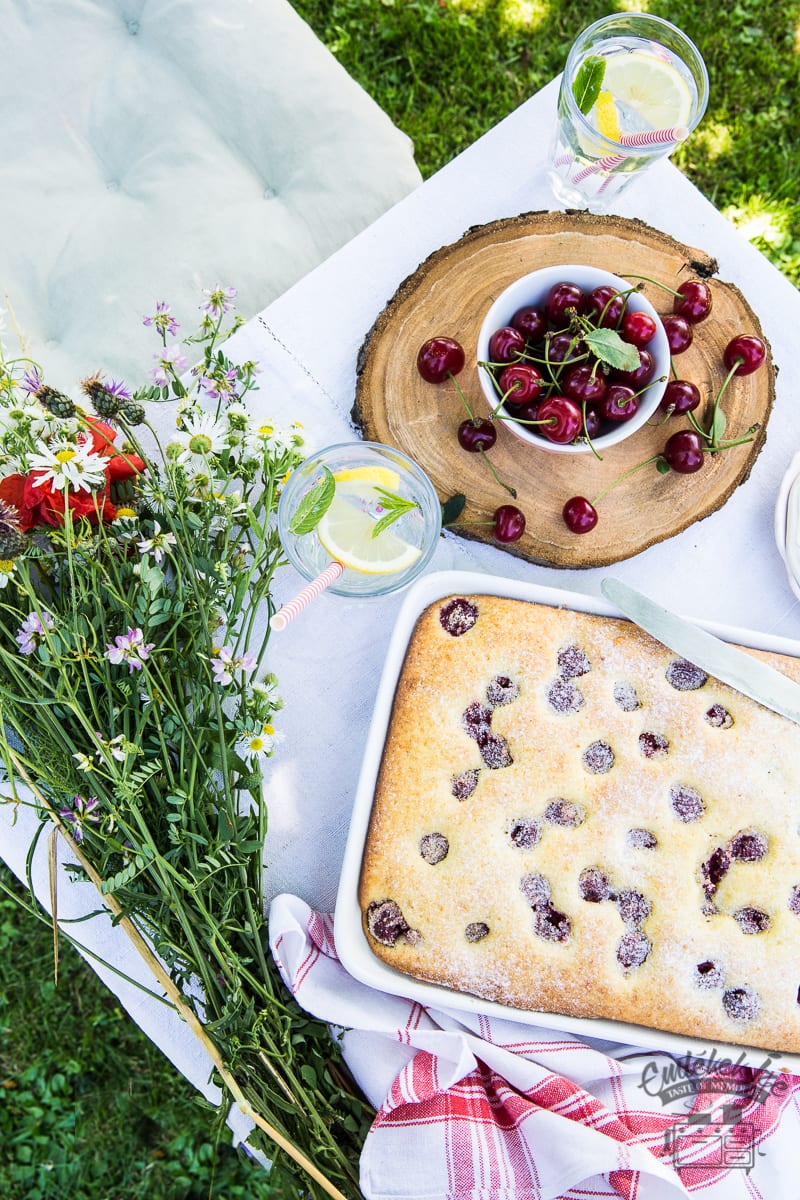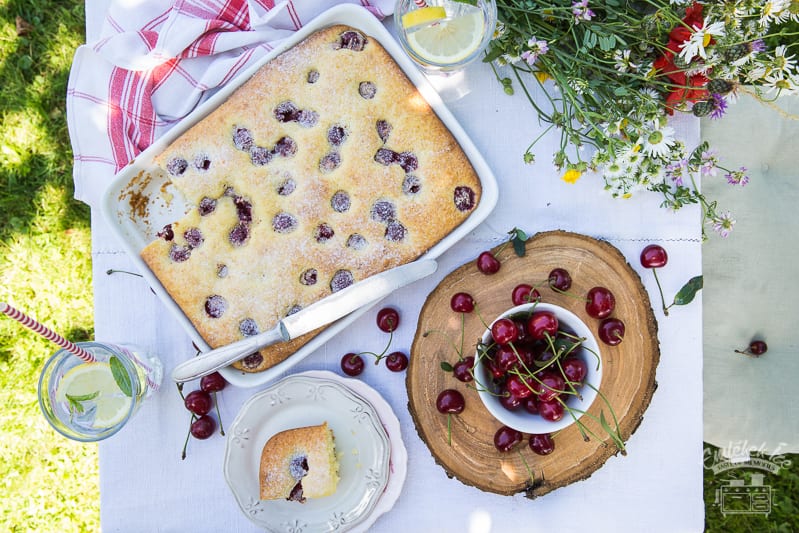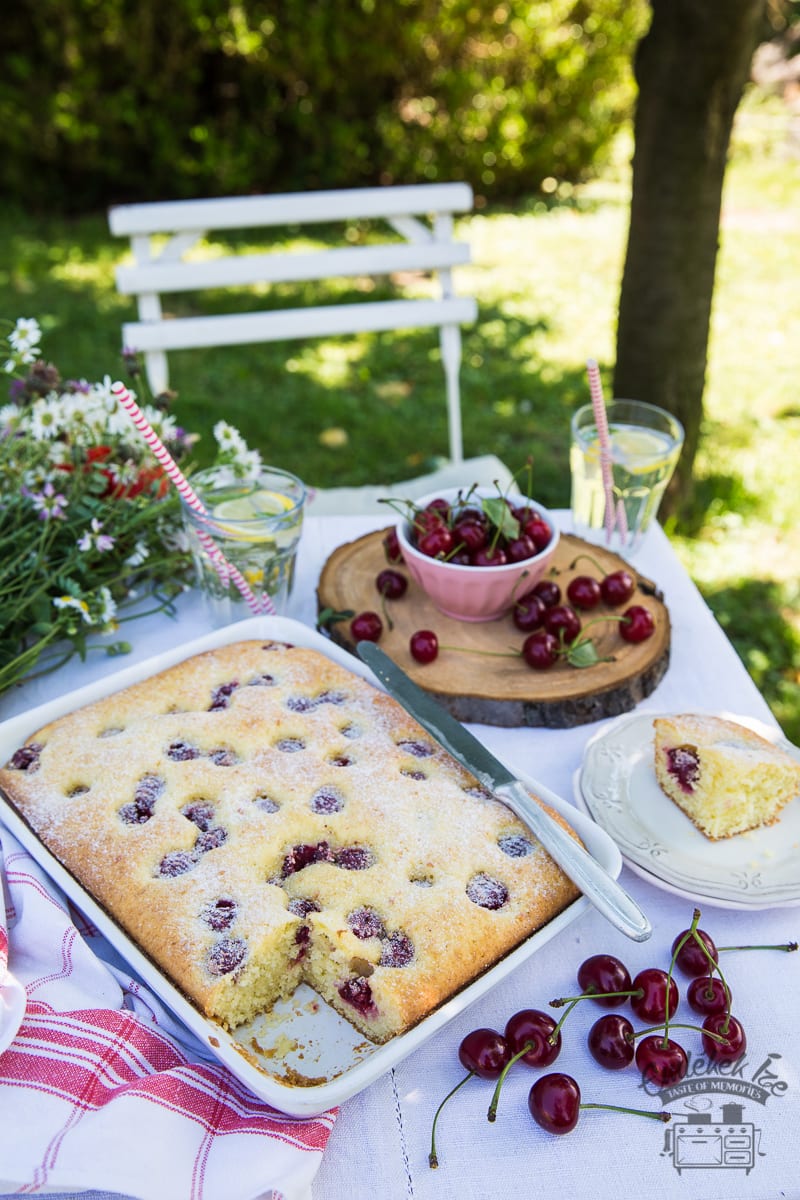 Print
Category:

Baking, Dessert
200 g

sugar

2

eggs

140 g

butter or margarine

250 g

flour

2

heaped tsp. baking powder

200 g

sour cream

250 g

pitted cherries
a bit of fine breadcrumbs
Instructions
Preheat the oven to 180 degrees. (350F)
I use a 28×20 cm ceramic baking dish but you can use a larger one, the pie will be a bit flatter in that case. Brush the baking dish with butter and sprinkle it with flour. Mix sugar and butter or margarine until foamy then add eggs and sour cream. Mix flour and baking powder and add to the mixture gradually.
Roll the cherries into fine breadcrumbs this will prevent cherries to sink to the bottom of the dish.
Pour the dough into the baking dish and put the cherries on top evenly. Bake it until golden brown. You can use a stick to test the dough or you can push it t a bit with your fingertip, if it is flexible, your pie is ready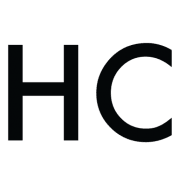 juditneubauer
Judit is a Hungarian globetrotter, cook and food photographer who loves eating, cooking, taking pictures and writing about all of that. She travelled through Europe, lived in Germany, France and Spain, and even had her own successful bistro in the heart of Budapest called Bistro 181. After years of traveling and cooking abroad she returned to her home country and moved to the village where her grandmother was born. Her blog, Taste of Memories is a return to the roots. She is cooking and baking her family's old recipes, bringing new life into her countryside house and orchard and rediscovering beautiful places in the Hungarian countryside.