Chewy cookies are filled with a soft cheesecake and strawberry jam center and studded with caramelized white chocolate chips. A sweet bite!
By Amanda Powell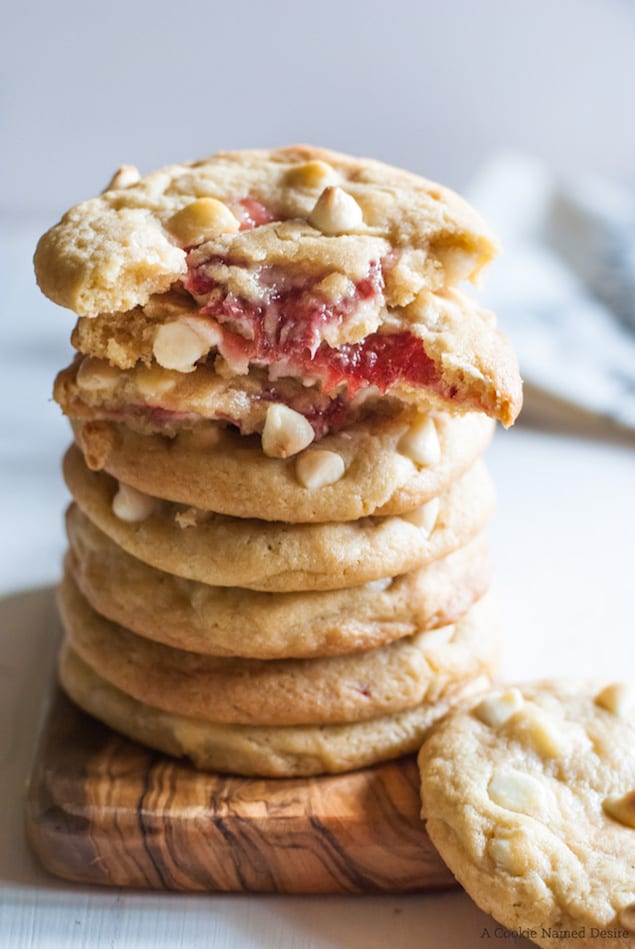 I can't really pick which part of this cookie I love the most. The crispy edges.. the soft, chewy inside… the gooey cheesecake… the fresh strawberry jam…. Honestly, I think it's how it all comes together that really gets to me. These are the feel-good cookies we need to get us through today.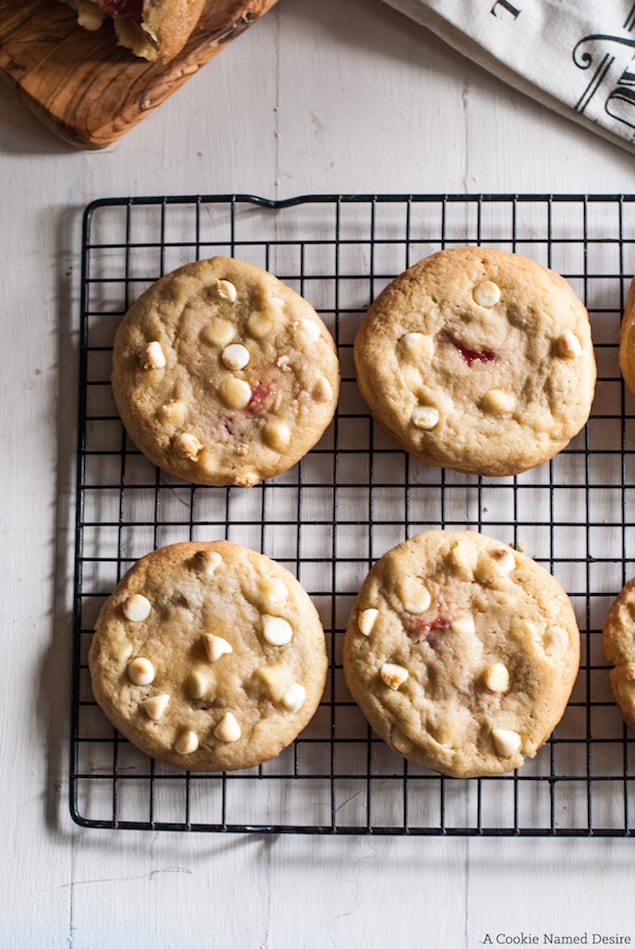 Some notes: Don't try and use a white chocolate bar here. We need white chocolate chips because they will brown in the oven and when that happens, the sugar caramelizes and it gives the white chocolate a brown butter nuttiness to it which helps cut the sweetness and adds so much more depth to its flavor. If you don't have graham cracker crumbs, feel free to replace it with whole wheat flour, or all-purpose flour. In the recipe, I recommend two chilling times, but if you are looking at the recipe thinking you ain't got time for that, you can skip the first chilling period. The first chill is to help make the dough easier to work with when you are shaping and filling it, but you can skip it if you are pressed for time. Do not skip the second chilling time though, as that keeps the cookies from getting greasy from the butter or spreading too much in the oven.

Soft Strawberry Cheesecake Filled Cookies
Chewy cookies are filled with a soft cheesecake and strawberry jam center and studded with caramelized white chocolate chips. A sweet bite!
Recipe Type:
Dessert, Baking
Ingredients
2¼ cups all-purpose flour
¾ cups graham cracker crumbs
½ teaspoon salt
½ teaspoon baking soda
½ teaspoon corn starch
¾ cups unsalted butter, room temperature
¾ cups sugar
⅔ cups lightly packed brown sugar
2 large eggs, room temperature
1 teaspoon vanilla bean paste
1 cup white chocolate chips
Filling
6 oz cream cheese, room temperature
¼ cup powdered sugar
? teaspoon salt
½ teaspoon vanilla bean paste
¼ cup strawberry jam*
Instructions
Mix together the flour, salt, baking soda, and corn starch together. Set aside.
Beat together the butter and sugars until light and fluffy. Add in the eggs and beat each in one at a time until fully incorporated. Beat in the vanilla paste.
Mix in the flour mixture and beat until incorporated. Fold in the white chocolate chips. Chill for about 30 minutes (this chilling time is optional, but recommended to make the dough easier to work with). Preheat the oven to 350 degrees F.
Beat the cream cheese, powdered sugar, and vanilla paste together.
Scoop out one tablespoon of the cookie dough and create a deep bowl. Fill with one teaspoon of the cheesecake mixture and a scant ½ teaspoon strawberry jam. Top with another tablespoon of cookie dough, ensuring there are no openings the cheesecake can escape. Repeat with all the dough.
Chill for at least 30 minutes, then bake for about 10 - 12 minutes, or until a light golden brown.
Notes
I made my own strawberry jam using about 10 medium strawberries and ? cup sugar heated over medium-high for about 15 minutes in a small saucepan.
Amanda Powell
Amanda is a self-taught baker and photographer. Her passion for food began when she started college in London and was able to experience authentic food from across Europe. She loves being in the kitchen with her daughter and developing her skills in the kitchen.