Smooth Spiced Carrot Soup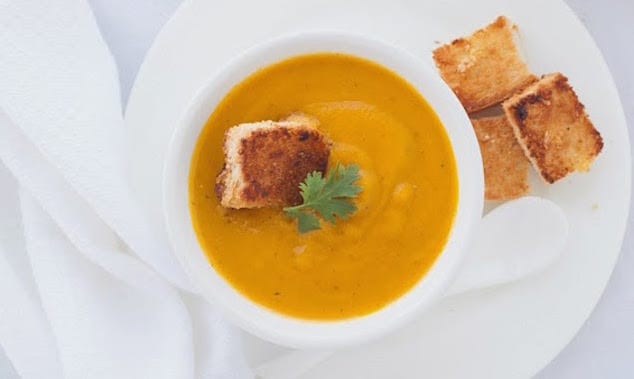 This coriander spiced soup is easy to concoct with common ingredients you probably already have on hand. Be sure to do it up with fun toppings like cheesy croutons and fresh herbs.
By Nandita Nataraj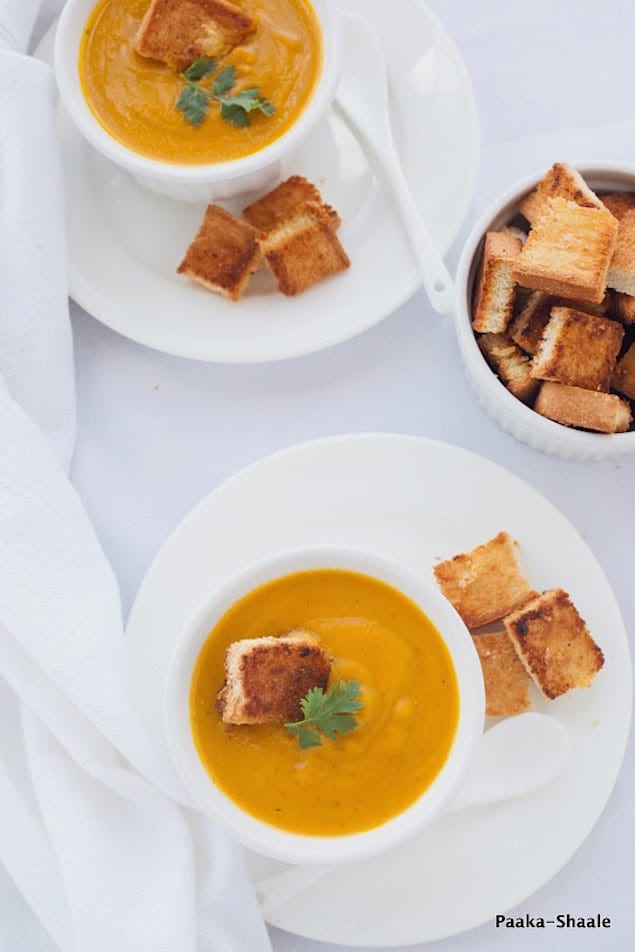 This a recipe for a simple yet heart warming soup. I love this soup. Simply because it is one of those soups which can be made with a handful of ingredients that are readily available in the pantry. Carrots, onion and potato for the base which is spiced with coriander leaves, stalks, and coriander seeds. Once pureed, you can flavor it with whatever toppings you have on hand.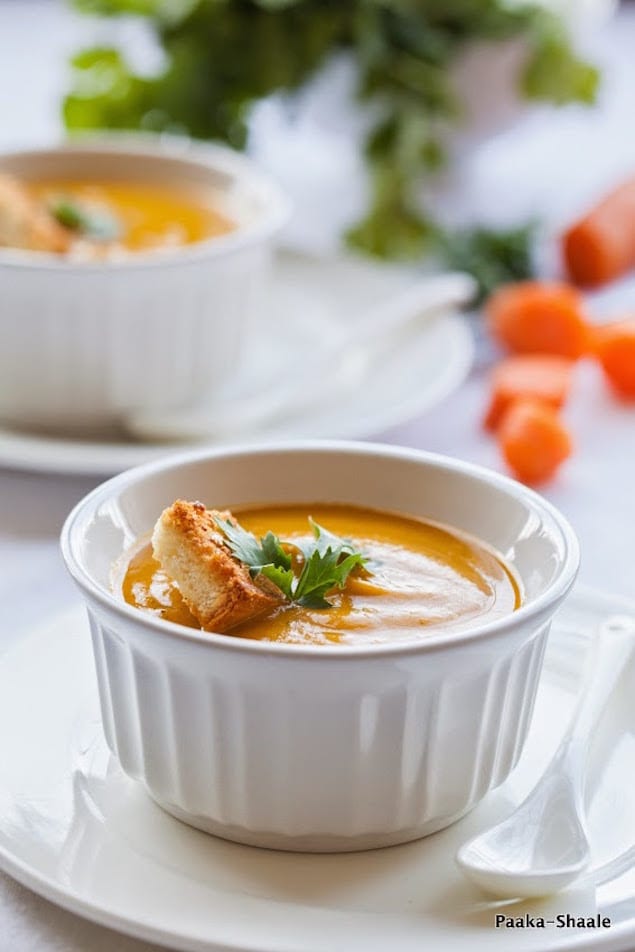 This hearty and flavor packed soup turns the humble carrots into something special. The cumin and coriander seed powder gives depth where as the fresh coriander leaves lends a delicate flavor to the soup.
You could also top it with with cream and pumpkin seeds if you like your soup rich. I served this soup with some home made garlic croutons. But you could serve any crusty bread of your choice. This soup can either be a part of the meal or it can be served as an elegant appetizer. Either way, it will taste just as delicious.

Smooth Spiced Carrot Soup
A coriander spiced soup that is easy to make with simple ingredients. Be sure to do it up with fun toppings like cheesy croutons and fresh herbs.
Ingredients
Butter- 1-1/2tbsp
10 small carrots- peeled and cut into 1" long pieces
Potato- 1 small, peeled and cubed
Onion- 1 med, peeled and chopped
Coriander leaves and stalks- 3tbsp, chopped fine
Salt- 1tsp or to taste
Coriander seed powder- 1tsp
Cumin powder- ½ tsp
Pepper- ½tsp
Water- 4cups
Milk- 1 cup
Coriander leaves for garnish
Instructions
Melt butter in a thick bottomed pan. Add the carrots, potato, onion and salute for five mins.
Stir in the coriander leaves and stalk, salt, coriander powder, and pepper powder and sauté for a two more mins.
Add water and cook covered till the vegetables are completely cooked.
Allow the mixture to cool completely before transferring to a food processor or liquidizer to make a puree.
Return the puree to a pan and bring the mixture to a boil on medium heat, stirring occasionally.
Remove from heat add milk. Mix and return the pan to heat but do not allow the mixture to boil.
Garnish with coriander leaves and serve hot with croutons or bread of your choice.
Nandita Nataraj
Nandita was born, bred and spread in India, but right now lives in Tanzania where her quest for simple and exotic pleasures of food led to the creation of the blog Paaka-Shaale. She believes that food is not just a means to feed a body. But it is also meant to appeal the mind and satiate the soul.