PARTNER POST: Explore new and surprising ways to incorporate potatoes into your favorite recipes.
Paleo and smooth as can be, this potato hummus is so flavorful and perfect for a spring soirée.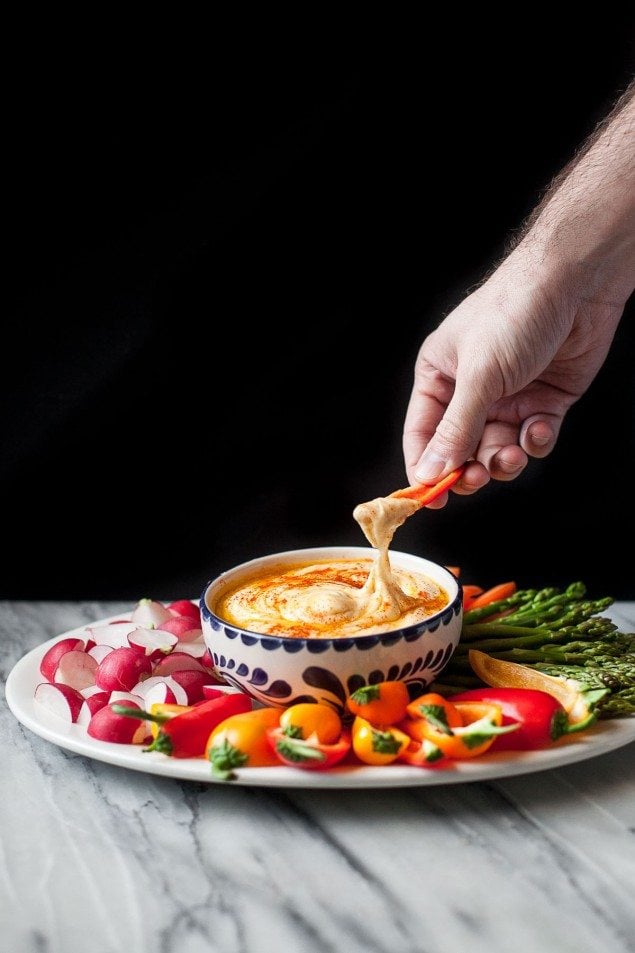 If you're looking for a paleo alternative to traditional hummus, I have a treat for you today! This legume-free hummus comes together in just half an hour and is made with Yukon Gold potatoes. The flavor and texture are so similar to regular hummus, though, that no one will be the wiser. Alongside a platter of vibrant crudités, this super-smooth hummus is sure to be a hit at your next party.
I made this paleo potato hummus for a family gathering a couple of weeks ago and told everyone that it was hummus with a bit of a twist. It was quickly devoured, and no one guessed that potatoes were involved. As someone who doesn't feel well after eating legumes like chickpeas, I'm thrilled to have discovered this crowd-pleasing, bean-free version of hummus. With olive oil drizzled on top and a sprinkle of paprika, it's the perfect counterpart to a spread of spring's freshest veggies.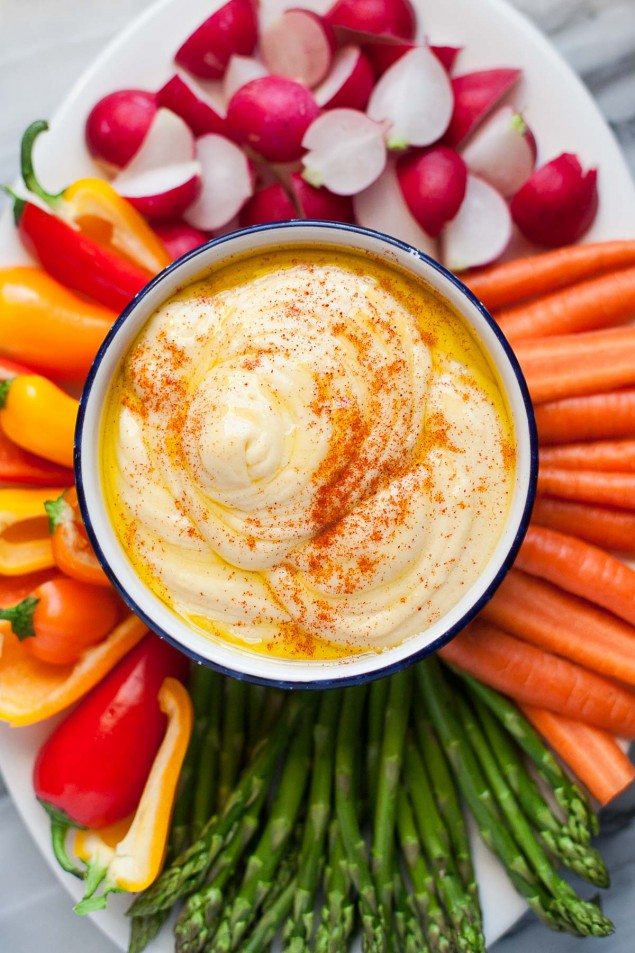 Since they're often fried or served with lots of butter and cream, potatoes sometimes get a bad rap. However, they're actually really nutritious! A medium potato has 45% of your Vitamin C for the day and more potassium than a banana. To find out more about the goodness you can get from potatoes, visit the Potatoes USA website.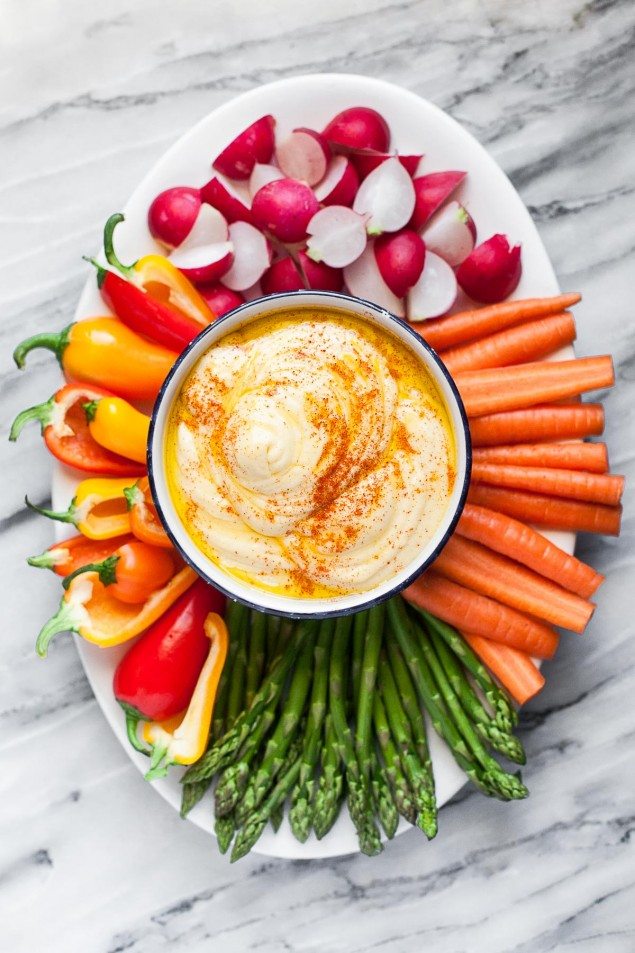 Click the banner below for more delicious potato ideas.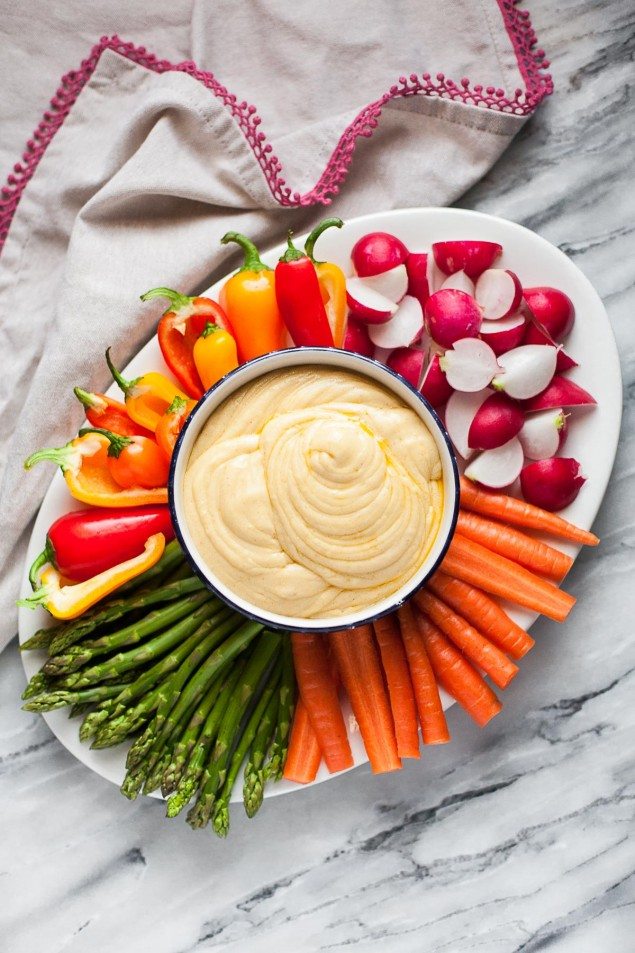 See Also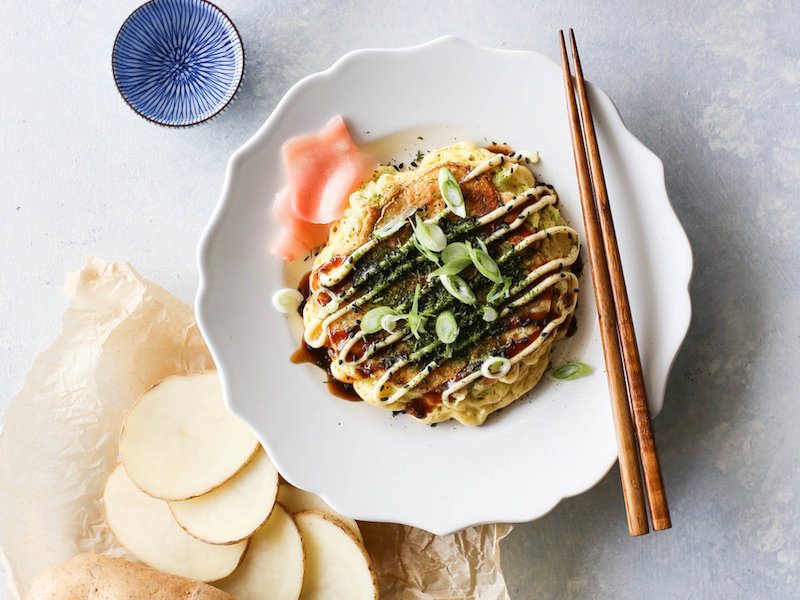 In addition to being delicious and nutritious, this paleo potato hummus is so easy to make. Just boil the potatoes–to save time, I start the water first and then peel and chop the taters while it's coming to a boil. Once they're tender, drain them and blend them in the food processor with the remaining ingredients. It's as easy as that! A drizzle of extra virgin olive oil and a sprinkle of smoked paprika on top ensure that the hummus is just as pretty to look at as it is fun to eat.
Ready for another recipe that you'd never guess was made from potatoes? Check out the video below to learn how to make dairy-free potato truffles.
Smooth Potato Hummus
Becky Winkler
Paleo and smooth as can be, this potato hummus is so flavorful and perfect for a spring soirée.
Servings
1
.5 cups or 6 servings
Ingredients
For the hummus:
1

pound

Yukon Gold potatoes

Sea salt

1

clove

garlic

minced

¼

cup

plus 1 tablespoon tahini

3

tablespoons

lemon juice

¼

teaspoon

bittersweet smoked paprika

plus more for serving

¼

cup

plus 2 tablespoons extra virgin olive oil

plus more for serving
For serving:
6-8

small carrots

cut into sticks

1

bunch radishes

trimmed and halved or quartered if large

6-8

baby bell peppers

halved or quartered if large, seeds removed

½

bunch skinny asparagus

ends trimmed
Instructions
Pour water into a saucepan to a depth of about 2 inches, add a few pinches of salt, and set over medium-high heat.

Meanwhile, peel and chop the potatoes.

One the water is boiling, cook potatoes for 6-7 minutes, or until tender when pierced with a fork. Drain the potatoes, rinse them with cold water, and put them in the bowl of a food processor.

Add sea salt (I start with about a teaspoon) and the garlic and pulse a few times. Add the tahini, lemon juice, and paprika and process until very smooth. With the processor running, add the olive oil in a steady stream and continue to blend until well combined.

Transfer to a bowl. Drizzle with olive oil and sprinkle with paprika. Serve at room temperature with fresh vegetables.
Becky Winkler
Becky Winkler is an enthusiastic eater who shares paleo and gluten-free recipes on her blog, A Calculated Whisk. She enjoys chopping chocolate, salting dessert, searing short ribs, and taking pictures. In her other life, she's a grad student in Boston.