Smooth Parsnip Soup with Crispy Prosciutto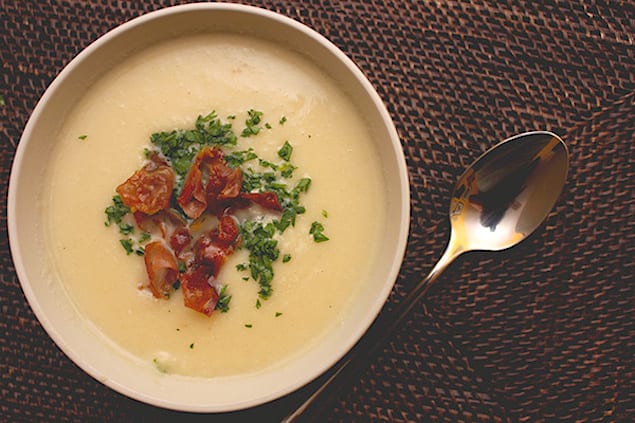 Whenever you find yourself faced with a bunch of cream-colored parsnips, this is a no-frills, everyday sort of soup that makes a perfect first course for a dinner party or a wonderful weeknight dinner plus lunch leftovers.
By Bowen Close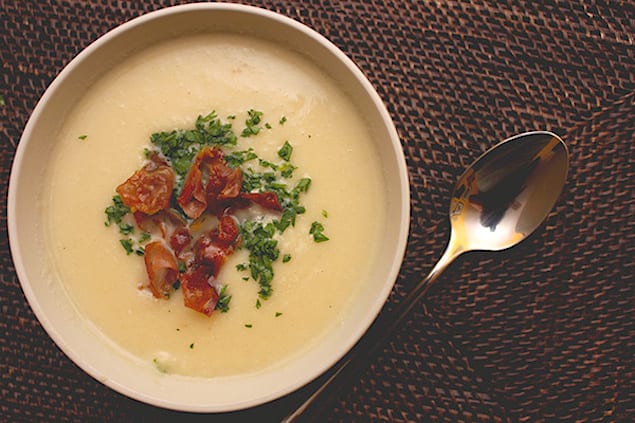 Whenever you find yourself faced with a bunch of cream-colored parsnips, this is a no-frills, everyday sort of soup that makes a perfect first course for a dinner party or a wonderful weeknight dinner plus lunch leftovers. It's creamy and hearty without being heavy, healthier than most cream-based options. The crispy prosciutto and herb garnishes are certainly optional, but they add good flavor and texture variation, along with a nice little visual excitement – important when sitting down to a bowl of something undeniably beige.
Like with all soups, it's important that you first give the onions a good amount of time to cook – at least 10 minutes – and that you season it well with salt. If in the end you feel it's lacking something, more salt is likely the answer.

Smooth Parsnip Soup with Crispy Prosciutto
When faced with a bunch of parsnips, this is a no-frills, everyday soup perfect for a first course dinner party plus lunch leftovers.
Serves:
Makes 4-6 substantial servings with a piece of crusty bread, 8-10 first-course servings
Ingredients
4 Tbsp. butter
2 yellow onions, diced (leeks are a good alternative)
4 garlic cloves, roughly chopped
2 lbs. parsnips, peeled and chopped into roughly ½" pieces
4-5 cups chicken or vegetable stock (if hot or boiling when you add it, process will be a bit faster)
3 tsp. salt, plus more to taste
1-2 cups milk (whole milk is the most flavorful, but any milk will work)
Finely chopped parsley, for garnish
A few slices of prosciutto, cut into strips
Vegetable or other neutral cooking oil, enough to slick the bottom of a frying pan
A small handful of parsley, chives, or other fresh herbs, finely chopped
Instructions
Cook flavor base Melt butter in the bottom of a soup pot (a Dutch oven works well) over medium-high heat. Cook the onions until well softened, around 10 minutes. Stir occasionally and adjust heat if onions start to brown. Stir in garlic and cook for another minute or two, until fragrant.
Add parsnips and stock Add prepared parsnips, stock, and salt (start with 3 tsp. and add more at the end if needed). Bring pot to a boil then reduce heat to a simmer and cook until the parsnips are very tender, 20-30 minutes. Turn off the heat.
Make crispy prosciutto Meanwhile, add enough oil to a small or medium frying pan to thickly slick the bottom. Heat over medium-high heat. When oil is hot, add pieces of prosciutto, making sure to separate them with your fingers before adding. Try not to crowd or overlap the pieces too much, though this will happen a bit as you stir them. Cook in batches until pieces are darkened, wrinkled, and fairly rigid. Transfer to a paper towel-lined plate to cool. They will continue to crisp slightly as they cool.
Blend and finish Use an immersion blender in the pot with the parsnip mixture or transfer the mixture to a blender in batches. Blend until smooth and creamy (you can pass the soup through a mesh sieve if you want it really smooth). Stir in the milk, taste for salt (I usually add another 2 tsp.), and put back on the heat if necessary. Garnish with prosciutto strips and a few pinches of finely chopped herbs on top.
Notes
This recipe is perfect for adding additional flavors! A few thoughts: Add chopped apple or other root vegetables in with the parsnips, add a few pinches of various spices (e.g. curry powder, cinnamon, coriander, cumin) along with the garlic, add some finely chopped hot chili pepper with the garlic. Making ahead/storage: Blended soup will keep well in the refrigerator for up to 5 days or in the freezer for up to 6 months. Prosciutto crisps can be stored in a sealed container in the refrigerator for a few days, but may lose some crispness, especially in humidity.
Bowen Close
Bowen Close believes that food should make people happy and healthy, and loves bringing together people with creative, delicious food made from the heart. She loves making farm-inspired, flavorful dishes with sustainable ingredients - whether that's a big plate of roasted veggies, a towering chocolate layer cake, or a cocktail utilizing backyard ingredients - and collects recipes and other food-related stories on her website, Bowen Appétit. She is a chef, cooking instructor, and food writer living in Southern California with her husband and fully stocked pantry.