Some vegetables grow together with you. Cauliflower is one of them. This recipe turns it into a creamy soup and serves it with garlic bread.
Photo By Mads Damgaard
Remember how you hated cauliflower when you were a kid? Well, hate no more. This wonderful member of the Brassicae-family is the perfect ingredient for a blended soup. And this one is both creamy and filling, but still fresh and with vibrant flavors. Don't throw the water away after boiling – it contains a lot of taste and will be essential to produce the best possible soup here. I also like to keep a few small pieces of cauliflower out of the blending process, and add them just before serving.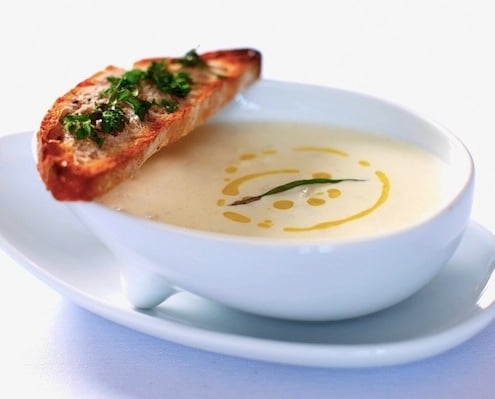 Creamy Cauliflower Soup with Garlic Bread

Kalle Bergman
Deliciously creamy, absolutely comforting.
Ingredients
1

head

cauliflower

1/2

cup

white wine

6

cups

water

1

cup

heavy cream

1

tbsp

butter

salt

to taste

pepper

to taste

1

pcs

shallot

finely chopped

4

slices

day old bread

1-2

cloves

garlic

2

tbsp

olive oil

extra virgin

parsley

finely chopped
Instructions
In a large pan, heat up olive oil and saute the shallots for 5 minutes over medium heat. Turn the heat up to high, add the wine and boil for 2 minutes.

Rinse and cut the cauliflower into six pieces and add to the pan. Cover with water, add a pinch of salt, and boil until soft - about 15 minutes. Remove the cauliflower and shallots, and let the remaining water continue to boil until reduced to half.

Chop one of the cauliflower pieces very finely and set to the side for later.

Return the rest of the cauliflower to the water and blend with a hand blender. Add the cream and butter, and blend again until completely smooth. Let simmer for 5 minutes. Season with salt and pepper to taste.

Rub the bread with halved garlic pieces and drizzle a little olive oil on each. Season with sea salt and top with some chopped parsley. Grill in a hot oven for 5 minutes until crispy.

Right before serving, return the remaining small pieces of cauliflower to the soup and serve in a deep plate. Drizzle some olive oil on top and serve with the garlic bread.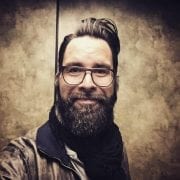 Kalle Bergman
Kalle Bergman is a food writer and media entrepreneur who is the founder of Honest Cooking. As a food writer, his writing has been regularly featured in publications like Gourmet, Los Angeles Times, Huffington Post and Serious Eats. He is obsessed with simple food, more often than not from his native Scandinavia.