Traditional Malawian Dishes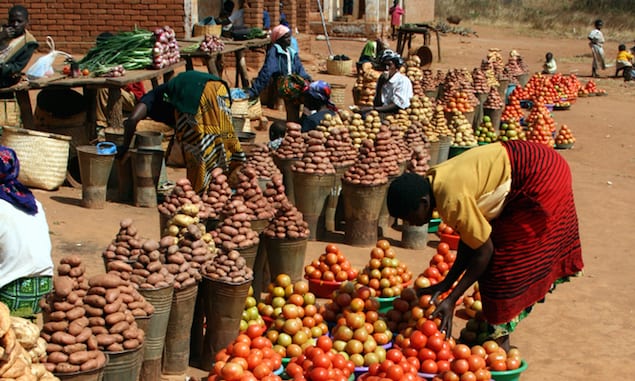 The landlocked area of Malawi, in Africa, holds true to its culinary traditions of fresh seafood and corn used in a variety of ways. Discover some of the common dishes to the area.
By Reena Pastakia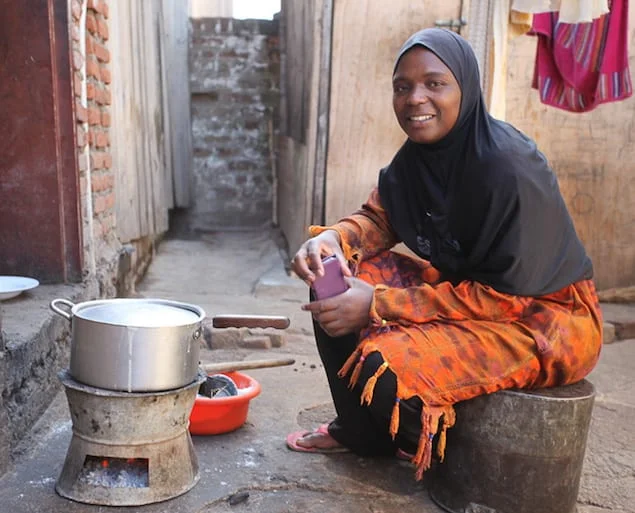 Mwanaisha Phiri (pictured) is a Malawian nurse and has shared her recipes for Nsima (the staple dish of Malawi) along with five of her other favourite dishes.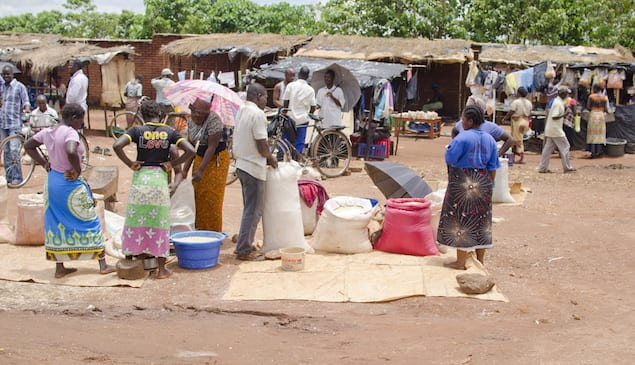 Brendan Howard / Shutterstock.com
NSIMA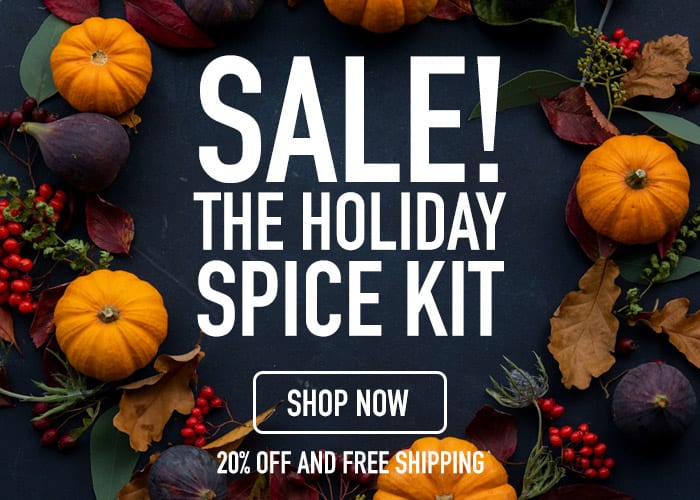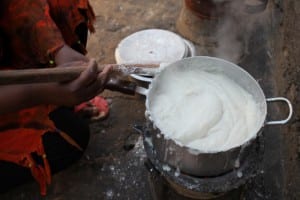 Nsima is the staple carbohydrate dish of Malawi.  It is a  thick starchy porridge made from corn, cassava or other starchy flour. There are actually two types of  corn flours in Malawi:
Ufa woyera – maize flour which has had the outer kernel shell and seed germ pounded off, leaving just the starchy part of the seed)
Ufa wa m'gaiwa – the whole corn kernel.
The nsima porridge is formed into hamburger-size patties by scooping the porridge with a wet wooden spoon and flipping it onto a plate.  The patty congeals in contact with the cool wet spoon and plate.  Marble size pieces are broken off and rolled into a ball in the palm of the hand with the fingers.  A final dimple is pressed into one side of it.  It is then dipped in the sauce of vegetables or meat.

Nsima
Ingredients
4 to 6 cups cornmeal, corn flour or ground maize (1 cup per serving is sufficient) and water.
Instructions
Pour cold water (2.5 cups for each cup of corn meal) into a large pot.
Over high heat, begin to bring to a boil.
After a few minutes, when the water is warm, slowly add the about half the cornmeal to the water one spoonful at a time, stirring continuously with a sturdy wooden spoon.
Continue cooking (and stirring) until the mixture brings to boil & bubble.
Reduce the heat to medium and cook for a a few minutes.
Cooking the mixture over medium heat, add the remaining cornmeal, as before, a spoonful at a time as you continue to stir.
It is essential to keep stirring. If making a large quantity, it may take one person to hold the pot and another to use two hands to stir.
The nsima should be very thick (no liquid remaining) and smooth (no lumps).
It may reach this point before all the remaining cornmeal is added to the pot or it may be necessary to add even more cornmeal than the recipe indicates. Once the desired consistency is reached, turn off the heat, cover the pot and allow the nsima to stand for a few minutes before serving.
Serve nsima immediately, hot, with the ndiwa (relish) of your choice. With clean hands, tear bits of nsima off and use them to scoop up the ndiwa.
NDIWO
Ndiwo is a basic vegetable dish of chopped greens that is delicious when served beside the nsima above.

Ndiwo
Ingredients
3 cups of chopped greens: Common green vegetable leaves: cassava leaves (Ntapasya or chigwada), sweet potato leaves (Ntoliro or Kholowa), bean leaves (Nkhwanya), pumpkin leaves (Mkhwani), Chinese cabbage, mustard leaves, kale leaves, cabbage
1 small onion, chopped
2 small tomatoes, chopped
1 tablespoon oil
1 cup water
Salt to taste
Instructions
Sauté onions in oil until tender.
Add the remaining ingredients, cover and simmer over medium heat for 5 minutes or until greens are tender.
Serve with nsima or rice
MKHWANI with ground peanut flour
Another popular relish is mkhwani – pumpkin leaves. The leaves of the pumpkin vines are considered as good as the pumpkin itself and are ready to eat much sooner.  This is an important consideration at the beginning of the harvest.

MKHWANI
Ingredients
3 cups of pumpkin leaves, de-veined and chopped
3 medium tomatoes, chopped
½ cup of water
1 teaspoon salt
½ cup of ground nut flour (peanut flour)
Instructions
Bring water and salt to a boil in a saucepan
Add the chopped leaves and simmer for 5 minutes
Add tomatoes and groundnut flour, mix well and simmer for 5 minutes longer
Serve with nsima or rice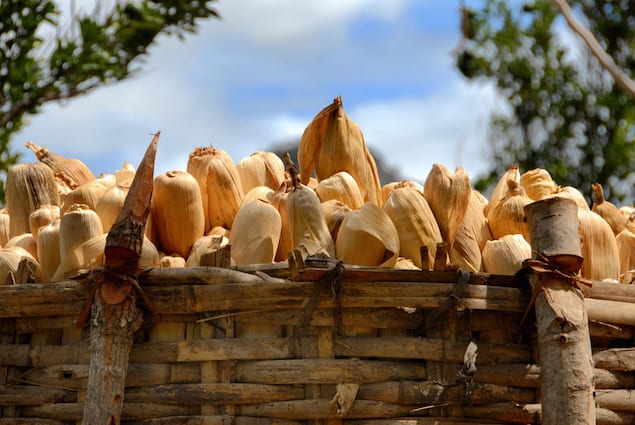 Shutterstock: africa924
MGAIWA PHALA (porridge)
See Also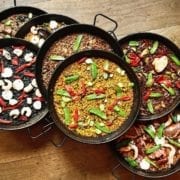 This dish is eaten for breakfast and is usually served sweetened with the addition of sugar.

MGAIWA PHALA
Ingredients
3 cups of water
1 cup of mgaiwa (whole ground dry maize)
½ cup of milk
Dash of salt
Instructions
Combine ingredients in a saucepan and cook over high heat stirring constantly to prevent lumps
Bring to boil, reduce heat and cook covered for 15 minutes
RICE PHALA (Porridge)
This is another delicious variation on breakfast porridge, but it is made with rice instead of maize.

RICE PHALA
Ingredients
1 cup uncooked rice
2.5 cups water
½ teaspoon salt
⅓ cup milk
1 teaspoon margarine or butter
Sugar to taste
Dash of salt
Instructions
Bring water to a boil and add rice
Reduce the heat, cover and simmer for 20 minutes
Add the milk and margarine or butter, cover and cook until rice is tender and most of the liquid is absorbed
Add sugar to taste.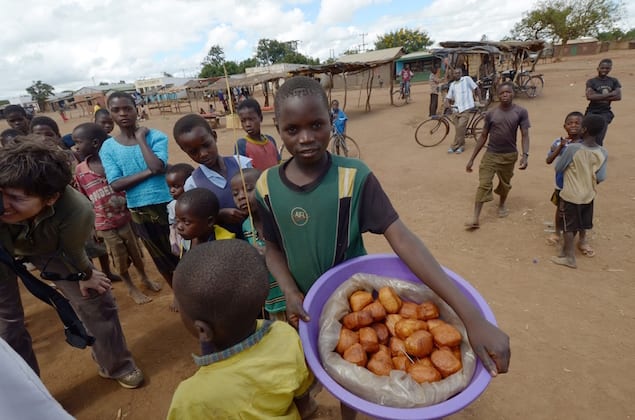 africa924 / Shutterstock.com
MANDASI (Donuts)
These fried treats are commonly sold by women in the market or at the bus stations to earn a little extra income.

MANDASI
Ingredients
2 cups flour (all-purpose wheat flour)
Pinch of salt
2 teaspoons of baking powder
2 tablespoons of sugar
1 beaten egg
1 cup of milk or water
Oil for frying
Instructions
Mix the flour, salt, baking power in a bowl
Add the sugar, egg and the milk or water. Beat until smooth
Drop spoonfuls of the batter into hot oil and fry until golden brown, turning once
Drain and enjoy with tea or a soft drink
Mwanaisha is a hard-working nurse committed to helping people with hearing loss.  Sound Seekers will sponsor her through an Audiology MSc in the UK, starting in 2015, and continuing through her eighteen months' clinical supervision until 2017
Reena Pastakia
Reena grew up thinking Indian cooking was a dark art where the quantities of spices required in each dish were innately known to a chosen few. It was only after she married an Englishman with a voracious appetite for Indian food that she started phoning home for cooking tips. She started her blog (coconutraita.com) in an attempt to document her family's recipes and make Indian cooking accessible to all.