If you're a coffee drinker, I think you'll swoon over one of these cakes with your coffee.
By Faith Gorsky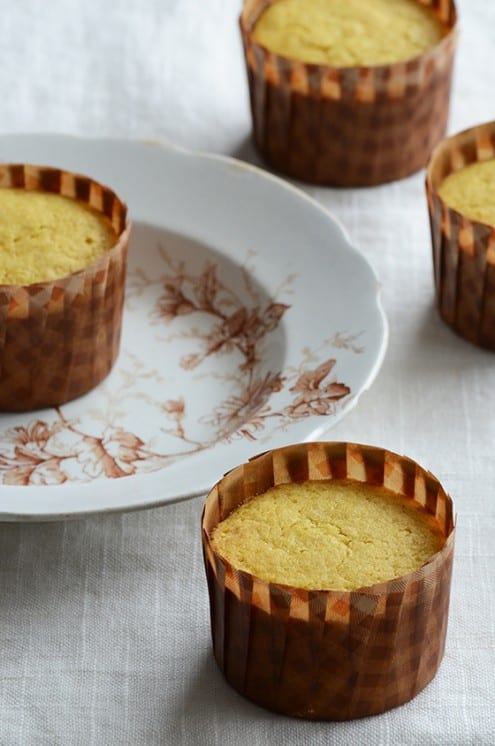 If you're a coffee drinker, I think you'll swoon over one of these cakes with your coffee.
Ingredients
1 cup (115 g) whole wheat pastry flour
1 cup (140 g) yellow cornmeal
2 teaspoons baking powder
½ teaspoon baking soda
½ teaspoon salt
1 cup (240 ml) Fiori di Sicilia-Inspired Syrup
½ cup (120 ml) pistachio oil (such as Vom Fass)
2 large eggs
¾ cup (180 ml) milk (I used 1%)
1 teaspoon pure vanilla extract
Instructions
Preheat oven to 400F; line 10 wells in a jumbo-sized muffin tray with paper liners (or butter and flour the wells).
Whisk together the flour, cornmeal, baking powder, baking soda, and salt in a medium bowl; set aside.
Whisk together the Fiori di Sicilia-Inspired Syrup and oil in a large bowl; whisk in the eggs, and then the milk and vanilla.
Pour the dry ingredients into the wet all at once, and stir until just combined, being careful not to over-mix.
Pour the batter into the prepared muffin tray and bake until a toothpick inserted inside comes out clean or with just a couple crumbs, about 20 to 25 minutes.
Notes
Other Sized Muffins or Loaves: You could also bake these in a regular-sized muffin tray, mini muffin tray, or loaf pans; if you do so, be sure to adjust the cooking time accordingly.
Faith Gorsky
Faith Gorsky is the writer, recipe developer, photographer, and food stylist behind the blog An Edible Mosaic. Her recently-released first cookbook, An Edible Mosaic: Middle Eastern Fare with Extraordinary Flair (Tuttle Publishing), is a collection of authentic Middle Eastern recipes handed down to her from her husband's family during her extensive time spent in the Middle East. Faith loves to travel, especially to places steeped in rich culture and history.